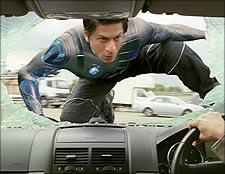 Trade analyst Vinod Mirani analyses Ra.One's box office collections.
Shah Rukh Khan has been dominating every form of media over last few months, whether on television, print or online.
But films today seem to need more media after the release than before it -- to persuade the media about the film's success and leave it to them to convince the rest of the world.
In this regard, things have become even simpler since the invention of advertorials -- pay and park your story in your own words!
It's more about which film made more crores at the box office, rather than which film got more stars from the critics.This 'star system' has lost its credibility in the hands of a unscrupulous few as well as many ignorant critics.
For all practical purposes, the first aim of
Ra.One's
release strategy seemed to be to outdo the first day collections of the recently released Salman Khan starrer,
Bodyguard
, which made Rs 21.6 crores on its opening day, the highest ever so far.
Ra.One fell far short of the target, collecting about Rs 14.6 crore. The fault lies in the day chosen for release. Diwali is not exactly the best day to release a film, especially if you want to shatter records.

Bodyguard released on Eid. The next day was also a holiday in some parts of India, thanks to Baasi Eid/Ganesh Chaturthi, and the film made the most of these two days.
Ra.One picked up handsomely a day after Diwali to take its second day figures to Rs 23.5 crores. Had the film been released on this day, it would have set a new first day record. It could have notched up figures closer to Rs 30 crores. But by then word of mouth had already gone against the film.

The comparisons are made only of the final figure the film scores, not taking into account the number of prints -- 3,300 for Ra.One as against 2,600 of Bodyguard -- or the admission rates, which again had been enhanced considerably for this film.

Having reached its pinnacle on day two, the story of Ra.One since then has been one of continued decline. On day three, the collections came down to Rs 15.5 crores with even Sunday figures being much below expectation at Rs 13 crores.
The first five day weekend brought Ra.One a tally of Rs 80.3 crores. If comparisons have to be made, Bodyguard's figure was Rs 88.9 crores for five days from Eid on Wednesday till Sunday.

Competition, in any field, is a healthy sign if it is limited to the trade. For Ra.One, the strategy backfired when a national daily announced that the film had collected Rs 23 crores on day one as against Bodyguard's Rs 22 crores, a figure much inflated from its real one of Rs 14.5 crores. The filth hit the fan, which these days takes the form of social media, and the newspaper was forced to backtrack on its claim.