Even now, the world knows less about the outbreak and spread of COVID-19 within China than anywhere else.
76 Days is an attempt to fill some of those blanks.
Indira Kannan reports from Toronto.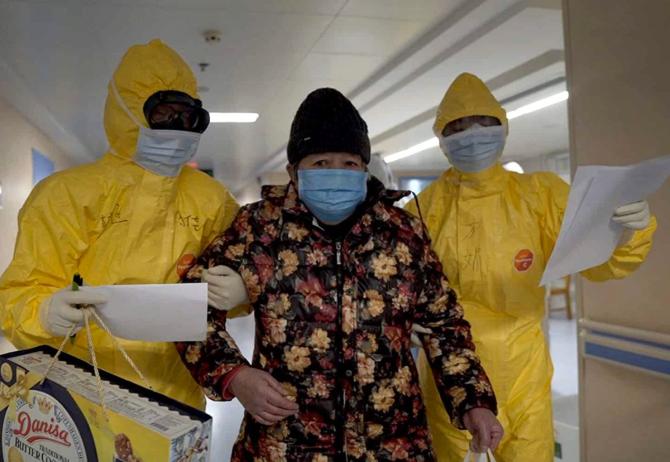 It's clear from the first shot that the cameras of 76 Days were going where few had gone before.
The documentary film, which had its world premiere at the Toronto International Film Festival, opens with a hospital worker in Wuhan, China, who is distraught at being unable to say a final goodbye to her father even as her colleagues hold her back.
Similar moments of raw grief, compassion and courage are captured in beautifully framed, intimate close-ups, providing a window into the chaos that prevailed in the hospitals of Wuhan, considered Ground Zero of the pandemic, early this year.
"The one thing I think the film does exceptionally well is pacing, grabbing you by the lapels and never letting go," says Thom Powers, programmer of documentaries at TIFF.
The title of the film is taken from the duration of the lockdown in Wuhan.
Director Hao Wu, a Chinese-American film-maker based in New York, sourced his footage from two video reporters in Wuhan, credited as co-directors; one of them is not identified.
Apart from the two worst-hit hospitals in Wuhan, which were off limits to reporters without official permission, others often made their own rules, says Hao.
"At the very beginning of the lockdown, many of the hospitals actually wanted reporters to take photos and videos because they wanted the outside world to know what they're doing, especially as there was a severe shortage of PPE (personal protective equipment). They wanted other people to know what kind of challenges they had so they could get help from elsewhere," Hao explains.
Hao was in Shanghai visiting family when Wuhan's lockdown began on January 23, 2020. He flew back to New York, angry about the panic and confusion he had witnessed and experienced first hand, returning just before the US closed off air traffic from China.
The documentary became a personal mission to showcase what some of the earliest victims of COVID-19 had gone through.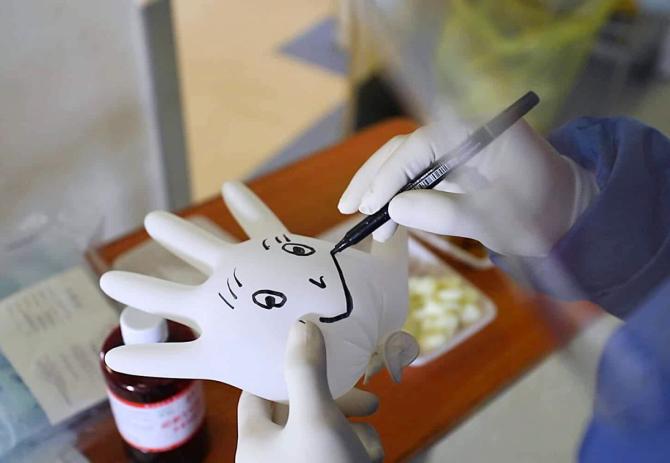 76 Days focuses on personal stories from Wuhan instead of taking an investigative route, following patients and staff in four different hospitals.
There's the grouchy old man who insists he's well enough to go home but is later sorry to leave, and a young couple who have just had their first baby but are unable to see her for many days as they are quarantined.
The staff have to deal with desperate patients pleading to be admitted in a hospital short of beds, unclear treatment protocols and risks to their own health.
There has been no shortage of news reports about the pandemic, but the documentary format serves an important purpose.
"By covering the 76 days of Wuhan's lockdown and turning that into a narrative, it's not just that you get the news of what happened today but you're able to see what happens over a period of time and how it changes people," says Powers.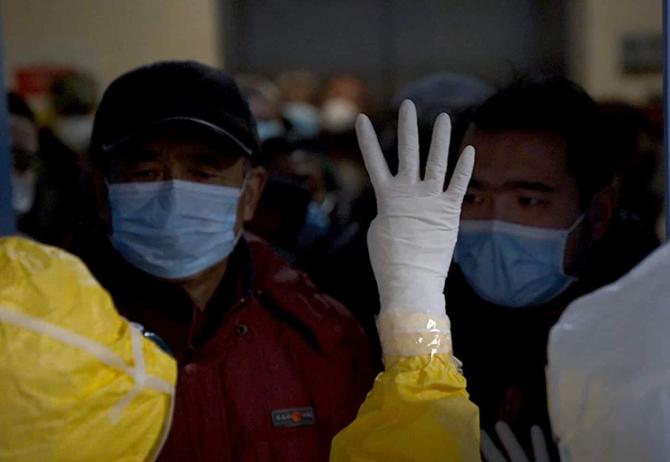 Hao found his video pipeline shut off in late March when the Chinese government "tightened its control over any COVID narrative". He then started editing the film, himself under lockdown in Atlanta.
Concerns about official control and influence over any news coming out of China are inevitable, but Hao wanted to steer clear of politics.
"It was really hard to get any official answer or to have any sort of countdown, what truly happened. So in the end, I decided not to pursue that angle because otherwise I'm going to be doing hearsay, right? I can interview this person who says this thing happens, but how can I even confirm that from a journalistic standpoint?"
A rare political reference comes in a scene Hao says was included for the sake of humour.
The grouchy old man is scolded by his son, who reminds his father that he is a 'party member' and should, therefore, uphold the (Chinese Communist) party's high standards and cooperate with the hospital staff.
This may be just an innocuous comment by a concerned son rather than a subliminal reminder that China's Communist party members are exemplary citizens.
But it is China's relentless official propaganda, carried to absurd lengths by its state-run media, that often colours any information outflow from the country.
Even now, the world knows less about the outbreak and spread of COVID-19 within China than anywhere else.
This documentary is an attempt to fill some of those blanks.
It ends as powerfully as it opens, again with a hospital worker dealing with grief, but this time that of others, as the nurse makes a series of calls and hands over the effects of deceased patients to their heartbroken relatives.
Feature Presentation: Rajesh Alva/Rediff.com