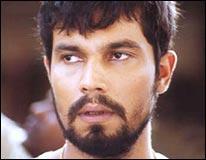 Randeep Hooda, who made his Bollywood debut with D, says he is flooded with offers ever since he moved away from the Ram Gopal Varma camp.

 

"I guess all those filmmakers who thought I was going to work exclusively for Mr Varma have woken up to my presence. It feels good," he says.

 

The actor, who made an impact in Ramu's D, wants to chill in the US after the shooting of Karma Confessions & Holy, which he calls a "fusion film."

 

But he has been offered a film by Tigmanshu Dhulia (Haasil, Charas).

 

"I like the gritty subject," he explains. "It's my kind of a film. But he wants to start right away. I'd rather he take his time and begin after working everything out. If I decide to go ahead with his plans, I'd be back in Mumbai at the beginning of November."


At the moment, New York has the actor's attention. "There are so many film units from Mumbai shooting in New York that I'm feeling at home! Karan Johar's unit for Kabhi Alvida Na Kehna is staying in the same hotel as me,

" he says.

 

Randeep is kicked about his international Bollywood film Karma Confessions & Holy, costarring Sushmita Sen, supermodel Naomi Campbell, and Robert de Niro's daughter, Drena.

 

"I don't know how to classify it but I know that the professionalism on the sets is exemplary. The First AD [assistant director], Alex Orr, is the all in-charge. Director Manish Gupta knows his job only too well. After the kind of chaos I've encountered in Mumbai at a shoot, this is a relief," says Hooda, referring to the apparent friction on the sets of J D Chakravarthy's Darnaa Zaroori Hai, where, apparently, things were so bad that the director and he were always at loggerheads.





"The combination of Asian-Indian actors and Caurcasian American actors is amazing. And they all work so well together, it doesn't feel like distinct cultures working together. It feels like a group of committed cinema

 

persons working together,"

 he says.

 

Randeep sidesteps his feud with RGV, saying, "I don't want to comment anything on what is being said. I'll keep quiet because I'm a very tolerant man. I will talk about what happened with Ramu when I feel the need to. Everyone is entitled to an opinion. But it needn't be the truth."