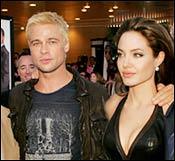 Brad Pitt has bought a pad in an English village next to Angelina Jolie's mansion.
Jolie and her adopted son Maddox have a mansion in Fulmer, Buckinghamshire, where she and Brad have been spotted together.
According to ananova.com, Brad loved his time in the British countryside so much that he has now bought his own house.
'Brad has been itching to buy a place near Angelina's for months,' a source said.
'The entire area is talking about Brad moving in. The pubs are all hoping he'll pop in for a drink, and the local Sainsbury's in
Beaconsfield is packed with schoolgirls hoping to spot their dream man,' he added.
Brad as Van Gogh?
While on Brad Pitt, it is rumoured that he will star in a biopic on famed Dutch artist, Van Gogh.
The movie, which will be directed by Ron Howard (Cinderella Man, A Beautiful Mind) and produced by Brian Glazer, will be a remake of Lust For Life, which had been directed by Vincente Minnelli in 1956 and earned Kirk Douglas an Oscar  nomination for playing the troubled artist, reports Fox News.
According to the New York Post, the makers of the film insist the film will have a new angle.
Will Dumbledore die?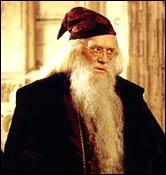 British bookies have placed their odds on Albus Dumbledore, the Hogwarts headmaster, dying in the new Harry Potter book, Harry Potter and the Half Blood Prince.

 

'As a result, some of Britain's gambling chains have stopped taking bets on which character will die in Half-Blood Prince,' reports the Daily Mail.

 

The gaming establishments say a suspicious number of people wanted to wager that Dumbledore would be the character to  meet his

demise.

 

Author J K Rowling, whose latest book will be out on July 16, has already revealed there will be a death in her latest 

Potter novel.

 

'We pulled the plug because we were suspicious after getting a host of calls from Bungay, Suffolk, where the British printers of the book are located,' said a spokesman for Ladbroke's bookmakers.

 

But the Internet betting company Blue Square is still taking bets on Dumbledore. The odds are 1-5, says spokesman Ed Pownall.

 

Other odds at Blue Square are: Hagrid, 4-1;  Ron, Molly, Arthur or Percy Weasley, 6-1; Severus  Snape, 7-1; Hermione

Granger, 10-1, and Harry Potter himself, 16-1.

 
Becks gifts Posh £20,000 anniversary ring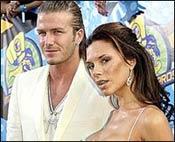 British football star David Beckham has surprised his wife Victoria by gifting her a white-gold Cartier ring worth £20,000 to mark their sixth wedding anniversary.
'He presented her with a stunning ring during a romantic dinner in Singapore. She couldn't believe it -- she was speechless  and all smiles,' The Sun quoted a source as saying.
Victoria had not been feeling good for not being able to perform at the Live 8 concert last week, and this latest gift from Beckham lifted up her spirits.