The vibrant Indian festival of Holi finds a place of pride in many of Bollywood's iconic images and dialogues.
Remember when Gabbar Singh famously inquired, "Holi kab hai? Kab hai Holi?"
On this day, emotions run high and filmmakers love to capitalize on it as the perfect backdrop or catalyst in true dramatic fashion.
Here are 10 different occasions when Holi held special significance on celluloid.


50 Shades of Campus Romances!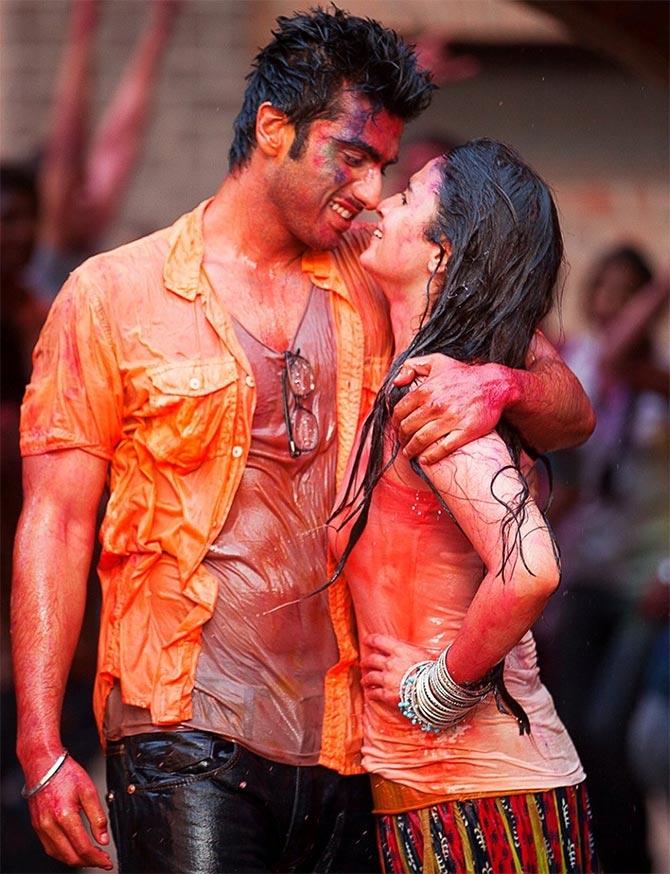 Image: Arjun Kapoor and Alia Bhatt in 2 States
Arjun Kapoor and Alia Bhatt enjoy a fairy-tale courtship at a business school in the South-meets North rom-com, 2 States.
And so, every day, from Holi to Christmas, is filled with hues of red and romance.


Bandi yeh bindaas hai!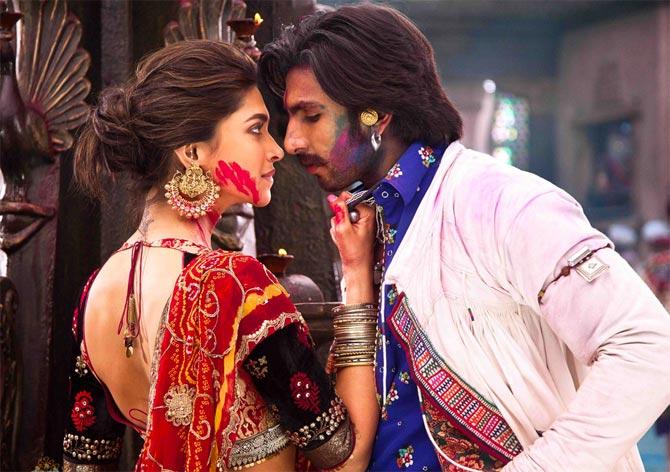 Image: Deepika Padukone and Ranveer Singh in Goliyon Ki Raasleela: Ram Leela
Enemy camp stunner Deepika Padukone catches Ranveer Singh's fancy. Their chemistry is instant and explosive.
If there's any doubt, she erases it by smearing gulaal on his dumbfounded lips during one of Goliyon Ki Raasleela: Ram Leela's most sizzling displays of affection.


Friends-turned-foes turn friends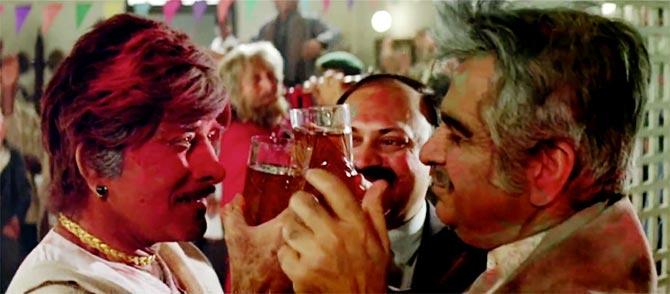 Image: Raaj Kumar and Dilip Kumar in Saudagar
A cold war spanning over three decades comes to an end when Raaj Kumar boldly tosses colour on best friend-turned-foe Dilip Kumar in Subhash Ghai's extravagant Saudagar.
He reciprocates in kind.
Doused in rang, the besties reunite and all's well with the universe again.


Paint your love!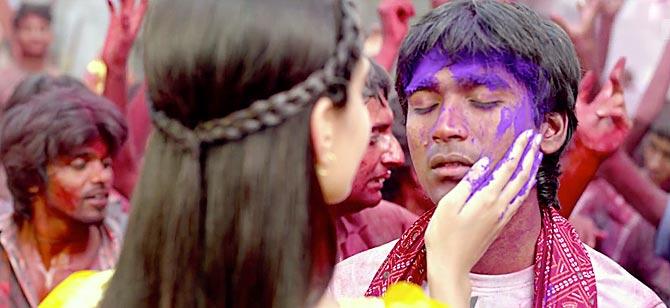 Image: Sonam Kapoor and Dhanush in Raanjhana
For Dhanush, nothing is greater than receiving attention from the girl-next-door to whom he's hopelessly devoted.
That priceless expression on his face when Sonam Kapoor dabs bright purple on his cheek screams Happy Holi like nothing else.


Of rang and bhang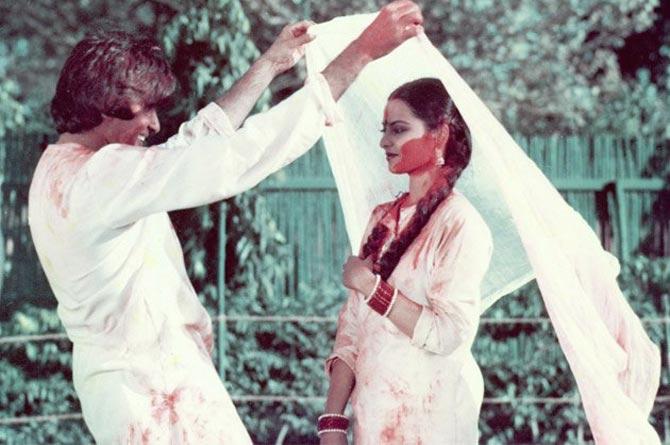 Image: Amitabh Bachchan and Rekha in Silsila
Yash Chopra's Silsila is all about two lovers coping with their feelings after marrying another out of obligation. Except the mask of decency slips when a bhang-high Amitabh Bachchan gets candid around an equally acknowledging Rekha while their humiliated spouses grin and bear in the playful Rang Barse.


Camouflaged in colour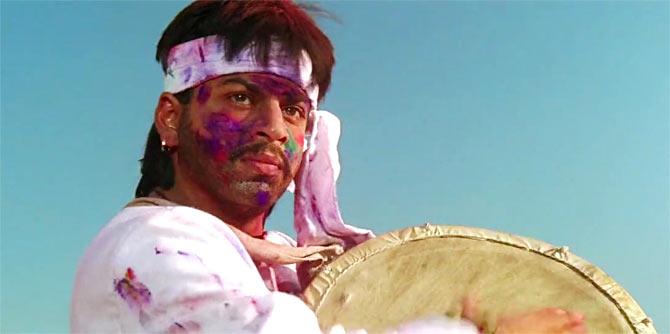 Image: Shah Rukh Khan in Darr
All those furious colours of Holi turns even the most familiar faces into virtually unrecognisable entities.
Concealed in gulaal, Shah Rukh Khan's obsessive romantic takes advantage of this to gate-crash Sunny Deol and Juhi Chawla's song 'n' dance party as a dholak-beating band member in Darr.


Breaking social taboos, Bollywood style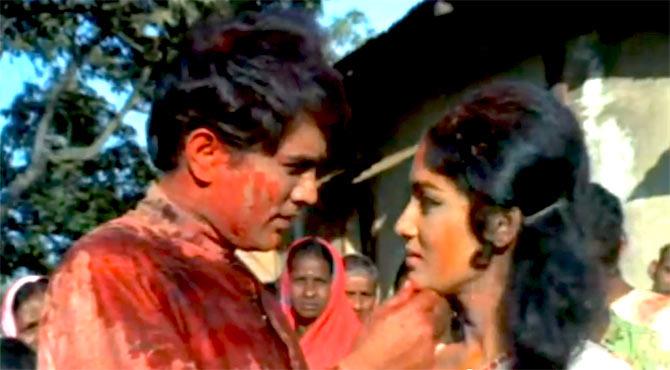 Image: Rajesh Khanna and Asha Parekh in Kati Patang
Bollywood is very specific in its stereotyping. Christians sport a big cross around their neck. And a widow must be draped in white and denial.
That's why Rajesh Khanna splashing colour on Asha Parekh and proposing remarriage in Kati Patang following the persuasive Aaj Na Chodenge Humjoli Khelenge Hum Holi was deemed rather radical for its time.


Painting the town red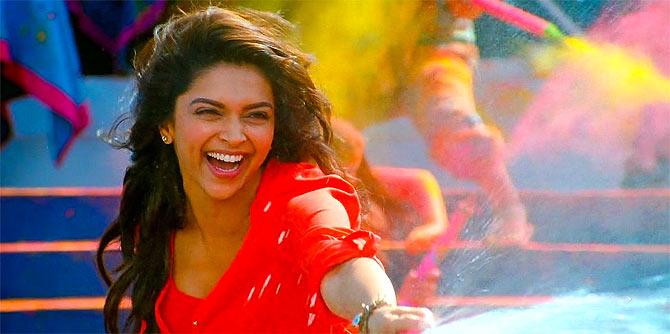 Image: Deepika Padukone in Yeh Jawaani Hai Deewani
If Kajol broke out of her tomboyish avatar in Kuch Kuch Hota Hai to embrace chiffon saris, Deepika Padukone realises staying geeky is no fun in Yeh Jawaani Hai Deewani. Especially when the bait is as hot as Ranbir Kapoor.
What follows is a brand new sexy avatar where she lets her hair down with classmates relishing the joys of hill-station Holi.


Action-packed Holi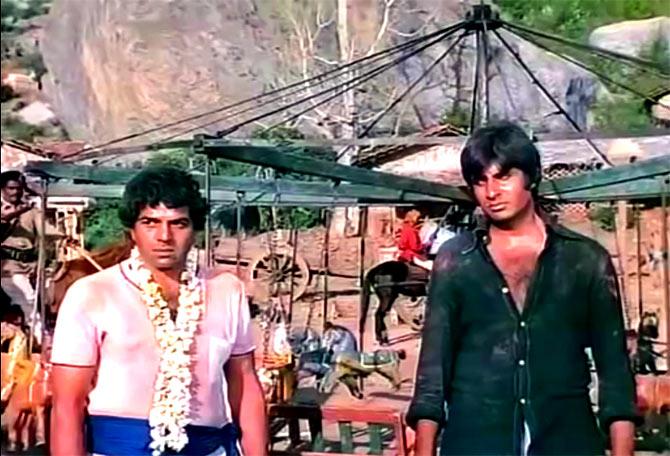 Image: Dharmendra and Amitabh Bachchan in Sholay
Trust Gabbar Singh to play killjoy with Ramgarh's Holi celebrations when the breezy Holi Ke Din beats and water-squirting pistols make way for real guns and dishoom.
It's also the occasion for Sholay's big reveal -- the truth about Sanjeev Kumar's arms.


Soaked in nostalgia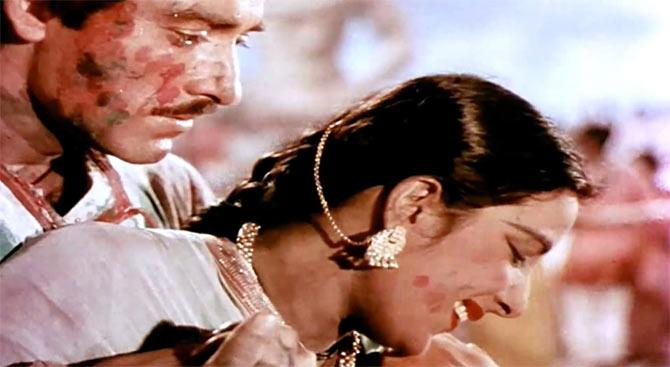 Image: Raaj Kumar and Nargis in Mother India
While her kids -- Sunil Dutt and Rajendra Kumar -- celebrate Holi in the company of the village, Nargis is overcome by nostalgia, reminiscing about her AWOL hubby Raaj Kumar and what the festival meant to her back then in a brief but poignant capsule of Mother India.