'Our country has enough talent, writers and composers to create music.'
'The previous generation did their job and went.'
'I think we need to leave behind some things.'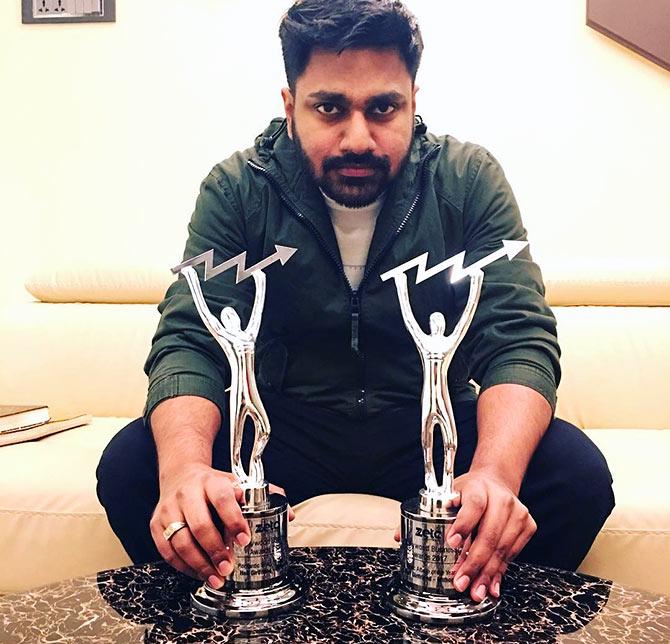 IMAGE: Mithoon with his awards for Best Album and Song Of The Year for Half Girlfriend. Photograph: Kind courtesy Mithoon/Instagram
He has created beautiful music -- Maula Mere (Anwar), Woh Lamhe Woh Baatein (Zeher), Tum Hi Ho, (Aashiqui 2), Humdard (Ek Villain), the Sanam Re title track and Phir Bhi Tumko Chaahunga (Half Girlfriend).
"I am the fourth generation music director in my family," says Mithoon. His uncle is Pyarelal, the legendary composer, one half of the Laxmikant-Pyarelal team.
"Encouragement is a deeper word," Mithoon tells Rediff.com's Jahnavi Patel.
"Encouragement is something that pulls you up when you are at your lowest. That is something that is more than just awards."
Since you hail from a family of musicians, was music an obvious career choice?
I never had any backup plans; it's more like falling in love.
We don't fall in love with a backup plan. It's tum hi ho ab zindagi, tum hi ho (it's only you in my life).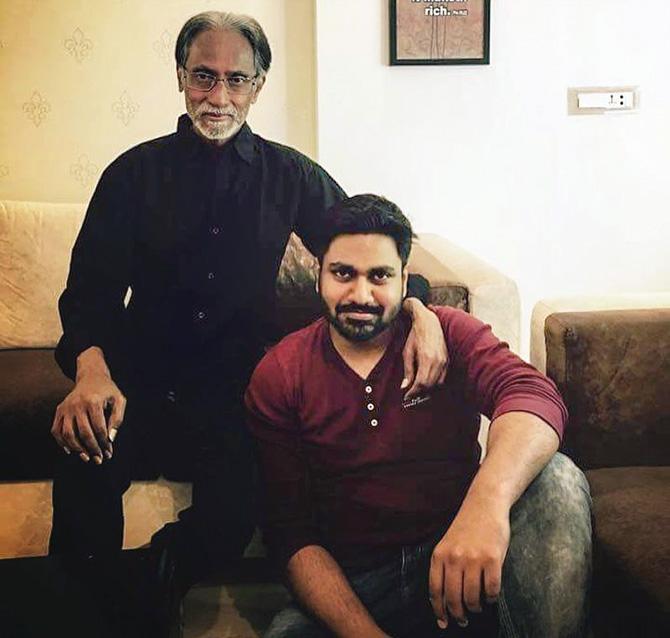 IMAGE: Mithoon with his father. Photograph: Kind courtesy Mithoon/ Instagram
How much of an influence has your father been in your career?
He has always given me freedom to do what I want to do.
He influenced me in my training, sending me to the right teachers.
When I was 13 or 14 years old, he would make me sit down and listen to the music of Naushad, Madan Mohan, Laxmikant-Pyarelal... That became a foundation for me.
A lot of people tell me they hear the goodness of the old world in my music. That comes because of my father's supervision over me. It's a very big role that he played.
Earlier, he would be very critical of whatever I did. Now, he is very appreciative. He feels I don't need criticism now because I have set a standard for myself.
My dad and I don't have long chats. Both of us talk less. He is a man of few words and I am a man of fewer words.
WATCH: Mithoon on what music means to him. Don't miss the end :) Video: Satish Bodas/Rediff.com
Listening to Laxmikant-Pyarelal's music, their stories and having them around, how much did that help?
By the time I was born in 1985, they had already completed 23 years of their career.
It helped a lot because it really opens your mind.
Composing music is not something that someone can teach you. There's no rule book apart from the basics.
When I was five years old, my favourite song was Duniya Kismat Aur Khuda from Mahesh Bhatt and Yash Joharsahab's Gumrah. The music was Laxmikant-Pyarelal, and the song was sung by Roop Kumar Rathod.
Some 15, 18 years later, I recorded my first song with Roop Kumar Rathod, Maula Mere Maula.
I feel that choice of mine was somewhere influenced by my liking that song when I was 5.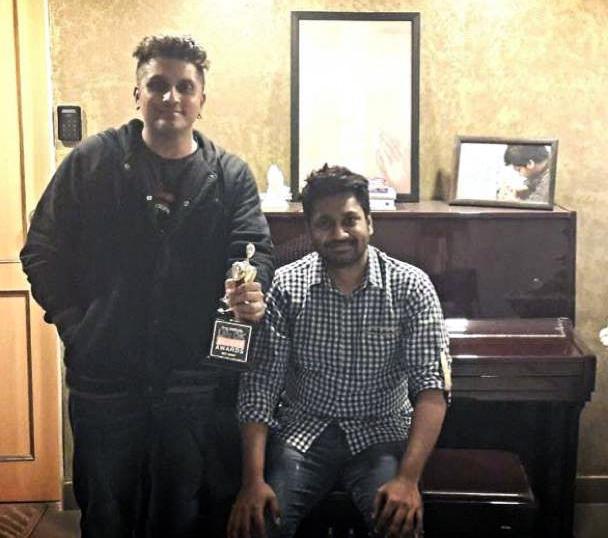 IMAGE: Mithoon with Mohit Suri. Composer and director have collaborated on Ek Villain, Aashiqui 2, Kalyug, Murder 2, Zeher, Half Girlfriend. Photograph: Kind courtesy Mithoon/Instagram
How do you select your projects?
First of all, I should connect emotionally.
People say my best work comes out with (director) Mohit Suri.
It's not because he is my friend, but he is the kind of film-maker who can emotionally charge and inspire you.
I start getting ideas when he's briefing me!
I should connect with the story and the message only then can I write a song about it.
And, of course, I need time. You can't expect a miracle.
Can music draw audiences to the theatres?
Definitely! We are a music-loving nation.
A film finally has its own destiny, but if people can connect with its music, there is already a pre-established connect, and you don't have to struggle for the film to communicate.
If a song connects with the people a month before the film's release, they will enter the theatre and hear those notes playing -- there's already a familiarity.
How much time do you take to compose a song?
I don't write more than 8 to 10 songs in a year. That's my average.
Does the way you make music change according to the audiences' response?
Not directly. If an audience reacts in a particular way to a song, I don't go back thinking I want to please them because I love my audience. I don't want to flatter them.
I want to deliver.
Sometimes their reactions do influence my mind and it may come out unintentionally. But I always try to be honest to what I feel, irrespective of what people want.
Is there pressure to 'deliver' with each new song?
I used to (feel the pressure), but I have seen so much now. You get used to it.
Now, I ignore it and just do my job.
How much are we influenced by the West?
We are definitely influenced, but it is more person to person.
Today, the world is such a small place, why just the West? There may be some folk genre from the South Pole that may inspire you!
Keeping an open mind is fine. I don't believe in templates.
There may be a certain technology I am using to record today, which has originated in the West.
I use it as a blessing; I don't get obsessed with it.
Ultimately, music is an art of the soil, so Hindustaniyat will always be my forte.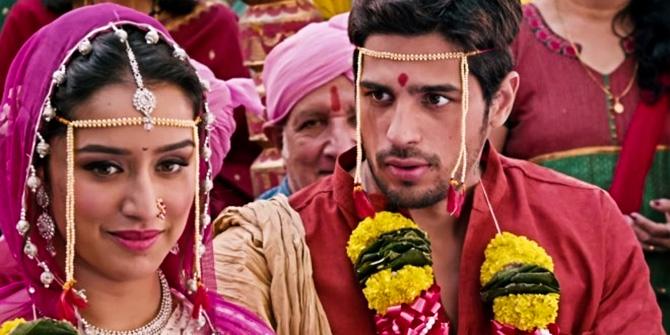 IMAGE: Shraddha Kapoor with Sidharth Malhotra in Ek Villain.
How much freedom do you get while composing music?
Complete freedom.
That's one of the criteria when I work on a film. But that doesn't mean I isolate everyone and go on an ego trip.
I really like it if the director is involved in the emotional process because that inspires me.
A lot of my songs are basically thoughts from the director. He may not be able to communicate musically, but he may definitely tell me a thought which ultimately becomes a line.
There was a line in Ek Villain where Shraddha Kapoor says, 'Jab tak hum kisi ke humdard nahi bante ... tab tak hum dard se aur dard humse juda nahi hota.' Then I wrote Tu mera humdard hai.
That epic song came out of that line from the film, which Mohit Suri had narrated to me.
I am always open to things like this. Then I try to give it my own flight.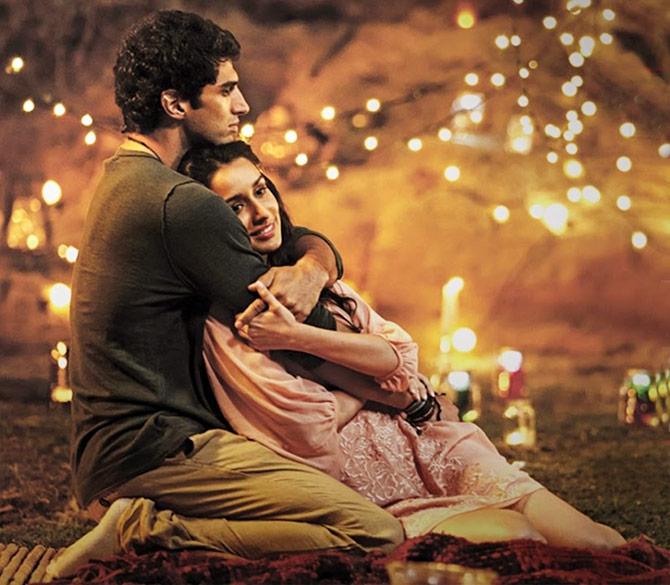 IMAGE: Shraddha Kapoor with Aditya Roy Kapoor in Aashiqui 2.
Is there a song which was a turning point for you?
Turning points slow you down.
But when I looked back at Aashiqui 2, I saw a giant explosion.
It was great, but I had to move on. I couldn't be there forever.
Which songs are close to you?
Every song has a story.
(Lyricist) Manoj Muntashir and I did Phir Bhi Tumko Chahunga for Half Girlfriend. That song was created on poetry that Manojji had written in 2001!
16 years later, Mohit Suri liked it, called me and asked if we can create the song.
Now, I am nominated for that song everywhere.
It's very surreal. No one can say what gets connected to where. In 2001, I was waiting for my SSC results.
What was created back then is defining my life today.
Are awards encouraging?
I wouldn't say 'encouraging', but they definitely feel good.
I won 21 awards for Tum Hi Ho (Aashiqui 2).
I would be lying if I said they didn't feel good, but encouragement is a deeper word.
Encouragement is something that pulls you up when you are at your lowest.
That is something that is more than just awards.
That needs your wife, husband, father, mother, dog... That's what keeps you going.
There was a time when the entire musical score was composed by one composer. Now, every song in a film is created by different composers. How do you view this change?
I have never had a problem with it.
I don't do too much work anyway.
If I do one full album, I need that much time too.
And because of that, I may miss out on a lot of films.
I don't have an issue with it provided the film-maker is not window shopping.
There should be a valid and emotional reason why this person comes to Mithoon.
When I work with Mohit Suri, he will never tell me that he wants only one song.
He will say, 'Yeh gaana aap ko hi karna hai. Yeh gaana aap hi kar sakte ho, iss liye mujhe aapke saath kaam karna hai (only you can do this song, that's why I want to work with you).'
Why does he want to work with me? That reason is very important for me.
If the reason is fair, I don't have any issues.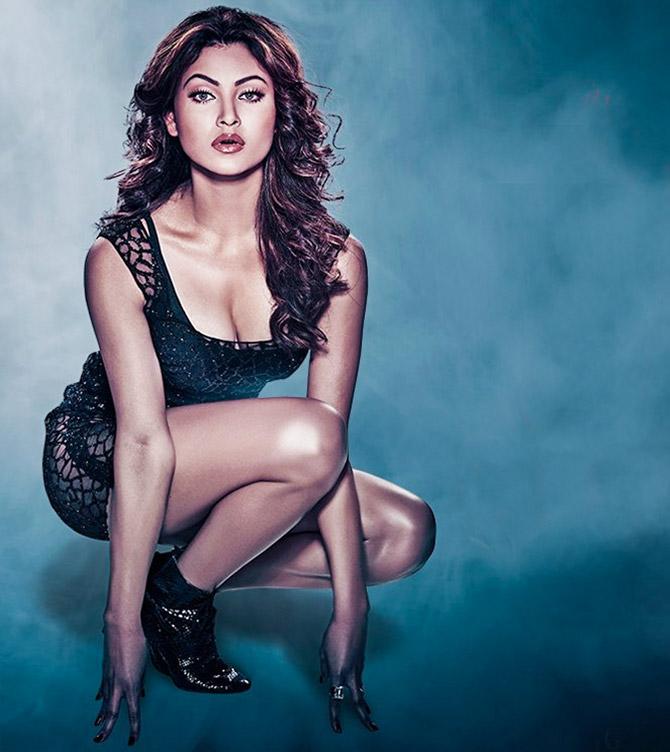 IMAGE: Urvashi Rautela in Hate Story 4, Mithoon's next film.
How do you see the recreation of old classic songs?
I have turned down a lot of offers to recreate songs.
I didn't do one of the biggest films last year because of the same reason -- they wanted me to recreate the song.
Why is that?
It's my passion to create music.
I don't like the concept of recreating.
I did a remix of one of my songs, Aye mere humsafar (All Is Well).
After it released, I decided I would never do it again because that's not what I am.
I enjoy writing and creating my own music.
I think our country has enough talent, writers and composers to create music.
The previous generation did their job and went. I think we need to leave (behind) some things.
You still travel in autorickshaws. Have you ever heard your song playing in one?
I have passed by many autos who have been playing my songs.
The first time I heard my own song -- Tere Bin -- in 2006 was in an auto!
I was sitting in my living room around 1 am.
You know, these autos speed at night and play music very loud.
One passed by my building. I heard the song and it sounded familiar.
Then I realised it's my song.
That's the first time I realised my song was doing well because that's a great parameter.
A song playing in an auto is equal to 10 million views.