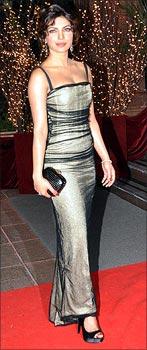 After attending her brother's graduation ceremony in Zurich, Priyanka Chopra flew straight down to Karan Johar's big birthday bash on May 25, at the Taj Land's End in suburban Mumbai, arriving at 1:30am!

She was one of the last guests to arrive and one of the last to leave.

Having landed only hours ago, Priyanka displayed no sign of jetlag or fatigue.

Says a guest at the party, "Priyanka was in specially high spirits that evening. Looking radiant, Priyanka looked triumphant, and why not? She had been put back on Johar's guest list after being knocked off."

Priyanka mingled with Johar but discreetly avoided any kind of contact with Johar's best friend, Shah Rukh Khan.

Apparently, Priyanka was allowed into the coveted party only after Gauri Khan granted permission. Mrs Khan has laid down certain ground rules for her husband vis-à-vis Ms Chopra: no films together and no hobnobbing socially beyond niceties.

Meanwhile, the party was a formal affair with elaborate arrangements.
Says an actress, who attended, "It was a sit-in dinner with loads of Punjabi khana because that's what Karan Johar loves. The glamorous décor was stylishly designed by Manish Malhotra. It was good to see the stars dressed in formals rather than the tee-shirts some of them wear even to formal events."
Most of Johar's friends from the film industry turned up. Conspicuous by their absence were Salman Khan and Johar's Chikni Chameli Katrina Kaif, both of whom are currently shooting in Bangkok. Unlike Sanjay Dutt, who left his shooting in Jodhpur for Soham Shah's Sher for Johar's birthday bash, Katrina and Salman gave the event a skip for different seasons.
Apparently, Salman's friends advised him against providing titillating fodder for the shutterbugs.
Why did Katrina skip the party? Says a friend, "Katrina loves Karan, and had done the Chikni Chameli song for free. It's another matter that Karan did not gift her the promised Ferrari or that she is yet to sign on a full-fledged heroine's role in Dharma Productions. Katrina would have still flown down from Bangkok but when she heard Priyanka was flying straight in from Zurich, Katrina decided not to. It would make her seem like she was vying for space in the Dharma scheme of things."
Not that Salman or Katrina were missed; there was plenty of excitement in the party.
Vidya Balan and boyfriend Siddharth Roy Kapoor made their first appearance together at the do.
Says a guest: "The couple made no attempt to hide their feelings. Kapoor looked after Vidya like a good husband and even fed her from his plate."
Jaya Bachchan arrived solo, and that is perhaps why Rekha skipped the party. Amitabh Bachchan and Abhishek are abroad for the former's treatment while Aishwarya was at Cannes.
Photograph: Pradeep Bandekar