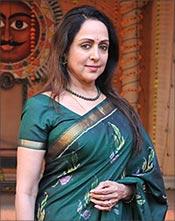 Hema Malini will make a comeback on the small screen after eight years, as the producer of the new show Maati Ki Banno on Colors.

Premiering tonight, the show stars newcomers Via Roy Choudhury and Manoj Chandila. It will see a woman's extraordinary journey from the beautiful shores of Mauritius to the rural landscapes of Bihar's Chappra.

Hema Malini tells Rajul Hegde more:

Why did you decide to make a comeback with this show?

The show's writer approached me with the script for a film. The story touched my heart. But I thought it would make a better serial than film, and approached the channel.

I felt the story of this young and innocent girl going through such misery needed to be told. Also, it brought back memories of Chappra where I had held my first political rally
Why did you take a break from television production?
Rural background is the current trend on TV and I quite like it. That's why I opted for it. Earlier, I was a member of Parliament and could not produce any shows earlier. Now that my term is over, I have the time to return to television.
Prime time television is at 7.30 pm. But your show will be telecast on 6.30 pm. Why is that?
The channel is planning to redefine its prime time. They want their prime time to start at 6.30 pm.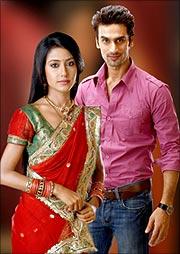 Will you act in the show?
I am busy with my other commitments, so I don't think so.
Do you think the medium has changed from the time you made Noopur in 1990?
The scenario has totally changed. I produced, directed and acted in Noopur. Along with me, there was only one cameraman. Gulzarji used to write for the show and he never allowed me to change a single word.
Now, everything is so detailed. There are so many characters in the show -- there are cameramen, make up men and spot boys.
Television has become more competitive. It is difficult to sustain a show on television. Fortunately, a strong script, a good story and impressive characters can make a show work.
Do you watch TV serials?
Yes, but I hardly get time to watch TV. I watch shows like Kaun Banega Crorepati, Balika Vadhu, Ladoo, Jhansi Ki Rani and some dance reality shows.
What is the status of your film Tell Me Oh Khuda, with your daughter Esha Deol?
We are now in the post-production stage. It should release in early next year.
What is Ahana doing these days?
Ahana has started working on the story and script for our next production.