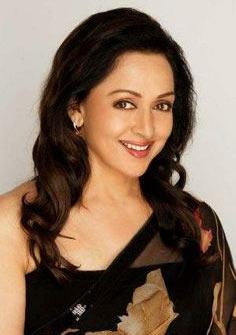 Hema Malini's 66th birthday will be a quiet affair today.
"I was supposed to be in my constituency Mathura but it's impossible for me to travel now," Hema explains. "So this birthday will be spent with family in Mumbai, with Esha and her husband Bharat. My younger daughter Ahana was supposed to join me in Mathura, from Delhi where she lives. Dharamji is in New Zealand to attend a function."
"I have been traveling incessantly," she continues. "At the beginning of October, I was shooting for Ramesh Sippy's Shimla Mirch for two days. Then on October 3, I had to rush to Kanpur for a function. The organisers were kind enough to arrange a private jet."
"From Delhi, I flew straight to Mumbai in time for Karva Chauth. I was scheduled to be in Mathura with my constituents for my birthday but I can't travel any more right now. I'm exhausted. I just want a quiet birthday," sighs the actress.
Hema Malini wants to thank her fans for being with her for so many years.
"I don't know what people saw in me but I have only received love and respect from from the film industry and my fans," she says. "I look back with a lot of affection at all the films that I have done. If you ask me to single out one film, it would have to be Gulzarsaab's Meera."
That was the Dream Girl's dream role. "I wish Lataji had sung for me in Meera. That will remain the one regret of my career. I even requested her personally but she had her own reasons for not singing in Meera," she adds.
Whatever bitterness transpired at that time is now washed away. Today, Hemaji and Lataji adore each other.
"She gifts me the most beautiful saris ever. I have been wanting to gift her one but getting the right fabric and design for Lataji is not easy. I've finally managed it," she signs off.