'With Tanu Weds Manu I discovered myself.'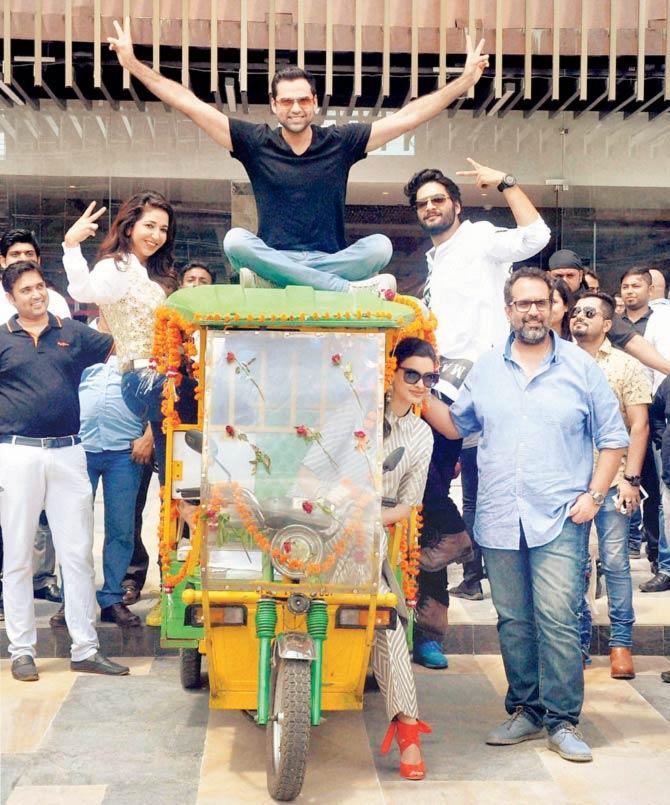 IMAGE: Aanand L Rai with his Happy Bhaag Jayegi team: Actors Diana Penty, Abhay Deol and Ali Fazal and producer Krishika Lulla. Photograph: Aanand L Rai/Twitter
""Some things look good because they are ordinary," says filmmaker Aanand L Rai.
He firmly believes in that because some of the films he has directed -- like the Tanu Weds Manu movies and Raanjhanaa -- are brilliant simply for that reason.
Rai is even making one of India's biggest superstars Shah Rukh Khan look ordinary in his next film. Yet, he promises, he will make people fall in love with SRK and, of course, the film.
In Bandhua, Khan will play a dwarf.
"You may find faults in him, but you will fall in love with Khansaab very easily," Rai says.
"So I thought let me remove about three feet from his height and then let me see how he makes people fall in love with him."
Shooting for the film has not begun -- the casting is not even complete yet -- but it seems like a given that Rai will fulfill his promise.
After all, he is one of Bollywood's most talented directors today, and on every actor's wishlist.
How did this Delhi-born man, born of middle class teacher parents, become such a topnotch filmmaker?
Rai tells Rediff.com's Ronjita Kulkarni his story.


'If I'm in love with you, I will be able to extract the best from you. If I'm not connected, I will be mediocre'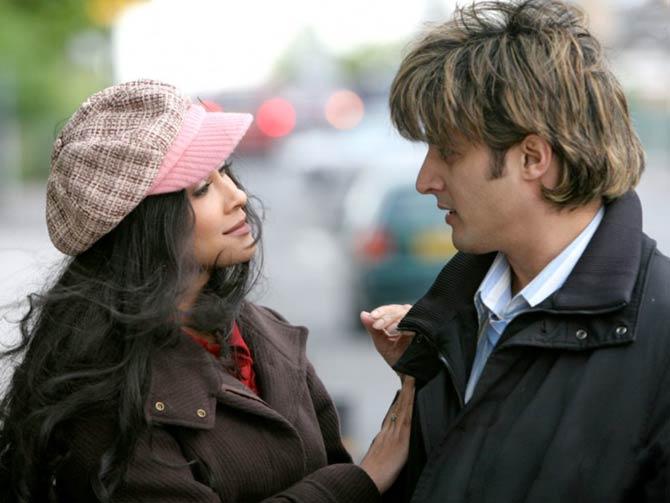 IMAGE: Nandana Sen and Jimmy Shergill in Strangers.
""I don't see myself as a great technician or craftsmen. It's not like I have a vision and have to fulfill it," he says, as he leans back against his cream coloured sofa in his plush office in suburban Mumbai.
"I don't make movies as a filmmaker. I should enjoy watching my film as much as the audience. Whether it is Tanu Weds Manu or Raanjhanaa, just like they take you into that world, they take me also. And I don't feel that I could have made it better, or that if I had more money, it would have been bigger."
"I connect emotionally. If I'm in love with you, I will be able to extract the best from you. If I'm not connected, I will be mediocre."
And it's really very easy to connect with the director.
Rai is a people's person. He is very hospitable -- making sure I've been served with a glass of water followed by green tea -- and it's easy to chat with him.
He's one of the most successful directors in Bollywood today, but he doesn't carry that air about him.
Rai is very down-to-earth, and that could perhaps be because of his middle class upbringing.
The Delhi born and raised director's mother was a Fine Arts teacher in a government school and his father was a college professor.
"I always joke that I have that peele gharo ki paidaesh hoon, jo ek jaise dikhte hai," Rai says with a laugh. "I've had a very ordinary and comfortable life. I did an engineering degree in Aurangabad. But while finishing it, I felt it wasn't right."
Ravi, his brother who is 11 years older than him, was assisting Mahesh Bhatt those days, and was looking to move towards television. He was going to direct a show for Anupam Kher.
"I told my brother I wasn't happy with what I was doing; I wanted to do something creative," Rai says.
He arrived in Mumbai in 1993. In a year's time, he started a company with his brother, Film Shop. One of the shows he directed was Gardish, starring Irrfan.
"Money was flowing in easily, but it was a bit creatively dissatisfying for me," Rai says. "In 2001, I told my brother I want to quit. Television had given us financial security -- a house, a car, a fixed deposit. I was ready to move ahead."
"I told my wife that in the next four, five years, there would be no new house, or car or fixed ,deposit but I will take care of you. My daughter Radha was born in 2001 and yet, my wife was fine with it."
"Basically, we are middle class people. We have basic needs -- achche khaate hai, achche peete hai, haste hai, gaate hai, so jate hai."
It was not easy to jump from television to films.
"I was expecting things to start moving for me in 2005, but that did not happen. I made my first film in 2007," Rai says.
His first film was Strangers, starring Jimmy Shergill, Kay Kay Menon, Nandana Sen and Sonali Kulkarni.
The story was about two strangers who meet in a train, and plot to kill each other's wives.
"I failed with my first subject; that film was not me. More than telling a story, I was trying to prove that I could make a film," Rai rues.
"That's not the right way to direct. The right way is to tell a story to the audience, and I got that with Tanu Weds Manu. I discovered myself in that film."
***
'If I had failed with Tanu Weds Manu, I would have had no option but to return to television'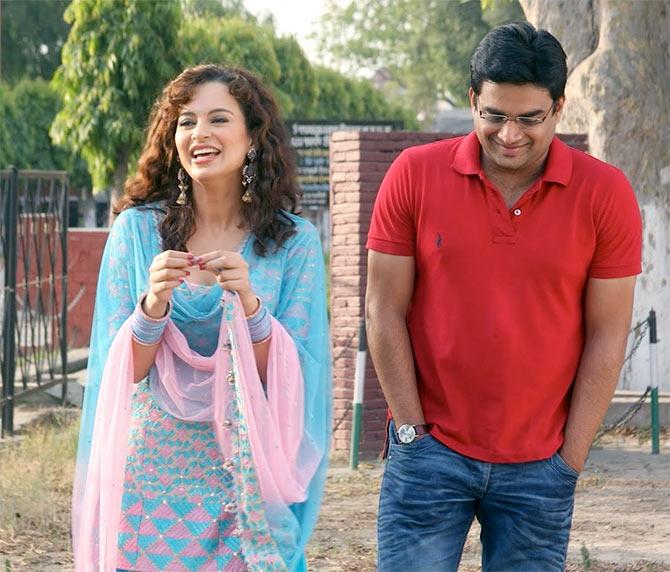 IMAGE: Kangana Ranaut and R Madhavan in Tanu Weds Manu.
But Tanu Weds Manu was not his next film.
His second film was Thodi Life Thoda Magic, starring Parmeet Sethi, Paresh Rawal, Anita Raj and Arbaaz Khan, and it released in 2008.
"Before I made Strangers, I was working on a telefilm, which never happened. The producer said let's make the telefilm into a film. In those days, I wasn't clear on how to move either because I was just discovering myself. So yes, I faltered. I realised that films are not just about making them, but about living that moment," Rai says.
Because his first two films did not work, Rai felt he had nothing to lose with his third film.
"If I had failed with Tanu Weds Manu, I would have had no option but to return to television," Rai says. "I told my wife that after this attempt, I will make a lot of money. If the film is a hit, I'll make money in films. If it's a flop, I'll make money in TV."
It took him three years to complete Tanu Weds Manu, and it released in 2011.
The film, starring Kangana Ranaut and R Madhavan, put Rai firmly on the Bollywood map.
"It was very difficult to make Tanu Weds Manu, but it was not made in fear. Films should be made fearlessly."
"You need to give the audience a story, a perspective, and for that, you need to be two steps ahead of them. For the first time, I felt that I'm not proving myself to anybody; I'm just telling my story without the fear of failure. That was the difference from my (earlier) films and Tanu Weds Manu."
What made him sign Kangana up for the role?
"Kangana at the time was doing unconventional roles, but getting typecast in them. She wasn't playing the girl next door. I always felt that she's actually a small town girl at heart. She's from Himachal, from a middle class, normal family."
"If you sit and talk to her, you will see that innocence in her that she tries to hide from the world. I thought it would be interesting to give her a role that would give her a family, a middle class joint family. She looks dominating, and I wanted to use that in a family scenario, ghar ki beti banao, with an edge," Rai says.
Kangana was brilliant in the film's sequel as well, which released in 2015. She had a double role, as Tanu as well as Tanu's doppelganger Datto, and makes Madhavan's Manu fall in love all over again.
The other way Rai prepares his actors is by taking them to locations where the characters are from so that they get a feel for it.
"Kangana and I went to the University of Delhi without any security and roamed around, ate in the canteen..." Rai says.
He took Sonam Kapoor, his heroine in Raanjhanaa, around Dilli Haat and ate golguppas. Sonam even took part in a few street plays.
"At the most people will say, this girl looks like Sonam. If you feel ordinary, people will see you in that light," Rai explains.
They also went to the bylanes of Banaras to get into her character.
"In the beginning, she said the streets were stinking. But by the time the shooting was over, Sonam was in love with the place!" Rai explains.
"And she was not in love with the walls and the monuments of Banaras. She liked the life and the people there. That's why she played her character so well."
***
'Raanjhanaa is an all-time favourite for my family, even for me'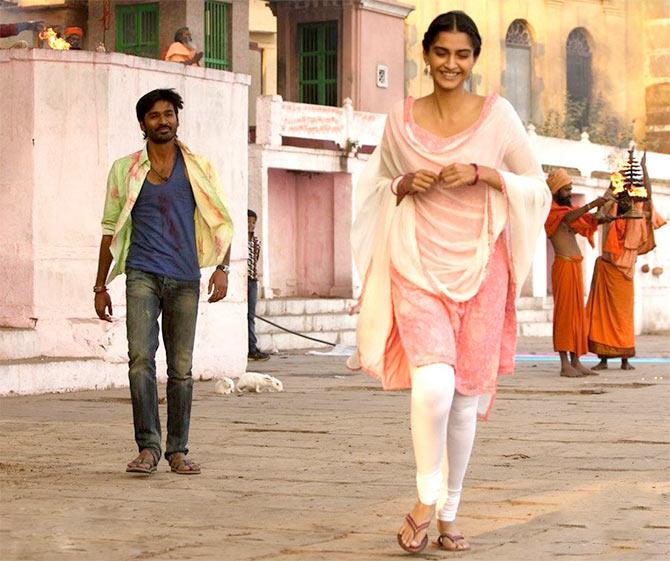 IMAGE: Dhanush and Sonam Kapoor in Raanjhanaa.
Banaras was an unusual place to set a film especially for a person who had a fear of funerals.
"I would never go for funerals, till I was almost 25. I realised this is a process. People feel that if you're cremated there, you will go straight to heaven. There are some places where the pyre is never cold. I've showed that in the film also," he says, referring to Raanjhanaa.
"But I didn't base the film in Banaras to get rid of my fear of funerals," he adds quickly. "I realised that only when I reached Banaras."
It was Dhanush's first time in Banaras as well.
"People feel that only fortunate people get to visit the Kashi Vishwanath temple in their lifetime. I remember Dhanush and I got off the flight and we went to the hotel. I told him that we will go to the temple in the evening. He was so happy; he called his family right away," he says.
Dhanush and Rai would roam around the streets of Banaras, observing people, their lifestyles... He wanted to see the Kundans there, Rai says, referring to Dhanush's character in the film.
People recognised him as the Kolaveri D boy, and he enjoyed it.
Rai says people were against him casting Dhanush in the film. There was another A-list actor who was vying for the role.
"The studio thought I was mad that I was getting an A-lister, but still opting out," Rai says with a laugh.
"I met Dhanush in Kolkata and straightaway sent him a signing amount, without speaking to the producer. We were so emotionally high at the moment that I felt I had to work with him. At that time, I was falling short of Rs 5 lakh, so I borrowed it from my editor."
"Dhanush told me later that he had thought that I would not go back to him. When he got that money, he realised I was serious."
"I knew I wanted an actor with this kind of conditioning," Rai explains.
"For example, see Saif's earlier films, and then Omkara and then his later ones. There are phases in his career. Even Aamir Khan has that, from his old films like Qayamat Se Qayamat Tak and Dil to Lagaan and now. For Raajhanaa, I wasn't casting Dhanush. I wanted an actor who had evolved to the way he was at the time.'
"I met a few actors, but I wasn't getting that feel. They weren't in the correct frame of mind to play Kundan."
Raanjhanaa, in fact, is Rai's 15-year-old daughter Radha's favourite movie.
"Raanjhanaa is an all-time favourite for my family, even for me," says Rai, who loves to watch his movies on television.
"It was a point when I moved on to something. I won't say it changed me, but I have grown as a person, dealing with tragedy, talking about death. I understood relationships in a better way. Also, I wanted to see how a simple, ordinary middle class boy deals with loss."
His father Leela Rai passed away in 2009. "I was 38 or 39 years old at the time, but after he passed away, I felt that mein bada ho gaya. I began to feel my responsibility towards my family."
"Until he was there, I would think, yeh hai na. Psychologically, after him, somewhere I took command," Rai says. "I started taking myself more seriously."
***
'When you meet Shah Rukh, you will not find a superstar. He reminds me of that Dilli ka ladka'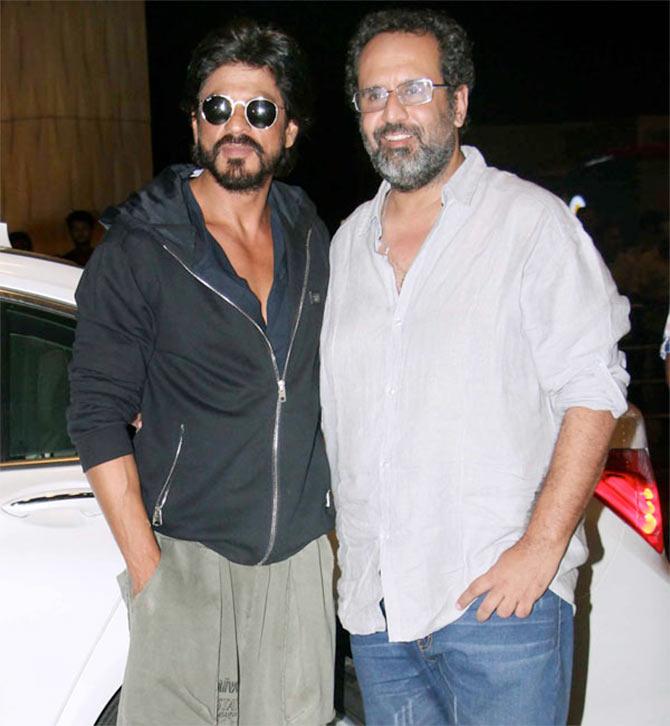 IMAGE: Aanand L Rai with Shah Rukh Khan. Photograph: Pradeep Bandekar
Today, Rai has forged a deep bond with Dhanush.
"He's like a younger brother," he says. "We talk at least once a week, and only 20 percent of that is work. My wife and he keep chatting."
Rai, in fact, has a deep bond with all the actors he has worked with.
"Even if I'm not working with Sonam, I'm very attached to her. If we haven't spoken for four or five days, I pick up the phone to find out how she is."
"Jimmy (Shergil) was in my first film, Strangers. I was very lucky to make a true friend right in my first film. He's very humble, honest, dedicated. He will never ask me about the role I give him; he'll say yes immediately. He has seen me through my journey, knows how I came into this industry."
He has already formed a great bond with his next lead, Shah Rukh Khan.
"When you meet Shah Rukh, you will not find a superstar. He reminds me of that Dilli ka ladka. He hasn't changed. He's kept it alive in himself, even after so many years and so much success. That's something to learn from," Rai says.
"He's very charming, intelligent and well read. Adventurous. Fearless. I feel energised when I sit with him. If he doesn't get scared (playing a dwarf in their next film), how can I?" asks Rai.
"There are so many things at stake for him. But when you see him, you see a confident, fearless man walking."
Like Shah Rukh, Rai is also still a Dilli ka ladka.
"I have family in Delhi; my uncles and cousins. Whenever I get an opportunity, I try to go there. I tell them what I want to eat; I tell them to get chole bature to my hotel after my press conference!" he says.
For his family, Aanand L Rai remains Annu.
It was his simple nature that added the extra A in his first name.
"I changed my spelling in 1995-96. My brother and I were choosing our company name and someone mentioned that I should add an extra 'a' for numerological reasons. I don't believe in all that. I'm very simple. If you tell me to do something, I'll do it."
"If my family says don't eat non-veg today, I won't eat it. I believe in people. Most of my work is done on trust," he says.
***
'If you say 'I miss you sir' to Rahman, he will change the topic'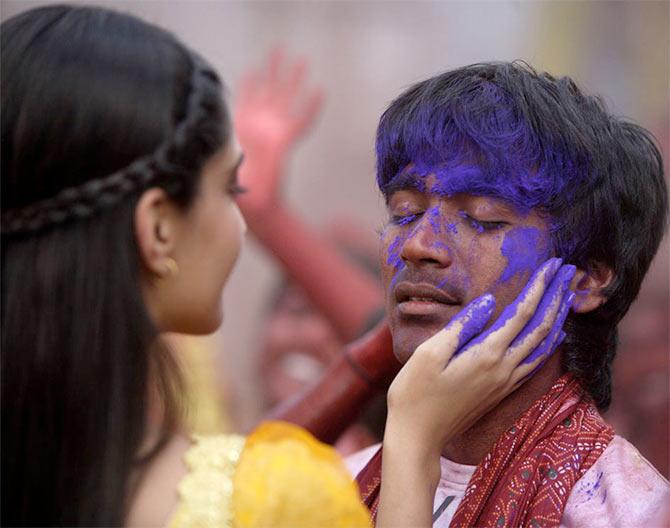 IMAGE: Sonam Kapoor and Dhanush in the Tum Tak song in Raanjhanaa.
Rai credits A R Rahman, who composed the music for Raanjhanaa, for making his film even better.
"He's a magician!" Rai exclaims. "He's the pillar, the strength of my film. He doesn't write the songs, he writes the connecting screenplays of my films. I cannot take every film to him. I only take films that I feel truly deserves Rahman. I honestly didn't think Tanu Weds Manu should go to him. To make a film deserving of him, you have to work very hard at it."
Rai spent 15 to 20 days in Chennai with the soft-spoken maestro for a song sitting.
Rai spent most of that time doing nothing, making friends with Rahman's assistants and kitchen staff and exploring the neighbourhood.
One day, Rahman asked him to listen to something, something that he compsed for Rai.
"It was Rahman humming a tune. And I was so touched!"
The song was the beautiful Tum Tak, which went on to become a chartbuster.
"But he never wants praise. If you say, 'I miss you sir', he will change the topic. He wants to make you feel he's detached, but he's not really," Rai says.
***
'I cannot direct horror'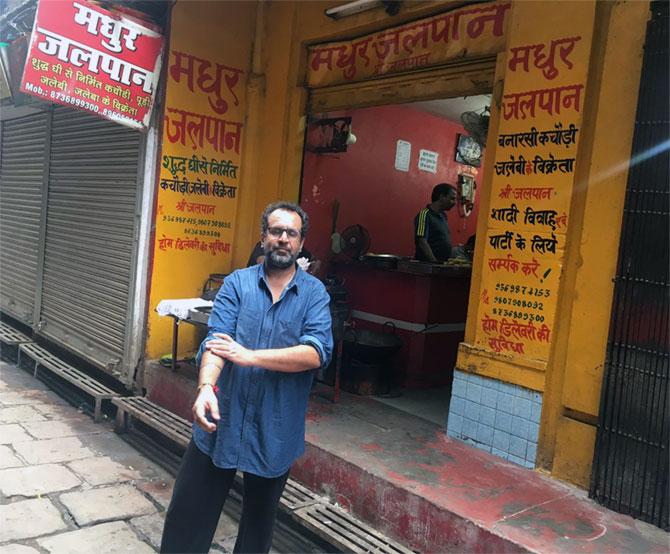 IMAGE: After a visit to the Kashi Vishwanath temple, Aanand L Rai steps for an puri-aloo sabzi breakfast at Madhur restaurant. Photograph: Aanand L Rai/Twitter
Will Aanand L Rai, who has made such fabulous romantic films, ever make an action?
"People laugh at me when I say this, but one day, I'm going to make a brilliant action film. People think I can't do that," he replies with a grin.
What about horror?
"I can't do horror," he says, as he sheepishly explains why: "In my TV days, Zee TV had a slot called Rishtey, which was meant for emotional shows, and a slot for horror shows. Different directors would make short stories in each category."
"I would direct shows for Rishtey and I enjoyed that. But I wanted to try horror as well, so I would request the producer from time to time. But they would always hand me Rishtey instead. One day, I insisted, so they let me direct a horror show."
"I made it, and found it very interesting. I gave it to them, and they liked it a lot. After three weeks, they played it on Rishtey! I told them I had made a horror show! But they said there was so much emotion in it that no one would get scared. I had made a love story about ghosts! So on that day, I realised I cannot direct horror."