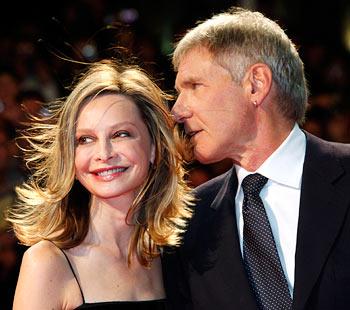 He made his name by playing iconic tough guys, especially adventurer/archaeologist Indiana Jones, but this weekend at the 35th annual Deauville American Film Festival in Normandy, France, Hollywood legend Harrison Ford showed his soft side.
Ford, the fest's guest of honour, was overcome by emotion while watching a film that celebrated his career. Addressing the audience afterward, a teary-eyed Ford still managed to joke: "That was a very wonderful bunch of clips. Some of the films I hardly remember, but I still have all the suits. The French have always been very kind to Americans, to American films and to me, and I'm very grateful."
The 67-year-old actor was then regaled by a standing ovation that included French Cultural Minister Frederic Mitterand, Hollywood legend Meryl Streep and his own fiancee Calista Lockhart.
He's best remembered as Han Solo in the original Star Wars Trilogy and Indiana Jones in the Indiana Jones series, but Harrison Ford's body of work contains much more: Blade Runner, Witness, Patriot Games, and Clear and Present Danger, Apocalypse Now, Presumed Innocent, The Fugitive, Air Force One and What Lies Beneath. 
As for the 11 films up for awards at the 10-day event, Oren Moverman's Iraq war drama The Messenger took home the grand prize. It also won the International Critics prize.
Image: Calista Flockhart and Harrison Ford | Photograph: Pascal Rossignol/Reuters