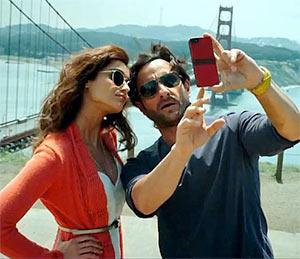 Indian and Pakistani movies, now in New York theatres!
N
ew York's ongoing South Asian Film Festival has got quite a good taste of India.
It all started with the film X, made by 10 Indian directors, most of them up and coming, with a "disparate style of filmmaking." They include Sudhish Kamath, Abhinav Shiv Tiwari, Anu Menon, Hemant Gaba, Nalan Kumarasamy, Pratim D Gupta, Q, Raja Sen, Rajshree Ojha, and Sandeep Mohan.
SAIFF, now in its 11th year, is the brain child of Shilen Amin, a cineaste and real estate star.
"We have been reaching out to younger film makers and audience," he said before the festival opening. "And a passionate set of volunteers. We joke -- but God forbid -- if some one falls sick during our screenings or events, help is at hand. Because there are so many doctors volunteering."
Directors Krishna D K and Raj Nidimoru, who began their film journey with the micro mini budget Flavors in America over a decade ago and went on to make Shor In The City and 99, are offering Happy Ending on November 20.
It tells the story of Yudi (Saif Ali Khan), a writer, in a dilemma over finding inspiration and finding love. He meets Armaan (Govinda), a fading movie star who thinks getting a Hollywood script written Bollywood style could save his career.
Yudi seems to be the answer, but then can there be a movie without complications? Enter Yudi's ex-flame (Kalki Koechlin), who is convinced she is still in a relationship with him.
While the SAIFF center piece is Happy Ending, the others are a testimony to the determination and courage from mainly emerging filmmakers.
Here's looking at the other films that will be screened at the festival:
November 21
In Rajesh S Jala's film 23 Winters, we see a refugee from Kashmir who is schizophrenic, and glimpses of his traumatic past which haunt his present. Nonetheless, the filmmaker shows his hopes are unvanquished.
In
Titli,
the youngest member of a violent car-jacking brotherhood, plots a desperate bid to escape the 'family'
business. His schemes are thwarted by his unruly brothers, who marry him off against his will.
Soon, however, Titli finds an unlikely ally in his wife, Neelu. They form a pact to break the stranglehold of their family roots.
The film's director, Kanu Behl, who had co-written Love Sex Dhoka with Dibakar Banerjee and has been garnering praise at film festivals for Titli, will be at a Q and A on the film at the screening.
In Jigarthanda, an aspiring short film director, Karthik, is turned down by a director at a reality show. Around the time, a commercial film producer likes Karthik's work and assigns a gangster film to him. Karthik takes up the challenge, and, with the help of a college buddy, snoops around Madurai studying a gangster called Assault Sethu.
Karthik tries every possible way to get close to Sethu, which leads to unexpected events and reversal of fortunes.
November 22
In Killa, while he is coping with the death of his father, 11-year-old Chinu moves to a small Konkan town from a big city because his mother has been transferred. He is alienated and reluctant to open up to his new neighbours in and his mother carries a burden of her own.
How are they going to heal?
The film is director Avinash Arun's feature film debut and swept the Crystal Bear at Berlinale this year.
Dukhtar is a drama/thriller set in a remote region of Pakistan.
A mother kidnaps her 10-year-old daughter to save her from being a child bride. Their escape triggers a relentless hunt. As their pursuers close in on them, mother and daughter meet a truck driver who sounds cynical and yet offers an unlikely hope.
'Their destinies entwined, the trio embark on an epic journey through the stunning landscape of Pakistan where the quest for love and freedom comes with a price,' said filmmaker Afia Serena Nathaniel who will be at the screening.
November 23
The festival closes on Sunday with Na Maloom Afraad, a comedy from Pakistan centering on three reckless but struggling souls, chasing their individual ambitions and desires. They are brought together by one incident which makes their not-so-simple life a roller coaster ride of ironic twist and turns.