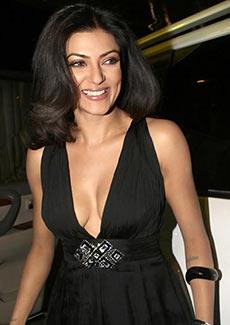 A look at the top tweets from your favourite Bollywood celebrities:
Former Miss Universe Sushmita Sen celebrates her 39th birthday on November 19.
Thanking fans for the wishes, she tweeted: 'My most loved B'ful People:) I just reached my top secret haven..sushhhhh!;) here 2 bring in my 39th b'day!! ur wishes, love,cards..Uffff.'
Sen will be next seen in a Bengali film called Nirbaak.


It's wrap a for Piku!
The shooting for Piku in Kolkata has come to an end.
Director Shoojit Sircar tweeted: 'PIKU finishes Kolkata schedule...Grateful to the CM of West Bengal, Mamata di, for her support & warmth..this wld not have been possible without her blessings. Grateful to the Kolkata police for their support and administration in enabling a successful shoot & to the people of Kolkata, for their love, for making us feel at home...from PIKU team...Dhonobaad!!'
Deepika Padukone added: 'Kolkata schedule done. Big thank you to Chief Minister Mamata Didi,Kolkata Police,Oberoi Hotel..& my people of Kolkata for all the love & joy.'
Amitabh Bachchan, meanwhile, is now looking forward to the 45th International Film Festival of India. 'The days of shoot come to an end in Kolkata for 'PIKU" .. now to IFFI in Goa for the inaugural, then Delhi and Gujarat for shoot !' Bachchan posted.
Ram Kapoor: Sunny Leone is so much fun
Ram Kapoor, who is currently shooting with Sunny Leone for Kuch Kuch Locha Hain, is all praise for his co-star.
He shared a picture from the sets in Malaysia and tweeted: 'Wasssssup tweeps!!! On set having a blast as usual...sunny is sooo much fun to work with, she's an absolute darling!!'
The film, which was earlier titled Patel Rap, is being directed by Devang Dholakia.

Pooja Bhatt finds her leading lady
Actress-turned-filmmaker Pooja Bhatt has finally found her leading lady for her ambitious film Cabaret.
'If a river has it's own destiny so does a role... @CabaretTheFilm has found it's protagonist! Watch this space for more!' she tweeted.
Directed by Kaustav Narayan Niyogi, the film will star Randeep Hooda as the male lead.

Raghu Ram out of Roadies
Host Raghu Ram has quit MTV's popular reality show Roadies.
Confirming the news, he tweeted: 'Fired from roadies?? Wrote it in my book that I was moving on. I've my own company and am doing very well for myself, thank you. Mtv source, Pls get over my quitting roadies.'

RGV to start a film industry in Telangana
Filmmaker Ram Gopal Varma is all set to start a new film industry in Telangana.
Confirming the news, he tweeted: 'Karimnagar film industry's 1st film wil be "Chari-tra" directed by Siddhardh nd produced by Edla Ashok..Chari is the name of the girl.'