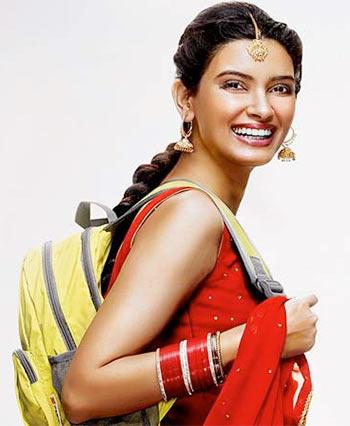 If Happy Bhag Jayegi succeeds in delivering a few laughs, it's entirely to the credit of the actors, says Sukanya Verma.
There's a lot of love for the whimsical girl in our movies.
People in the movie are floored by her charming irreverence.
People outside the movie are fans of her offbeat rebellion.
But, bank blindly on her myth without a lively subtext for her actions and the template is as exciting as flat soda.
In director Mudassar Aziz's Happy Bhag Jayegi, the titular Happy (Diana Penty) appears to be a hodgepodge of Kareena Kapoor's boisterous Punjabi girl in Jab We Met, Kangana Ranaut's audacious rebel in Tanu Weds Manu, Parineeti Chopra's runaway specialist in Shuddh Desi Romance and Sonam Kapoor's sneakers-preferring bride in Dolly Ki Doli.
As fun as these inspirations are, the end result is a sloppy protagonist who's neither convincing in her mischief nor original in her exploits.
Penty, best remembered for her dazzling subtlety in Homi Adajania's Cocktail, returns to screen after a considerable gap to play a complete contrast. As breathtaking she is, her performance lacks the necessary humour and sass to salvage a lazily written sketch. All her relentless screeching and tantrums prove grating around a script that sees odd virtue in her cantankerous ways.
What happens is Happy, an Amritsar resident, is inadvertently transported to Lahore in the course of a failed attempt to elope with her jobless boyfriend Guddu (Ali Fazal) on the day she's due to marry corporator Bagga (Jimmy Shergill). She lands up in the living room of Bilal (Abhay Deol) an aspiring politician and ex-Governor's son in Pakistan.
Panic ensues, both back home and across the border leading to lies, chaos, hectic traveling between Amritsar and Lahore, make-believe cousins and ghosts, bossy/ jealous girl friends, intimidating fiancés, infatuated do-gooders, blockheaded beaus, lumbering kidnaps and an over-the-top climax worthy of a Priyadarshan movie.
If only it wasn't so witless and flimsy, I'd buy it too.
While I appreciate the jingoism-free setting, Happy Bhag Jayegi's creativity has the texture of a well-meaning school play, where kids generate excitement by reacting excessively to any situation or yelping at the top of their voice. What's cute there seems daft here.
Such a pity, especially when the actors flanking Happy are so talented and endearing to watch. If Happy Bhag Jayegi succeeds in delivering a few laughs, it's entirely to their credit.
Jimmy Shergill gamely lampoons his bride-bereft boastful groom from Tanu Weds Manu and looks visibly chuffed dancing to Sunny Deol's Yaara O Yaara from Jeet.
Ali Fazal does well as the sweet-natured dolt.
Abhay Deol is saddled by half-hearted writing, where it's never too clear if his repressed desires and expressed views are of any consequence to the plot. Still, his easy-going charisma pitted against Penty's raucous outbursts is quite a relief.
There's also Pakistani actress Momal Sheikh, quite the radiant presence and a source of needless romantic complication.
Piyush Mishra's distinct dialogue delivery, this time in chaste Urdu, provides some comic wordplay wherein mousiqui becomes mausi-ki.
It's silly but this is the most humour you can expect.
Rediff Rating: