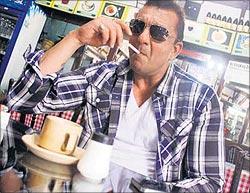 After his last release Department logged poor collections at the box office, filmmaker Ram Gopal Varma, who apparently developed creative differences with the film's actor Sanjay Dutt, said he had a harrowing time working with Dutt in the movie.

Department also starred Amitabh Bachchan and Rana Dagubbati in the lead, besides Anjana Sukhani and Abhimanyu Singh in pivotal roles. It released on May 18 and was panned by critics.

Reportedly made at a budget of Rs 30 crore, the film has so far earned Rs seven crore at the box office.

'Whatever else happening to Department I am supremely happy that I don't want to see the faces of Sanjay Dutt and Dharam Oberoi (CEO of Sanjay Dutt Productions) for the rest of my life,' Varma wrote on Twitter. He went on to defend his film here.

When the shooting of the film was going on, there were reports that both Varma and Dutt were at loggerheads. However, they denied it during media interactions.
"From forcing me to take Kangna (Ranaut) out of the film to constantly cornering me to change screenplay, I had the most horrible time working with Dutt," Varma said.
Both Dutt and Oberoi too had expressed displeasure over the way the film was handled by Varma. "If Dutt and Oberoi think I am the bad in Department, lets wait for Zilla Ghaziabad and Soham's film where I am not there to spoil their creative inputs," Varma said.
Meanwhile, Dutt and Oberoi have also reportedly told a Mumbai tabloid that they advised RGV against using a 5D camera in the film and yet, he went ahead and used it. The way the camera has been used in the film has been universally panned by critics and audiences alike.
Dutt apparently has also said that he would not like to work with RGV again.