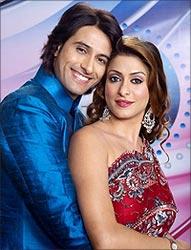 Television actors and real life couple Apoorva and Shilpa Agnihotri, who attended the Juhu rave party busted by cops on Sunday night, claimed to be innocent and alleged they were targeted for being celebrities.

The two was present at the party held at Oakwood hotel in suburban Juhu, where approximately 110 grams of cocaine along with MDMA, popularly known as ecstasy, and charas was seized.

Two IPL players -- Rahul Sharma and Wayne Parnell (of Pune Warriors India) -- were among the 96 persons who were detained after the raid on the party.

"It is an unfortunate incident. We are innocent. We did not see anyone having drugs or anything of that sort. The crowd was pretty decent," Apoorva told PTI.

"We just went to the party at around 6:25 pm, and at 7 pm police came in to check. We were shocked...surprised as we just went to have a good time at the party," he said.

According to Shilpa, there were journalists, scientists and others at the party. "We had no idea it was a rave party," she claimed.
"Somewhere down the line, I feel it is due to the celebrity status that we are targeted. It is the flip of being a celebrity," Apoorva said.
The actor duo were taken to various hospitals, where their blood samples were collected. "Shilpa was taken to Bhabha and J J hospital, while I was taken to Cooper hospital. They took our blood samples and then we were let off. There is no case against us," he said.
"When my blood sample was taken it was not labelled for 45 minutes. I was after them as I did not want it to be swapped. By no way my test could be positive," Shilpa said.
Apoorva shot to fame with popular TV show Jassi Jaisi Koi Nahi while wife Shilpa was seen in Ekta Kapoor's Kyunki Saas Bhi Kabhi Bahu Thi.