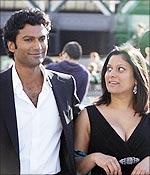 Any Hindi language movie grossing $1 million in the United Kingdom should bring a smile to its distributor and producer but then It's a Wonderful After Life, which is ending its run with $1.5 million, is a British film with Hindi and English dialogue and is directed by Gurinder Chadha.
To say that the horror comedy has outgrossed Akshay Kumar's Housefull in the UK is no consolation.

Afterlife which has Shabana Azmi in a key role along with Hollywood's Sendhil Ramamurthy and the Golden Globe winner Sally Hawkins (Happy-Go-Lucky) was reportedly made for $10 million.
Unless it does good business in America, Canada, Australia, and not to forget India, and sells well on DVD, the film may not recover the cost. (A movie in the UK or in Hollywood has to gross at least two times its budget to break even).
Chadha, who made an international hit Bend It Like Beckham eight years ago which went to gross more than $80 million, has seen her box office clout go down progressively. Even then Bride & Prejudice was a hit, grossing an impressive $10 million in the UK and a healthy $7 million in North America. Her comedy Angus, Thong and Perfect Snogging made about $9 million in the UK two years ago; in the USA, it was shown on TV.
Chadha, a feisty and determined film-maker, is surely capable of bouncing back and making yet another hit. But right now her newest also happens to be the most critcally mauled of her movies. In India the movie has received fairly decent reviews but in the UK it has been a sad story.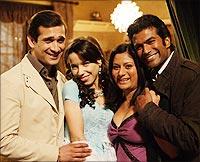 'Gurinder Chadha has near-legendary status for her barnstorming popular classic Bend It Like Beckham -- but this latest misses the goal,' wrote Peter Bradshaw who gave the film two stars out of five in The Guardian.
'Doting Indian mum Mrs Sethi (Shabana Azmi) has furiously murdered all the people who have been nasty to her daughter Roopi (Goldy Notay), whom she has tried to marry off, and these victims come back as ghosts. All the potential for drama and comedy is sacrificed to this totteringly high concept. Sally ("Happy-Go-Lucky") Hawkins plays Roopi's best mate, and she is at the centre of a spoof of a well-known horror film that should have been a five-second visual gag but goes on and on for what seems like 30 minutes.'
Writing in The Independent, Robert Hanks declared: "Fom the director of Bend It Like Beckham, a painfully misjudged serial-killer comedy: Indian mother can't find husband for supposedly obese daughter, starts murdering people with food.
'Chadha appears to think that Indian food is intrinsically humorous; but aside from a neat set-piece -- the climax of Carrie re-enacted with curry -- that turns out to be grindingly inaccurate.'

In the past Chadha has laughed at the critics asserting correctly that the audiences love her film.
She certainly can't say it this time.