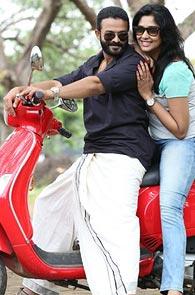 It's time to explore newer markets for films, feels filmmaker Ranjith Sankar.

The Malayalam film industry virtually came to a standstill after television channels decided to slow down the purchase of satellite rights of movies.

Filmmaker Ranjith Sankar, who shot to fame with Passenger and also directed Arjunan Sakshi and Molly Aunty Rocks, made some suggestions to get things moving again.

According to him, the Malayalam film industry needs to explore the hugely untapped
overseas market.
"My film,
Punyalan Agarbathis
had its premiere in Dubai recently and the response to the film was beyond all expectations.
In fact, we have released the film in countries like Japan and Hong Kong.
Our films should open there on a regular basis in the future. It could be a fabulous revenue source, says Ranjith,
The Dubai premiere of
Punyalan Agarbathis
was attended by the films lead pair, Jayasurya and Nyla Usha.
Punyalan Agarbathis
is produced jointly by Ranjith Sankar and Jayasurya. The film released last year in India, and has been a huge success.
Image:
A scene from Punyalan Agarbathis