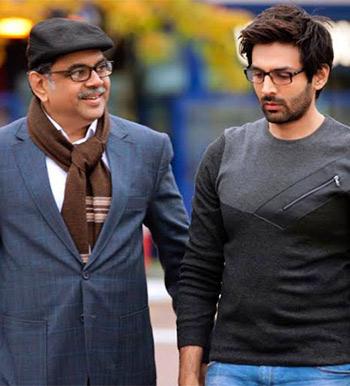 What can you say about a Paresh Rawal comedy where only Sanjay Mishra offers comic relief, wonders Prasanna D Zore.
Which was the last comedy Bollywood made?
While opinion can be divided on that, one doesn't remember having seen a laugh riot as good as Hera Pheri.
Just like its sequel Phir Hera Pheri disappointed big time, the kabhi haan, kabhi na sequel to Atithi Tum Kab Jaoge, Guest Iin London (the film's actors and director disagree that it is a sequel to the Ajay Devgn-Paresh Rawal 2010 movie, but critics differ) also fails miserably.
It's not that director Ashwini Dhir doesn't helm his crew ably; it is not even the case of bad actors spoiling the broth.
Paresh Rawal, Tanvi Azmi, Kartik Aaryan, Kriti Kharbanda and everybody else in the film -- with the sole exception of Sanjay Mishra -- go about their characters with mundane ease, but none of them make you sit up and take notice.
What can you say about a Paresh Rawal comedy where only Sanjay Mishra offers great comic relief with his caricature of a Pakistani character?
It must be called 'comic relief' because everybody else in Guest Iin London (yes, that's how it's spelt!) sincerely sticks to the script.
It is only Mishra, playing the mehendi-dyed bearded, snooping Pakistani neighbour, who wants to expose Kartik and Kriti's fake marriage for the sake of British citizenship.
Every time Mishra, with his twisted Pakistani lingo, opens his mouth, you wake up from your monsoon slumber and begin to enjoy the dull proceedings.
Rawal's Punjabi-spewing 'chacha', who, after every meal, stands up and delivers his farts to make way for the air to pass, embeds himself forcibly into the to-be-married couple's home, but does not get enough funny punchlines, except when he pulls Mishra up for his Pakistani ways.
Call it the director-writer';s obsession with farts, but Guest Iin London has an entire ghazal that eulogises farts that no other Hindi film has ever attempted.
Coming back to the Rawal-Mishra/India-Pakistan camaraderie, full marks to director Dhir and Rawal's acting talent for not making this Paki-bashing sound like, or descend into, jingoism, hate-filled banality for it would have been one of the easiest ways to find favour at the box office.
Guest Iin London has its share of contrived twists and turns, but nothing that make those 138 minutes interesting for the viewers.
When the curtains fall for the intermission, you get the feeling that the Punjabi chacha and Kartik Aaryan will take on the latter's wicked boss -- the first contrived twist in the film.
Post interval, you don't get even a whiff of the boss; instead the filmmaker contrives another twist that makes Guest Iin London a teary-eyed family saga instead of a comedy.
Yet another twist is Ajay Devgn's entry, but find out more about that when you watch the film, if you dare to.
If only Ashwini Dhir had more Paresh Rawal-Sanjay Mishra scenes it would have been much more of a comedy that the filmmaker wanted to make.
Rediff Rating: