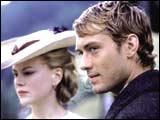 A project rejected by practically every major studio in Hollywood as being too risky, Cold Mountain, directed by Anthony Minghella, was warmly greeted with eight Golden Globe nominations, including Best Dramatic Picture.
Miramax forged ahead with the $80 million movie even after MGM pulled out a month before the shooting started. MGM reportedly wanted to reduce its risk in the production based on a bestseller that remained on the top 20 list for over a year.
| | |
| --- | --- |
| | More on Rediff: |
| | |
Charles Frazier's best-selling Civil War novel tells the story of Inman (Jude Law), a wounded confederate soldier who is on a perilous journey home to his secluded mountain community. He hopes to reunite with his sweetheart Ada (Nicole Kidman). In his absence, she has fought hard to survive and revive her father's farm with the help of gutsy young drifter Ruby (Renee Zellweger).
Miramax, which has distributed the previous two films of director Minghella (Oscar-winning The English Patient and The Talented Mr Ripley), went ahead with the Civil War project despite Disney, the parent company, suggesting that it should still work with a partner after MGM's exit.
The Golden Globe awards given by the Hollywood Foreign Press Association have gained plenty of visibility in recent years. The awards -- given to the movies and television shows -- are split into two sections: comedy or musical and drama. The awards are given out on January 25 in a widely seen NBC telecast.
HFPA has about 90 members, all based in Los Angeles. Despite nominating many small and interesting films such as Boys Don't Cry over the years, some people do not have high respect for the organisation. The times when HFPA courted junkets and gifts from producers, stars and studio is still hurting its image.
Yet Hollywood has warmly embraced the awards and major newspapers and television channels carry news stories about the nominees and winners.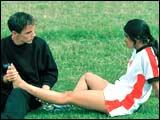 Gurinder Chadha's comedy Bend It Like Beckham, which recently ended its worldwide run with an awesome $80 million (the movie cost just about $5 million), is among the nominees in the Best Picture category.
A popular name in the Oscar categories, Ben Kinglsey, who won an Oscar for his work in Gandhi over two decades ago, was nominated for a small film called House Of Sand And Fog which opens on Friday in selected cities.
And Scarlett Johnson, a newcomer, won two nominations, in the drama and comedy category: Girl With A Pearl Earring, and Lost In Translation (Comedy).
Her Girl With A Pearl Earring which opens in limited release this Friday is the account of the inspiration of a famed  Johannes Vermeer's painting. In the movie, Vermeer employs a teenage girl as a housemaid to care for his six children, his jealous pregnant wife and his moody mother-in-law. It was co-produced by London-based Anand Tucker. 
While the nominations saluted several small budget films, there were two conspicuous absences: the critically acclaimed 21 Grams, the first English-language film by the Mexican director, Alejandro González Iñárritu, was ignored. The grim film revolving around the themes of death, guilt and redemption is struggling at the box-office, though it has done well in Mexico, earning $4.5 million, in its first foreign outing.
In America, where it has been playing at about 80 theatres, it has grossed just about $4 million in the past month. It has strong performances by Sean Penn and Naomi Watson. Also shut out was the acclaimed film, In America, Jim Sheridan's heartfelt immigrant saga, which has done good business in limited release and has earned about $1 million in three weeks.
The Miramax movie, Cold Mountain, which opens on Christmas, also earned nominations for stars Nicole Kidman and Jude Law in the categories of Best Actress and Actor in a dramatic film. Minghella received nominations for Best Director and Best Screenplay.
Kidman was also in the lead in The Human Stain, based on a popular novel by Philip Roth about a man who hides his racial background, opposite Anthony Hopkins. But that film, which was also made by Miramax, belied the high expectations. The reviews were mixed and the box-office never took off.
Clint Eastwood's mystery drama Mystic River dealing with the wages of sexual abuse of a child received five nominations. So did Sofia Coppola's Lost In Translation about fleeting temptations in two marriages that have gone wrong. Both films are moderate hits.
The Eastwood film, which was made for $35 million, is ending its first run with about $55 million in North America, while the $5 million Translation is close to ending its run with a $30 million gross.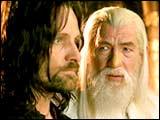 Along with Cold Mountain and Mystic River, nominees for Best Dramatic film were epic adventures The Lord Of The Rings: The Return Of The King, Master And Commander: The Far Side Of The World, and horse racing tale Seabiscuit.
While The Return Of The King has just opened to a big box-office and great reviews, Seabiscuit, which opened in the summer, has grossed a decent $120 million but it is limping abroad.
The well-reviewed sea saga exploring courage, tenacity and pacifism, Master And Commander, is struggling at the box-office. The movie, which cost about $130 million, has taken just about $80 million in North America and is waning fast. It is not a hit abroad either. 
In the comedy or musical category joining the Chadha hit were Big Fish, Finding Nemo, Lost In Translation and Love Actually. All the nominees have done well at the box-office. Actually, Finding Nemo, with a $340 million gross in North America is the highest grossing film of the year. The story of an estranged son trying to make sense of his father's fabled and fantastic tales, Big Fish is drawing big crowds in a limited release.
Joining Jude Law in the category for Best Actor in a drama were Russell Crowe for Master And Commander, Tom Cruise for The Last Samurai, Ben Kingsley, and Sean Penn for Mystic River. Kingsley plays a powerful Iranian exile, who is struggling in his adopted country in the low budget film.
Best Drama Actress nominations with Kidman were Cate Blanchett for Veronica Guerin, Charlize Theron for Monster, Uma Thurman for Kill Bill: Vol 1, Evan Rachel Wood in Thirteen and Scarlett Johansson for Girl With A Pearl Earring.
Many were surprised at Blanchett's nomination. Though her performance as a crusading journalist received decent reviews, Veronica Guerin was a resounding flop. Theron plays a prostitute in Monster which is yet to open. A modest success, Thirteen is a coming of age drama.
Nominations for Best Actor in a comedy or musical went to Jack Black for School Of Rock, Johnny Depp for Pirates Of The Caribbean: The Curse Of The Black Pearl, Bill Murray for Lost In Translation, Jack Nicholson for Something's Gotta Give and Billy Bob Thornton for Bad Santa. Pirates is the biggest hit in this group ($310 million in North America), while the black comedy Bad Santa is headed for a strong $50 million run.
The just opened Something's Gotta Give, about an old playboy falling in love with the mother of a young girl he was dating, is headed for a $75-$80 million run. School Of Rock recently ended its first run with $78 million.
Comedy actress nominees were Johansson, Jamie Lee Curtis for Freaky Friday, Diane Keaton for Something's Gotta Give, Diane Lane for Under The Tuscan Sun and Helen Mirren for Calendar Girls. A body-switching comedy Freaky Friday was a recent surprise hit with $110 million gross, while Under The Tuscan Sun, a story of a divorced woman finding romance in Italy, was a moderate hit.
The Mirren film, Calendar Girls, proved a big hit in England and Australia. It is inspired by the true story of 11 middle-aged women in an English village who posed naked for the annual calendar to raise money for medical research. It opens this week in New York and Los Angeles.

Click here for More Features