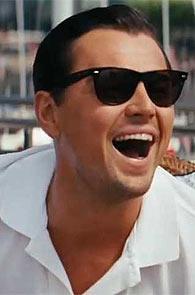 Raja Sen looks back at all the 'genuinely thrilling' films and artists that were honoured at the 71st Golden Globes.

In a year where his brazen braggadocio is being hailed by every critic on the planet, Leonardo DiCaprio -- who picked up a Golden Globe for Best Actor -- should be left to speak for us all. And speak he did, smoothly, taking the trophy he won for 'Best Actor in a Comedy/Musical' -- for a harsh, drug-fuelled Martin Scorsese cautionary tale called The Wolf Of Wall Street -- and berating the arbitrary categorisation.

He called the other nominees his "fellow comedians", and they included Bruce Dern (who acted in the meditative, black and white Nebraska), Joaquin Phoenix (who starred in the astonishingly original Her), Christian Bale (in the 70s-set American Hustle, probably the only bonafide comedy among the lot) and Oscar Isaac (from the Coen Brother's heartbreaking new masterwork Inside Llewyn Davis).

And suddenly it became clear that despite the Golden Globes traditionally treating the Comedy/Musical category as a second-tier rung for starry hit movies, this year, with the wealth of variety on offer, it plainly had a finer pedigree than the usually vaunted Drama category.

Sure, the Drama category featured an all-in slugfest between Gravity (which won Best Director deservedly for the visionary Alfonso Cuaron) and 12 Years A Slave (which won Best Picture - Drama), and while both those films may well go on to dominate the award season, things appear more promising on the other side of the fence.

No matter how good the other "Drama" films, Captain Philips and Rush which loved an awful lot aren't likely to win any major awards, and nobody even claims to have watched Philomena. (DiCaprio, at a point when his very slip-ups seem charming, mispronounced the title, calling it Philo-Mania and making it sound like The Rock was in it.)


Leo aside, American Hustle swept up the Comedy/Musical category quite overwhelmingly, winning Best Picture, Best Actress (Amy Adams), Best Supporting Actress (Jennifer Lawrence) and is being called by many a commentator as this year's Argo: a well-crafted film that is way too much funfor even award juries to resist. Which isn't the worst kinda frontrunner to have in a season where we're all utterly spoilt for choice.
Just look at the Best Actress category.

The Oscar and every other acting accolade ought to rightly hail the splendid Cate Blanchett for Blue Jasmine, but a look at the other nominees -- especially Greta Gerwig in Frances Ha and Julie Delpy in Before Midnight — show a field littered with gems, with talented folks like Gerwig and Delpy often being the only ones nominated from their crews despite having made very special films indeed.

As I commented when the nominations came out, it's a helluva year for the movies and the best we can do is buckle up.

The Oscar nominations will be out this Friday, and all I can urge you to do is look through the nominee list and try to get a hold of every single film.

2013's been genuinely thrilling, and now is our time to savour its best.

Also Read: The Highlights of the Golden Globes, 2014