It could be the biggest hit of the year or it could be one of those also-ran films. But there is no doubt that adventure film based on an internationally acclaimed bestseller The Golden Compass will open to huge numbers on December 7.
Whether the film, which has some of the most notable artists of our times including Oscar winners Nicole Kidman and Ian McKellen, along with Daniel Craig, will turn out to be another The Lord of the Rings will depend a lot on word of mouth to a great extent and on the critics for a lesser extent. And the controversy in America about the film's alleged atheistic message would not mean much if the parents and children will come out of the theaters in the first week having enjoyed the film considerably.
Controversies may not make films into hits but many big budget films have been able to ignore controversies -- especially The Da Vinci Code which was censured by many Christian organizations for its 'heretical' plot   but went on to earn a massive $650 million worldwide two years ago. The film was also drubbed by major  critics. But the must-see factor and Tom Hanks presence in the film led to a worldwide box-office surge for it.
Golden Compass, which a nearly $175 million budget is a big gamble for any studio,  is produced and distributed by New Line and based on the Philip Pullman trilogy His Dark Materials. If it becomes a huge hit, there would be good news for the other films to follow. New Line also produced and distributed The Lord of the Rings trilogy which was nominated for 30 Oscars, winning 17, including a clean sweep of 11 awards for The Return of the King, including Best Picture, Best Director and Best Adapted Screenplay.  At the box office, all three films are among the top 10 grossing films of all time and they have combined to earn nearly $3 billion worldwide. The ancillary sales for all three, including DVD and tie-in merchandise, exceed $2 billion.
The reviews in  England for The Golden Compass are mixed. And perhaps that would be the case in America too.
But the major British publication The Guardian gave it four stars out of five.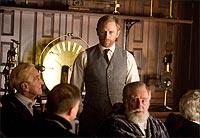 'The first movie-episode in Philip Pullman's much-admired fantasy novel series, His Dark Materials, entertainingly pits a feisty teen heroine against the evil cosmic forces of psychological tyranny,' wrote Peter Bradshaw. 'It's a convoluted, enjoyable, very mad, deeply conservative and, at one moment, horribly violent extravaganza. There's no doubt about what buttons The Golden Compass is pushing. It looks like Hogwarts, Narnia, Middle Earth, or Tatooine. Christopher Lee has a small speaking role. Its weird internal universe takes some getting used to, however, and to this non-Pullman-reader, the claims often made on behalf of his legend about striking a blow for rationalism against religious authoritarianism don't precisely hold up.'
The influential trade publication Variety noted that the film offered plenty of visual splendor, some intrigue and fine performance but it was not suffused with warmth.
The film could far better business outside America since the books are better known across Europe, and even Japan, the publication wrote
The film centers on 12 year-old Lyra Belacqua, whose curiosity and willful temperament open the door to mysteries upon which the fate of her world depends. A ward of Jordan College in Oxford, Lyra is being raised among the mostly paternal company of the Master, where her best and most trusted friend is a kitchen boy named Roger. 'When the story opens, Lyra is going through her life doing her daily activities with no knowledge that the decisions she makes affect anything else in this world, or any of the parallel worlds that exist,' says writer and director Chris Weitz in the production notes. 'Essentially, she is still forming, and she is wild, willful and precocious.'
Weitz encountered the first book in Pullman's bestselling and award-winning trilogy over five years ago while making his acclaimed film, About A Boy, for which he was nominated for an Oscar for Best Original Screenplay. 'I had heard from friends of mine about a fantastic British fantasy series,' he recalls. 'I was absolutely stunned by the imagination and intelligence of the books. As far as ambition and philosophical depth, they left everything I had read previously in the dust.'
He was also intrigued by the world in the book where witches rule the northern skies, where ice bears are the bravest of warriors, and where every human is joined with an animal spirit who is as close to them as their own heart, he says. 
He found lots of suspense in the adventure especially while reading about the world dominated by the Magisterium, which seeks to control all of humanity, and whose greatest threat is the last remaining Golden Compass and the one child destined to possess it.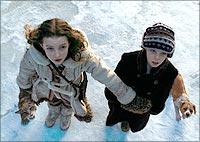 Weitz worked on the screenplay for over a year but the project was taken off his hands and given to the British director Anand Tucker who had the blessings of Pullman, But Tucker and New Line clashed over many things including the budget. Tucker was soon out and replaced by the original choice.  
Weitz says he read with animated suspense what happens to  Lyra who at the start of the series is on mad quests for adventure with her loyal friend Roger (Ben Walker). She is  accompanied everywhere by her daemon, Pantalaimon (voiced by Freddie Highmore) -- a tiny, ever-changing animal that serves as a kind of conscience-keeper for her.
Soon we discover that Lyra's uncle, Lord Asriel (Daniel Craig), is planning a trip to the Arctic Circle to investigate a mysterious element called Dust, but the Magisterium plans to do anything to -- including shutting down Jordan College -- to stop him. 
At the same time, rumors of children mysteriously disappearing and being taken north seem to be true when her best friend Roger goes missing. Lyra will do anything to save him. When a scientist and traveler called Marisa Coulter (Kidman) appears at the college Lyra is emboldened in her quest. 
But Lyra gets a shock when she sees a trap has been designed to take from her the one thing she possesses that the Magisterium desperately wants -- the Golden Compass.  The device can tell the truth, reveal what others are hiding and planning. And it could even changer the future.
Breaking away from Coulter, Lyra embarks on her rescue mission and a plan to stop the Magisterium. Finding herself in the company and protection of a tribe of seafaring Gyptians led by Lord Faa (Jim Carter), Ma Costa (Clare Higgins) and Farder Coram (Tom Courtenay), she is soon flung into series of mind-boggling adventures. .
Weitz says some of the best sequences in the book and the film comes when Lyra is flung into an adventure that will take her over sky and ocean, to the wilds of the icy north, where she gains a powerful ally in a great armored bear named Iorek Byrnison (voiced by McKellen). The bear pledges to serve her in her campaign until she wins. 
The cast of the film includes some of the finest international artists including Derek Jacobi (Gosford Park), Jack Shepherd (Charlotte Gray), Ben Walker (BBC's Sweeney Todd), Simon McBurney (The Last King of Scotland), Jim Carter (Shakespeare in Love), Clare Higgins (Stage Beauty), Magda Szubanski (Happy Feet) and legendary actor Christopher Lee (The Lord of the Rings trilogy).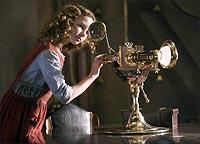 The voices featured in the film are also by the Oscar winner Kathy Bates (Misery, Titanic), Oscar nominee Kristin Scott Thomas (The English Patient), and Golden Globe winner Ian McShane (TV's Deadwood).    
 Dakota Blue Richards was chosen from 10,000 actresses across the United Kingdom and America who had sent their applications. 'Dakota had a particular spirit that made you sit up and take notice,' recalls Weitz. 'I was looking at the tapes and there was this waif of a girl, yet there was something very strong and interesting about her.' 
The role model in Lyra's life is her uncle Lord Asriel. 'He's an explorer and scientist," explains Craig who plays the part.  'He has a mission. It's the most important thing, he thinks, in his life, and probably the most important thing in the history of the world that he lives in.'
Accompanied by his snow leopard daemon, Stelmaria (Kristin Scott Thomas), Lord Asriel is seeking to do away with the evil forces. 'He has discovered this connection between the worlds, and believes that there are millions and millions of worlds running in tandem, and that you can access these worlds if you know the way,' Craig, whose acclaimed films include the Steven Spielberg epic Munich, adds. "And he is hell-bent on going out and finding out what it is, which is against the wishes of the Magisterium." 
Craig whose first James Bond adventure Casino Royale made him an international star over two years ago says the new film is not only an adventure but also a fable.
'It's a very exciting story about being a human being, and how difficult that is,' he muses. 'It's about growing up and how what happens in your childhood is the most important part of your life.'   
Lord Asriel is very tough with Lyra, but he knows it will make her only tougher and resourceful. 'She has no choice but to go out there and do it on her own,' Craig explains. 'By the same token, her friendships and her connections become the most important thing in her life. And that's why people stick with them – because their bravery and their integrity are what always come through in the end.'
Lyra's final alliance is with an estranged armored ice bear Iorek Byrnison (McKellen), who has been cast out of the tribe of Panserbjørne (armored bears).   When she first sees him, she is scared because of his size, and the fact he is also wounded. But she soon knows he's her only chance of having an armored bear as a friend. 
'Lyra travels from the relative safety of her Oxford home to the edge of the world, where the aurora borealis shines and the space between all the parallel universes is thin,' Weitz notes. 'She goes from innocence to experience and wisdom, and is put through enormous physical and emotional trials as she is swept up in this vast adventure. It's a very archetypal, mythic story about a girl who sets out to do something very personal, which is to save her best friend, Roger, and by the time she reaches her destination, saving Roger has given way to saving not only her world, but every world.'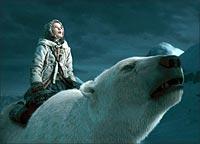 Playing Marisa Coulter, who has kept the true nature of her relationship with Lyra hidden from the child, Kidman found a new challenge. 'I've obviously played characters before that have done despicable things,' she says  'Rarely do you judge the character you're playing. You have to work from within and try to find the motivations as to why she feels that what she's doing is right, and you hope that her humanity bleeds through.'
'Mrs. Coulter's allure and glamour draw her in, but there are other dimensions which Lyra will not discover until later,' Weitz says. 'Nicole brings such experience, compassion, intelligence and insight to this role, and her style just meshed perfectly with Dakota's very natural, instinctual performance. Their relationship, while incredibly tricky, worked out seamlessly on camera.'
In the final reckoning, he says, the film is not about how much it cost or the pedigree of its principal actors.
He and his team never lost the sight of the fact that essentially it is all about a young girl finding her true worth and a world where optimism, bravery, principles and courage are celebrated.