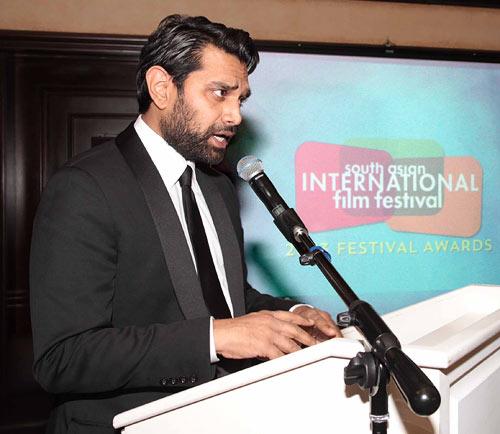 The South Asian International Film Festival celebrates 10 years of showcasing independent cinema. Chaya Babu reports.

On the opening night of the South Asian International Film Festival at the School of the Visual Arts Theater in Manhattan's Chelsea neighborhood, SAIFF Founder and President Shilen Amin choked up as he addressed the crowd.

He was rightfully emotional as he reflected on a decade of running the festival in New York.

'I felt it was my generational responsibility to do something for artists in this space and represent what it means to be South Asian,' he said.

The week brought 15 films to the big screen, coupled with cocktail receptions and after parties at Manhattan hotspots.

Galen Rosenthal, SAIFF's programme director, lead many of the post-screening question and answer sessions, which provided in-depth conversations about the background of the films and the inspiration of the people behind the final products.

The screenings at the fest included an eclectic mix of films, like Ankhon Dekhi, Siddharth, Good Morning Karachi, Anima State, and Quissa; shorts Khoon LTD, Outpost, Tau Seru, Neighbours, First Sight and Kush.

Bengali filmmaker Q's Tasher Desh was also to be screened at the festival, but as a last minute surprise Q unveiled his latest documentary Sari.

The festival closed with The Good Road, India's official entry to the Oscars. The jurors at the Awards gala certainly had their work cut out considering the options in the running.

The material was diverse and yet consistently sophisticated, Amin noted. Themes ranged from gender politics in Quissa and Good Morning Karachi to class differences in The Good Road, gang violence in Monsoon Shootout to vampire youth struggles in Khoon LTD he said.

After the festival ended, Amin told rediff.com that he had feelings of withdrawal after seven days of 'craziness.'

He said when
a decade ago, he started the festival, it was before he had any children of his own; SAIFF was his first baby. He nurtured it and cultivated it to bring to where it is today.
"Seeing it grow over the years has just been really powerful," Amin said. "We're committed to not only our space, but to our filmmakers. We go above and beyond the screenings. It's not just about showing the films, but providing education around them and really supporting the filmmakers."
He added that earlier most South Asian independent films were very niche. They were promoted internally and had no way of reaching audiences.
SAIFF has helped bridge that gap between filmmakers and the industry on the whole. After ten years of building and developing relationships with marketing channels and distributors, Amin said his organisation was a brand and a unique concept that the industry believed in.
"Now our opinion means something and it's valued," he said. "It's not just that the festival has changed with regards to what it symbolises for emerging South Asian artists and how it functions, but the films themselves have improved."
Amin said that the 10th anniversary brought in the most impressive program to date, and he was proud to see how filmmakers truly stepped up their game.
"Our job isn't just to showcase Indian films to Indian people -- we're bringing them to the industry as a whole and to the international market," Amin said. "It's not easy, but it has definitely become easier. We're on people's radar now. We have many more advocates and ambassadors and we think that will just continue."
Jim Halper, a New York City doctor and film buff, said when he first became interested in Indian films he was obviously attracted to Bollywood.
"But then I started seeing other films, like those by Satyajit Ray, and I found that serious independent Indian films rival and are just as good, if not better," he added. "Indian films are so profound because perhaps the problems that India faces are so profound. And of course the whole world is beginning to see that too.
Photograph: Paresh Gandhi