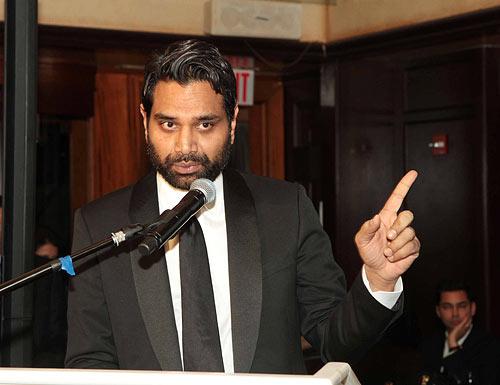 Founder Shilen Amin tells Arthur J Pais how far the South Asian International Film Festival has come since its inception 10 years ago.

Shilen Amin, the founder and the driving force behind the recent South Asian International Film Festival in New York, burst into the social scene about 15 years ago, with the South Asian Networking Association.

From the networking organisation for the young, urban, hip clientele grew a desire to hold a film festival of Indian and South Asian films.

"New York was the capital of independent films, I thought," Amin recalls. "And yet there was no sustained effort to show independent films from the country of my heritage. There would be a sporadic program at Lincoln Center or so to highlight some aspects of Indian festivals but no film festival. And that led to SAIFF."

Amin spoke to Arthur J Pais soon after the latest edition of SAIFF folded in New York last week.

When you look at the next decade of your film festival, what would be some of your goals?

We showcase very good films. Mainstream studios and film companies know some of our artists through these films. SAIFF is also consulted by many other festivals, including the Sundance Film Festival.

But we ought to work on creating opportunities for filmmakers to sell these films to television stations or even self distribute them. We just cannot be a festival of screening films, and then say goodbye to the filmmakers.

You choked when speaking about the festival on the inaugural day.

Ten years of the festival were not easy to accomplish. I have now two little children and though I had started the South Asian International Film Festival before SAIFF, this festival has remained a favourite. It is like my first baby.

I am a first generation Indian American, who was born in a Hindu family and my wife is a Pakistani.

Films are one of the ways our children will know of our heritage, and I want them to know more about India, not just from Bollywood, but films which are the heartbeat of India, the kind of films we have been showing over the years.

How did this festival start?

I think a lot has to do with people like me who grew up in America disappointing our parents by not becoming doctors. I was more into the arts and that remained my passion even while I pursued a business
administration degree at New York University and stayed with me when I married an architect.
Many of my friends were independent filmmakers at NYU, some made documentaries, others made feature films.
I had grown up on a steady diet of Indian films which meant I also saw many badly made films, but I was also developing a passion for good films which were often made by independent filmmakers in America and filmmakers who were not interested in churning out masala films in India.
Some of my friends who made these films used to wonder loudly, Now, we have made these films, how do we get people to see them?
I suspected there were Indian filmmakers too who were making non-Bollywood kind of films and wanted these films to reach a wider audience. They knew only a handful of these films would find distributors.
I would tell these filmmakers, you need organizations to create awareness for your films and you should be savvy publicists and marketers. Even Picasso needs a publicist. A film festival like SAIFF was one step in the direction of creating awareness for these films. Before the film festival was started, because of our work in SANA, Hollywood distributors would call us and tell us about an Indian-themed film they were distributing or the fact that a film had an Indian actor in it. We began to hold special events for these films, and that just increased our effort to organize a film festival.
The Indo-American Arts Council's Film Festival in New York has also completed a decade. Why are there two film festivals?
In the first place, we are not competing with IAAC, even though both the organizations are hunting for good films to show at the festival.
Our group's dynamics are very different from that of IAAC. We began -- and still are -- a more youthful group. In the first year, the film festival was made possible because my wife and I put our money into it. We now have sponsors like HBO.
And we are aware that this is more than cultural event for us.
We want to find an audience for the films we show -- and even those we don't -- an audience beyond the film festival.
And we have over 150 volunteers, most of them being professional and in the age group of 25 and 35, demographically an attractive and powerful group in the marketing world. We do not have a single paid person including me at SAIFF.
We have so many doctor volunteers. We joke that if anyone falls sick at SAIFF there are enough house doctors to take care of him or her.
Photograph: Paresh Gandhi