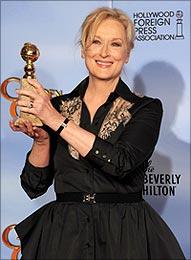 The films that won major awards at the 69th Golden Globes will see a marked increased in their box office collections.
Even the most cynical of the moviegoers who think they have seen everything Meryl Streep can offer must have been jolted by her powerful performance as a woman fighting old age and haunted by good and bad memories in the film The Iron Lady.

Her penetrating performance, which has fetched her Best Actress (drama category) Golden Globe, many believe is not just an indication of an Oscar nomination but a sure win, which would be her third Oscar. She plays the highly successful and controversial British Prime Minister Margaret Thatcher in the British film.

Even those who know little about Thatcher have been astounded by Streep's work which has elevated the status of an utterly mediocre film.
The expectations for Streep receiving the Golden Globe were so high that distributor Weinstein Brothers gave The Iron Lady a wide release on Friday, jumping it from five theatres to nearly 800 across North America. And it grossed a robust $5million.
Because of Streep's performance, the film which is already a hit in the United Kingdom, is doing solid business wherever it is opening. As the Oscar nominations come closer, it will be playing across much of the globe.
Streep, a Hollywood liberal, confessed at the awards how she looked at Thatcher, the divisive conservative figure in British politics.
'I think coming into this I had a very reductive view of Margaret Thatcher, so I sort of did what we all do to political figures we don't agree with -- we turn them into something more than human and less than human at the same time,' she said. 'And it was interesting to look at the human being behind the headlines... in the winter of that life and to have a compassionate view of someone with whom I disagree.'
The Golden Globe awards evening on Sunday was a solid hit for distributor Weinstein Company. Though the Fox film The Descendants won the Best Film (drama) and Best Actor (George Clooney ), films by Weinstein, the distributor of The Iron Lady, won several other major accolades: The Artist (the French import, Best Film in the comedy section, Best Actor Jean Dujardin, and the Best Score) and My Week With Marilyn (Best Actress, comedy, Michelle Williams). 
My Week with Marilyn, which offers glimpses into an encounter between yesteryear artists Marilyn Munroe and Laurence Oliver, is the second biopic to be honored at the Globes this year.
The awards are given by the Hollywood Foreign Press Association. Unlike the Oscars, most of the Globes are given in two categories, drama and comedy or musical. But there is only one award in the best director category which went to Martin Scorsese for his $150 million critically acclaimed Hugo which is struggling at the box office across the globe.
Like The Artist, Scorsese's Hugo is a vibrant and heartfelt film which is also a tribute to the pioneering days of cinema.
Every award winner hopes that it will boost the film at the box office, and if the Globes are followed by Oscar nominations, even those films which are ending their run such as My Week with Marilyn will get a boost as their distributors will take new set of advertisements and add a few dozen if not a few hundreds of theatres.
For The Artist, a black and white and mostly silent film which is a wonderful and lively tribute the silent Hollywood movies -- playing in some 216 North American theatres -- the expansion will be big. The film has grossed a decent (for a foreign and silent film) $12 million in North America.
The comedic but multilayered drama of a father learning to groom his young daughters as his estranged wife is in irreversible coma, The Descendants, has become a modest hit in America, having earned $47 million (It wasn't a very expensive film).
The film which is in some 600 theatres could be going for an expansion this week across North America and if the Oscar nominations for it are bountiful, expect to see the movie, which is slowly opening in foreign markets, to be playing in more than 1000 movies houses in America and Canada. (The behemoth of movies such as  Mission: Impossible --- Ghost Protocol are showing in more than 3400 theatres) 
Many award contenders and winners this year -- The Artist, The Descendants included -- began the buzz at the Toronto International Film Festival. Also shown to much acclaim at TIFF was a small Canadian film Beginners about an elderly widower (Christopher Plummer, who is 83 and remains one of the most active artists in Hollywood) who acknowledges his homosexuality in his dying years. His work fetched him a supporting actor Golden Globe.
Octavia Spencer as a strong housekeeper, who along with other black maids shares stories about life with their white employers in the 1960s in a southern American state, won the best supporting award for The Help. The DreamWorks Reliance movie, which has grossed a healthy $220 million worldwide and is currently a big hit on DVD and Blu-ray, could see its home video sales rise in the coming weeks, especially if it gets many Oscar nominations.
The Adventures of Tintin, a big hit in Europe and Asia where it has grossed $300 million, is struggling in America and is about to end its run with a measly $80 million. It won Best Animated feature film, and if it gets a few Oscar nominations, the movie which cost about $125 million, may see some bounce. 
The 3-D performance-capture film based on the work of the Belgian artist Herge. Its director Steven Spielberg said he said he viewed it as a "buddy movie."
'It shows a man who is a reprobate and a terrible alcoholic who stops drinking -- and when he does, he accomplishes something wonderful,' he said.
A Separation, from Iran, which won the award for Best Foreign Language film is already doing terrific business in art cinemas. With the award, the film which is also a poignant drama of class conflict, family relationships and domestic secrets, is expected to expand from half a dozen theatres to 50 in the next few weeks in North America.
One of the best reviewed films, the movie which cost less than $1 million, is a big triumph for its writer-director Asghar Farhadi. It could become one of the most successful Iranian films worldwide in no time.