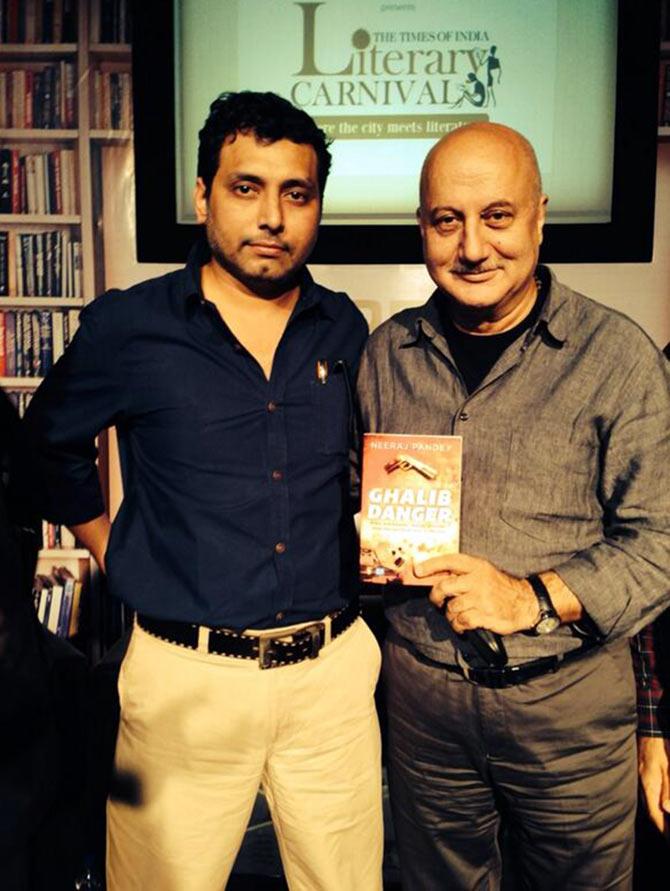 Neeraj Pandey, who has written and directed the brilliant films A Wednesday and Special 26, has written a novel called Ghalib Danger.

The book reads like a film script, even though Neeraj says it's too early to say whether it will be made into a film or not.

The story revolves around taxi driver Kamran Khan whose life changes when he saves a don called Mirza from being killed.

In gratitude, Mirza takes Kamran under his wing and makes him the mafia boss. Kamran also inherits Mirza's philosophy that all of life's problems can be solved through Ghalib's poetry. Hence, his name is changed to Ghalib Danger.

Patcy N speaks to Neeraj Pandey about why he thought of writing a novel, and how different it is from writing film scripts.

What made you write a novel?

I always wanted to write one at least. This was one of those boxes in my life that I had to tick at some point in my life. I am glad it happened now.

I had about eight short stories ready. But (journalist-turned-author) Hussain Zaidi, who is representing Blue Salt, a Penguin imprint, advised me to start with a novel and then do short stories.

If you put so much time into writing books, what happens to films?

It is just between films that I am writing books. I will write a book once in a while and only when the subject is interesting.

Are you going to adapt this book to a movie later?

I would like to make a movie. I don't know whether it will eventually be made or not, and whether I will make it or not.

There was no idea to make it into a movie. I wanted it to be a book on its own and then figure out if a movie can be made.

As it is, I can't make the whole book into a movie. There are too many things, and way too many characters. If I take the story in a linear form, it starts from 1960 right up to 2014.

Now that the book is published and in the market, are you thinking of making it into a film?
It's too soon to say. But since everybody is asking me about it being made into a movie, subconsciously I have been thinking about it. In my opinion, it is good material for a film.
If you want to make a movie out of this book, which is a thriller, the end is already known…
It is not one of those thrillers where there is a huge element of surprise. Plus the book-reading population is way too little compared to the cinema audience.
If at all this is made into a movie, people will be more curious to see how it is interpreted on the big screen.
I may change the end too and the movie adaptation would be 10 to 20 per cent different from the book.
How did you think of the characters in the book?
I would love to say that when you sit to write a book you have a certain amount of clarity in your mind, but that is not actually correct. After a point, I believe the book writes itself; it generates other characters.
There are so many characters I had not thought of initially, as for instance Inspector Kamble who tortures Kamran. His traits and his quirks were an afterthought. So once you have a character, you think about how interesting you can make him in the next two or three pages.
How many characters did you have in mind when you started off?
Before I started writing the book, Kamran was an older person in my head, but when I started writing, it turned out to be a younger guy. In the book, Kamran is 27 and he ages up to 46.
Then I had Mirza, Faroque Khitkhit, and Yakub Mental. And the three women, who play important characters, Salma, Tamnnah, and Nazia.
There was no Chintu. There was Murli Highway, but his daughter, Laxmi, was an afterthought, Mustaq, who gives Kamran his name Ghalib Danger, was not in my head.
And the end was completely different.
What made you write a book on the underworld?
It is not about the underworld as much as about destinies and how they crisscross each other. How certain lives mirror each other.
For me, Kamran's life is mirroring Mirza's life. Both did not choose the professions they are in but their destinies bought them where they are in a bizarre way.
The setting is underworld but it is more about people, their love and their loss and their emotions.
How different is writing a script from writing a novel?
With the novel you have the luxury of putting the story on pause mode for a couple of pages and describing something else, say an anecdote, or a history, or some trivia, and then come back to the story, but still keep the reader engaged.
You can't do that in a movie. Also, if you have to make it into a movie, you have to drop a few characters.
There are too many cuss words in the book…
They will be out once I think of making it into a film.
The cuss words are because of the settings. But at the same time, Mirza has not used a single cuss word in the entire book.
Even Kamran is very restrained; he does it when he has to give threats or when he is talking to himself in his head.
How did you think up the characters' names -- Ghalib Danger, Farooque Khitkhit and Yakub Mental -- and then attach a back story to each?
Things that I have seen in movies and real life inspired me to give those names.
We hear such interesting names but never is there any reason for how that name came about.
In the book, I did not want to let it go like that. I wanted a certain history about it.
There is a reference to two filmmakers, B R Chopra and Yash Chopra. Mirza's father works for B R Films and Kamran watches Lamhe with Salma.
Films are my world so they automatically came in. It was also like a homage to both of them. I respect both the filmmakers. B R is a studio where I still work.
You have thanked Naseeruddin Shah in the book and you talk about his television serial Mirza Ghalib in the story…
He was in my first film. I like him.
I first spoke to Naseerbhai over the phone. I was told by his office that he did not like the script of A Wednesday and that he was willing to pass it on.
I was on the lookout for another actor for that part, but 20-25 days later I got a call from Naseerbhai at 10:30 at night. He told me that he chose to read the script of A Wednesday because it was the thinnest script in the pile of scripts lying on his desk.
He read the script and liked it and was part of my film. Therefore, I thank him in the book.
Whenever I send him any material, I expect honest feedback and he gives me that. That's the relationship I have with him and also with Anupam Kher.
You have used Ghalib's poetry all through the book, and in Urdu, with no translation…
I am a huge fan of Ghalib, Sahirsaab (Sahir Ludhianvi) and Gulzarsaab. These are three of my favourite writers. Of course, there are other Urdu poets that I have read.
I couldn't simplify the couplets though there was a temptation to explain them. But I did not explain the poetry because it will take away the attention of the reader from the poem.
I expect a lot of people will not read the couplets in the book.
What next?
I have produced a comedy film Total Siyaapa. It is directed by E Niwas. I have adapted the screenplay. It will release on January 31. I am also writing script for my next film.
In the picture: Neeraj Pandey with Anupam Kher at the book launch of Ghalib Danger.