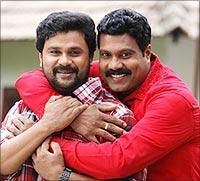 Dileep and Kalabhavan Mani play the lead roles in Malayalam film Film Star, directed by Sanjeev Raj, which will hit the theatres on July 8. Rambha and Muktha will play the female leads.

"In Film Star, Nandagopan (Dileep) plays a villager who writes the story of his own life and sufferings and wants Sooryakiran (Kalabhavan Mani), who is a south Indian superstar, to make a film based on it," says Sanjeev Raj, whose earlier movie was Five Fingers.

Nandagopan's fellow villagers have been moved out of the village and undergo much hardship. Their leader, Comrade Raghavan (Thalaivasal Vijay), died in mysterious circumstances. Nandagopan attempts to unveil the truth behind his murder and is brutally attacked. His family sends him away to Mangalore where he works as an accountant and writes the script which he wants Sooryakiran to make into a film. Sooryakiran is impressed and decides to do the film.

"We come across several such struggles happening around us. What if a celebrity becomes part of such a movement? This thought was developed into a story," says scenarist S Suresh Babu, who wrote the script for Mohanlal's film Shikkaar recently.

Kalabhavan Mani says, "The story is not all about glamour, but focuses on certain genuine issues."
Dileep says that he has done the role mainly for his friend Kalabhavan Mani. Rambha does a cameo as a film heroine, while Muktha plays Dileep's sister.
Film Star
is produced by Wide Screen Cinema. Saloo George is the cinematographer and the music directors are Benny Johnson and Vijayan Poonjar.