Two Kannada films will compete for audience attention during this long festive weekend of Navaratri and Bakr Id. Duniya Vijay starrer Simhadri, directed by veteran Shivamani, and Bahaddur, directed by debutant Chetan Kumar with Dhruva Sarja and Radhika Pandit in lead roles.
Here's a brief look at the two films.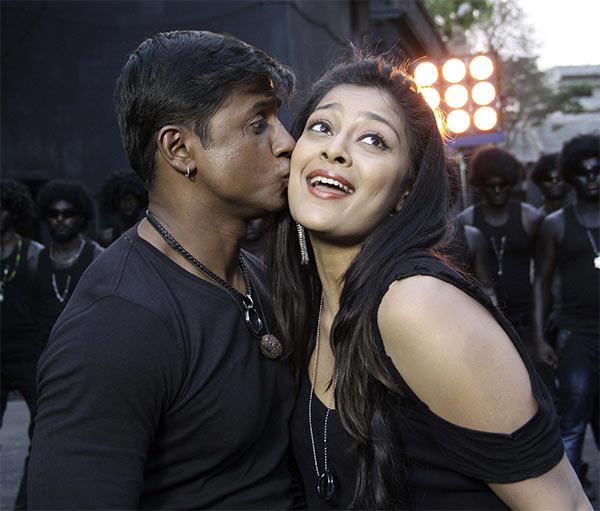 Image: Duniya Vijay and Soundarya in Simhadri
Simhadri
Director: Shivamani
Cast: Duniya Vijay, Soundarya, Aishwarya, Ramesh Bhat, Suchendra Prasad, Bhavyashri Rai, Padmavasanthi
Director Shivamani, well- known for his action films in Kannada such as Rajakeeya and Golibaar, has chosen to make a family film in a rural setting.
Duniya Vijay, better known for his stunts and fights, plays an innocent milkman who turns rebel.
"Villagers who are known for their innocence take people whom they meet at face value. But, when things go wrong, it is a different story. I have tried to blend that innocence and sentiment with the usual action rhythm that is common to Vijay's films," says Shivamani.
He says every household has a story that would stir people's emotions. Simhadri is one such story that will make people cry as well as enjoy Vijay's exploits on screen.
Says Duniya Vijay: "For the first time I will be seen in an elder brother's role. He dotes on his loving sister. The action, emotion and love scenes make for an interesting mix."
Soundarya plays a petty thief. "But she has a reason to be a thief which partly forms the essence of my role," says Soundarya.
"My role educates people about life and relationships," she adds.
The film has been shot in Bangalore, Srirangapatna, Mandya and Bidadi. Arjun Janya has scored the music and R Giri is the cinematographer.
A song from the film, Blacky Blacky, has become very popular.
R S Gowda has produced the film. Simhadri will open on October 2.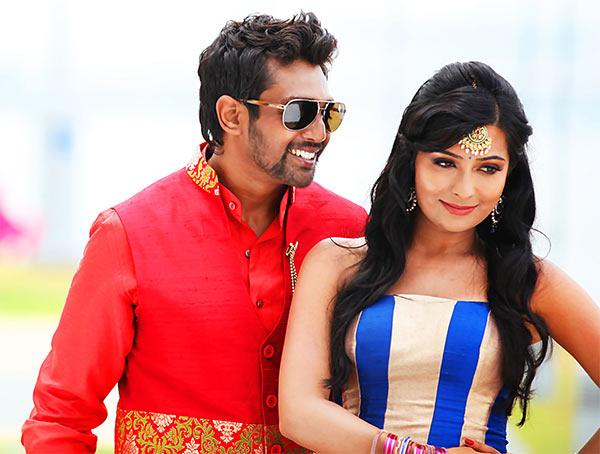 Image: Dhruva Sarja and Radhika Pandit in Bahaddur
Bahaddur
Director: Chetan Kumar
Cast: Dhruva Sarja, Radhika Pandit, Ravishankar, Jaijagadish, Srinivasa Murthy, Pavithra Lokesh, Sudha Rani, Raju Talikote, Jahangir, Vishwa, Uday, Dattanna
Two years after Dhruva Sarja and Radhika Pandit delivered a hit together in Adhoori, they have been paired again in this film.
Bahaddur, which means a great personality in Kannada (and 'courageous' in Hindi) is inspired by a real life incident.
"Bahaddur is a film that is inspired by an incident that occurred in four places – Mysore, Bangalore, Hubli and Madikeri. The film is dedicated to youths, parents and lovers," says director Chetan Kumar who is directing a film for the first time.
"Bahaddur is a feel-good film with a lot of commercial elements, but also with a touch of realism," he says.
Two songs in the movie have been shot in Malaysia. V Harikrishna has scored the music.
Srisha is the cameraman. Puneeth Rajkumar has lent his voice as a narrator for the first time at the beginning of the movie and at the end.
The film is produced by R Srinivas under the RS Productions banner. Bahaddur will hit the screens on October 3.