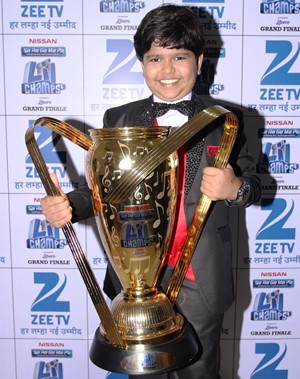 Thirteen-year-old Karnataka boy Gagan Gaonkar was declared the winner of Sa Re Ga Pa Li'l Champs during the show's finale episode over the weekend.
Talking about his closest contender Keshav, who finished second in the competition, Gagan said, "Keshav is a very good singer.

"When we ended up as the last two contenders, either of us could have won. It's just my good luck and my elders' blessings that made me the winner.

"I am grateful to Zee TV and to my parents for taking me where I am today," Gagan said hours after the victory.
The teenager started as a singer at a young age and can sing fluently in his mother tongue Kannada and Hindi.
"I was in kindergarten when I started learning Hindustani classical music. Then I got a chance to be on Sa Re Ga Ma Pa Li'l Champs in Kannada. After that it was the Hindi version."
Gagan remembers feeling anxious and unsure about the auditions in Mumbai.

"There were hundreds of hopefuls and only 12 contestants were going to be chosen. I never thought I'd make it . When I was chosen I was too happy."
Gagan now intends to pursue music while he completes his studies.

"For five years, I have to concentrate on my education but I'll continue my riyaaz (practice).

"After I complete my formal education I want to study audio engineering. I want to be a composer and a singer when I grow up."