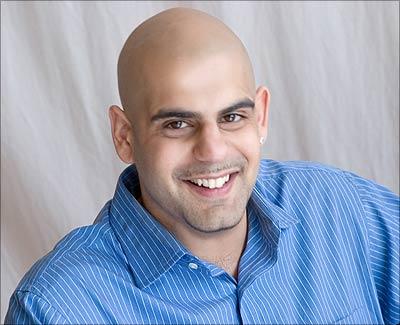 Indian Americans are known for a great many things -- business acumen, success in the medical profession, being the backbone of Silicon Valley. But humour? Do funny desis really exist?
In our ongoing series of portraits, Rediff.com introduces you to the funny men and women who comprise the funny bone of the Indian-American community. For now, meet Anu Kalra.
Anu Kalra feels stand-up comedy has, for the first time, given the Indian-American community a medium to talk and joke about its culture. When he performs at a show where the audience is predominately South Asian, he brings in some material from his mainstream work. But he also gives them a bunch of desi jokes. "They can't get it on television," he says. "And they can't get it from Bollywood because Bollywood is not about the Indian-American experience; it's about India."
Part I: Indian Americans can be funny too
Kalra has been doing stand-up for about six years. When he performs at a club in Times Square, New York, his audience comprises mainly tourists from across the world. He also regales Indian-American audiences with desi jokes; and can be seen at the Laugh Lounge and Stand Up NY club, performing raw, uncensored comedy. "As an American, I should be able to relate to anybody," he says.
Comedy is different for different people, he adds. A 50-year-old may find something humorous that a 20-year-old may not. "Some people think raw and uncensored jokes are funny; some think they're tasteless."
Kalra picks his material from different places. It could be something that happened to him the previous day, or he could be reminiscing about his freshman days at University of Maryland. "Or it could come from exploring my mind," he says. His comedy is a mix of observation, impression and social commentary.
Part II: Half-Indian, half-Japanese, all funny
Doing stand-up is hard work, he says, and it may take seven to 10 years to learn and refine the art. "When you start, you are just trying to get a laugh," he says. "It then becomes more than that; it becomes saying something with your comedy, with your style, and finding a niche." It is only in the last year that he says he has found his feet.
Part III: Why Rasika Mathur is one funny woman
The toughest thing for a comedian is to win the audience back with a joke after one has alienated them with a horrible joke. "A true comedian can do that," he says. And it is a pleasure to work with other comics. Kalra has opened up for Jim Norton, Jim Gaffigan and Indo-Canadian Russell Peters. "My best moment has been seeing what 20 years of hard work can do for you and why building a fan base is so important," he says.
There are certain lines Kalra doesn't cross, like making fun of religion or something that people hold dear. "You can make fun of culture, but you don't want to make fun of tradition," he says. He doesn't joke about rape, which is a horrific crime. "I would never do rape jokes," he says, adding that a South Asian audience would not forgive that. "A South Asian audience can barely take a sex joke," he points out.
Kalra comes from a regular Indian-American family. His two brothers are in the corporate world; 80 per cent of his cousins are physicians; his father works in computers, and his mother has a master's degree in the sitar. He worked as a mainframe programmer, until he discovered stand-up comedy six years ago. "I was a rebel," he says, and admits to making a lot of mistakes and doing things that weren't the smartest. "It was a breath of fresh air for my family (when he decided to go into comedy) that I wasn't doing anything wrong," he laughs.
To be a good comedian, he says, one has to relax the mind and be surrounded by good art. "When I try to write, if I've read the newspaper that day; if I've read a good book and listened to amazing music, it inspires my art to be better," he finishes, quickly adding: "By the way, there is no amazing music these days."
A QUICK ANU SAMPLE
You know you're desi if:
1. You've never seen your parents kiss!
2. Some things never change -- my friend has a million-dollar house, beautiful bathroom, marble floors. But, he still has a bucket and cup in the shower!
3. You don't use your conventional oven! We don't bake anything. We use the oven for storage of our fryer, pans and other dishes!
4. You refuse to take the plastic off your iPod or cell phone! Some of us go so far as to leave the plastic on our couches!
Photograph: Paresh Gandhi