Shivajee Chandrabhushan is just one film old -- but even immigration officials at Mumbai airport are beginning to recognise him.
'Oh yeah, which festival are you going to now?' they ask him, says the director with a grin. Ever since his film Frozen hit the festival circuit, the director has been crisscrossing the globe with it.
Sitting in a tapioca drinks bar in San Francisco, the director says the San Francisco International Film Festival is probably the 22nd event Frozen has been in. It has been nominated for the Satyajit Ray Award in London by the British Film Institute, and has won a jury award in Belgium and at Osian's Cinefan festival in Mumbai.
"I had to refuse Melbourne," he says with a shrug. "I can't help it. I have only two prints of the film."
Not bad for a black and white film set in Ladakh that sounds more like a feat of endurance than a feature film: it was shot at 12,000 feet above sea level, completely canned in 32 days, and made enormous demands on cast and crew alike.
"In Mumbai, even with the slightest cold everyone brings out their jacket," says Chandrabhushan. "When people came to work on my film I asked them, have you seen cold?" Most people, he says, have no concept of sub-zero temperatures. Chandrabhushan ended up designing a special jacket for his crew. When they got their signing checks, they also got a packet with their jacket, gloves and Siachen socks.
"When we got to Leh, they had one week of acclimatisation," says Chandrabhushan. "But by the fourth day they were playing cricket. And we kept up a constant flow of hot tea."
The irony is when Chandrabhushan first thought of making the film, he had no intention of setting it in the icy landscape of Ladakh. He meant to shoot the story in Goa, and in colour.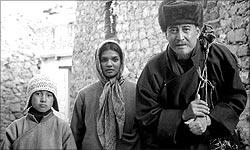 As it turned out, man proposes, the mountain disposes. Chandrabhushan happened to go on a drive from Mumbai to Ladakh. An amateur mountaineer and photographer, he went in from the Kargil side of Ladakh, emerged near Rohtang Pass – and realised this was where the movie was going to be set. "That journey sealed it. The Himalayas humbles you," he says. "It doesn't fit in any canvas. Even as a photographer, I sometimes don't shoot. I take it in with my eyes and keep it in my soul."
He also decided to make the film in black and white to convey the bleakness of the landscape and the shortage of emotion. He knew that black and white stock was harder to get, and technically not as good as colour stock. So he shot in colour stock but printed the film in black and white, even though it made shooting much trickier. One of the cast members was perturbed his makeup made him look like a red-faced monkey, until he realised the burned reds would show up in shades of grey.
Chandrabhushan came back to Bombay, changed his story and started researching Ladakh. But in a way, the story of Frozen starts much earlier. It is, says the director, a very personal story; it is really a story about childhood, about the conflict between right and right, about imaginary friends and a child's eye view of a very adult world. When Frozen was shown in London, a member of the audience asked Chandrabhushan after the screening: 'Why do you call your film a black and white film? It has got so many colours… the colours of life.'
Chandrabhushan's father was an IAS officer. An only child, he remembers having to sit still while people visited with his father at their home in Delhi. He was a lonely kid who would count 1-2-3-4 in his head, and dash through an eerie empty hall at their home. He remembers an imaginary friend he would talk to. He loved reading Calvin and Hobbes, and even now the little boy and his stuffed tiger show up on his profile on Facebook. "I believe all of us have a friend like that," says Chandrabhushan. "Maybe that's why people all over the globe have related to this film."
Frozen, in many ways, exists outside the realm of familiarity for most movie-goers, even Indian ones. A widower ekes out a living making apricot jam in Ladakh, but even that is threatened by the arrival of automation. Then the Indian army moves in to the area and threatens to alter everyone's way of life forever. As change sweeps the region, the widower tries to hold it together for himself and his little family -- his willful teenaged daughter Lasya (Gauri) and her little brother Chomo (Angchuk), but the winds of change are unrelenting.
Veteran Bollywood star Danny Denzongpa plays the widower. "I think it was his 150th film. It was my first film. It was Gauri's first film. It was the music director's first film," chuckles Chandrabhushan. He wasn't sure if Denzongpa would even entertain the idea, though he hoped as a Sikkimese he might be intrigued by a film set in the mountains, that too in January.
Two things clinched the deal, says Chandrabhushan. He sent Denzongpa a bound copy of the script, and the collection of photographs he had shot in the actual location sites of the film.
Denzongpa plays an ageing widower eking out an existence for himself, daughter Lasya and son Chomo making apricot jam. Automated production however leeches into his business; an unscrupulous money-lender demands his pound of flesh; an army regiment requisitions his ancestral land. As problems mount, he attempts to marry off Lasya, but though his daughter is physically mature, she is mentally little more than a willful child, all of which sets up the story to follow.
Chandrabhushan says he had to remind the veteran star occasionally that this wasn't a typical Bollywood film. In one scene, when the girl runs into him, he leaned forward theatrically. "He did it three times and I went to him and said 'Sir, just do it once'," remembers Chandrabhushan. "Then he said, 'Aah, so you are making a subtle film'."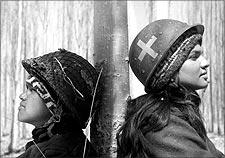 Towards the end of the film, in one final emotional shot in the back of a truck, Chandrabhushan was afraid the tears would come out filmi style. But Denzongpa just smiled and said 'I remember, it's a subtle film.' In the end, however, he did joke that he barely had any lines. 'Sher ka mukh bandh (the tiger's mouth is shut)', he quipped.
"Next time sir, we'll do Matrix in Ladakh," promised Chandrabhushan.
He had a freer hand with his younger stars. Gauri, who plays Lasya, is a Chandrabhushan discovery in many ways. He first worked with her when he made the music video for the Kunal Ganjawala hit Channa ve. As for Angchuk, who plays little Chomo, Chandrabhushan says he's actually a star in his own right in Ladakh, with television serials and films to his credit. "You might even see him on a hoarding," says Chandrabhushan. "He is by nature a quiet boy, and likes to play alone, jumping from stone to stone. So we put that scene in the film."

It's only when he played cricket that Angchuk really came into his own, says Chandrabhushan -- and that is equally true of the director too. "If I see kids playing cricket, I'll join in even if a shoot is going on," says Chandrabhushan. The cast and crew ended up playing a lot of cricket in the snow.
There was even an after-school match with the Ladakhi team and the Bombay team. "We lost, but it wasn't too bad," says Chandrabhushan. "Playing at such high altitude, many of us couldn't even run. We had to get runners."
There's no cricket in the film, though there is a hockey match shot on a frozen lake. The gear for that match was donated by the Canadian embassy in India, since many Canadian expats go there to play their national sport -- ice hockey. By the time that scene was shot, the lake was melting at the edges. But Chandrabhushan says as producer and director, he was okay with the tight schedule. "I promised I'd do the movie in 150 cans of film, and I knew we wouldn't come back to do patchwork," he says.
Thirty two days and 150 cans later, Chandrabhushan looks back at Frozen with a smile. In the end, he says he is happy that he got a bunch of actors and crew members to put on winter jackets and trek to the top of the world to make a film. "I was the guy without a portfolio," he says. "And people still trusted me."