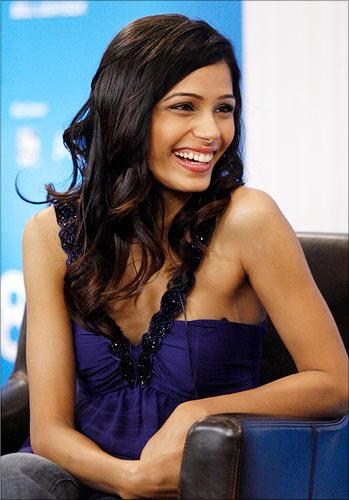 Freida Pinto is in talks to star opposite Spider Man star James Franco in the Rise of the Apes, the prequel to the Planet of the Apes.
The 25-year-old actress, who shot to global fame with her small role as Latika in Danny Boyle's multiple-Oscar-winning film Slumdog Millionaire, will play Caroline, a primatologist in the 20th Century Fox movie.
The prequel is being directed by Rupert Wyatt and will be an origins story.
John Lithgow also is eyeing a part in the film, who will play the father of Franco's character, Variety reported online.
Franco, 32, will play a driven scientist who becomes a crucial figure in the war between humans and apes.
Set in present day San Francisco, Apes deals with the aftermath of man's experiments with genetic engineering that lead to the development of intelligence in apes and the onset of a war for supremacy.
The shooting of the movie is set to begin next month and it is slated to release on June 24, 2011.
Chernin Entertainment is producing the prequel, while Peter Jackson's visual effects house WETA digital will render photo-realistic apes, rather than costumed actors, for the first time in the franchise.
The script has been written by Amanda Silver and Rick Jaffa.