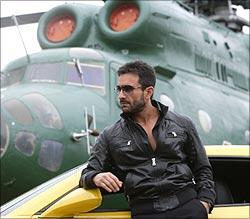 Makers of the upcoming
Agent Vinod
refuted the claim made by an Iranian music band, which said that there are similarities between a track called
Pungi Baja De
from the film and the song
Soosan Khanoom
, made by the band. 
Music company Barobax Corp, founded by three Iranian nationals, has slapped a legal notice against the makers of the soon-to-be-released action-spy movie
Agent Vinod
, for allegedly infringing their copyright over the prelude used in the catchy
Pungi Baja de
track from the film. 
The music band has alleged that the initial portion of the song, which has become a rage now, has been "lifted without any change" from the title song,
Soosan Khanoom,
of their album. 
However, the film's producer Dinesh Vijan denied
this claim. "There is no similarity between the two tracks. It's just that for the first, three-four seconds of the groove cannot be patented anywhere else. For once, Pritam's melody is original," Vijan said.
"If you listen to both the tracks, you will come to know there is no similarity, except for the first three-four seconds," he said. 
The Iranian music band, in a notice, had demanded the music director, producers and directors to refrain from releasing the song in the movie. The band had said they would be compelled to initiate proceedings to seek a restraining order and necessary compensation. 
"There are two versions of the song, the one that will be there in the film, has nothing to do with the song of the singing group... so they cannot do anything about it. We will reply in the right manner," Vijan said.
Agent Vinod
, starring Saif Ali Khan and Kareena Kapoor in lead roles, releases on March 23.