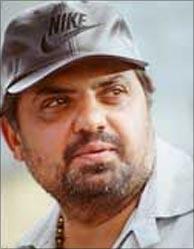 Bollywood director Raj Kanwar, who launched actors Shah Rukh Khan and Priyanka Chopra, passed away today due to kidney ailment in Singapore.

The 50-year-old director-producer made films like Deewana, Laadla, Jeet, Daag: The Fire, Dhaai Akshar Prem Ke and Andaaz. His last film was Saadiyaan in 2010, which launched Shatrughan Sinha's son Luv.

Shah Rukh, who started his career with Kanwar's 1992 film Deewana led the tribute to the director on Twitter.

'My friend Raj Kanwarji passed away. The impermanence of life, makes one feel so helpless. May his soul rest in peace. Aisi Deewangi...miss u sir,' SRK tweeted.

'I got to know that he was in Singapore for a kidney transplant..he was undergoing treatment for kidney ailment there,' director Anubhav Sinha told PTI.
Priyanka Chopra and Lara Dutta, who made their debut with 2003 film Andaz opposite Akshay Kumar, also paid tribute to the director.
'Saddens me so much, my first director Raj Kanwar passed away..RIP Rajji..You believed in me when even I didn't. Andaaz taught me everything I know,' Priyanka tweeted.
'RIP Raj ji. Friend, director and guide. Bid goodbye with a very heavy heart! We lost a kind, gentle, positive man,' Lara wrote.
'Deeply saddened to know, Raj Kanwar, one of our finest directors passed away. He'd directed two of my personal favourite films of my career, Andaaz & Hum Ko Deewana Kar Gaye. My thoughts & prayers with his family. RIP,' Akshay Kumar tweeted.
Filmmaker Madhur Bhandarkar wrote, 'Sad to hear about director Raj Kanwar's demise. RIP.'
'Terribly saddened by the passing of Raj Kanwar. Was the first person to sign me after Refuggee. He made Aishwarya and my 1st film together. Dhai Akshar Prem Ke. Was a lovely man, always happy, smiling and joking. Have wonderful wonderful memories of him. Now no more. Thank you so much Raj ji for the memories. I will miss you,' Abhishek Bachchan wrote.
'Just heard the saddest news of Raj Kanwar's demise, had the opportunity of interacting with him. Pray for his soul and strength to family,' Arjun Rampal tweeted.