Many years before Abhishek Bachchan, Farooq Shaikh immortalised the role of Nawab Sultan in Muzaffar Ali's Umrao Jaan. However, the veteran actor doesn't personally love his work in the movie.
"I wish I had done the role better and looked less like a halwai ka beta and more like a nawab ka beta," laughs Shaikh with his characteristic warm humour. Here's what he told Priyanka Jain about the classic Umrao Jaan:
Why did you accept the role when the film revolved around the female character?
I had worked with Muzaffar sahib before, in a couple of films so when he offered me Nawab Sultan's role in Umrao Jaan, I was more than happy to say yes. It was a very nice experience and an honour working in the film. Muzaffar Ali belongs to a family that has been part of that milieu for several generations, and so the kind of authenticity he brought and the manner in which he could recreate that period was quite interesting to watch and inspiring to be involved in.  
Another advantage was to be able to work with an absolutely first rate performer -- Rekhaji was ideally suited for that role. Umrao, as we know, is the story of the courtesan: a woman of letters who became famous for being a poetess. Then there was Naseeruddin Shah who was the best among the three of us (himself and Raj Babbar included). He stood out due to the correct note in his performance. He could pick up the mannerisms and lingo very easily.  
How do you see the character of Nawab Sultan?
Nawab Sultan is not a man of strong character, and can be manipulated one way or the other. He can be made to act against his will and he has this great desire not to displease his mother because she has had a bad time with his father.
I had to work on making Nawab appear weak, and not capable of taking a stand. In spite of enjoying the kind of social status he did, he never exercised it. There is one scene in which Rekha gets angry with him and is tearing off his clothes. He could have slapped her half a dozen times, walked off and seen to that she was made to disappear but what we see him doing is standing there doing nothing, like a completely helpless boor.
How did you learn the nuances? What preparations were done back then?
When Muzaffar Ali gave me the script; I first went and bought Ruswa's novel on Umrao's life. I read through that and the script. The script does not adhere to the novel very religiously but takes the spirit of the novel and major incidents, while creating a script of its own. That was material enough for me, and after that I followed the vision of my director.
The nuances were picked up from the details Muzaffarji provided. As for the poetry and the language one has been reasonably versed with the language. I was always interested in reading and listening to Urdu poetry, so that did not pose a problem.
The problem was to create a character that could hit the right note, where he is portraying the period and the character. Nawab was a weak character, which is why he gives in to pressures of all kinds.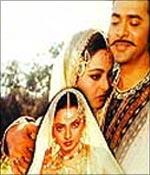 For example, there is an interesting scene where he tells Umrao that his mother has selected a girl for him to marry. Umrao doesn't react badly -- it was the common occurrence in those days -- and promises to meet and keep in touch with him. Then he tells her that his mother does not even approve of that (contact), which is when she feels really let down. Nawab's character could not even bargain with his mother to be true to the woman he loves. That was a little alien to my own personality, and I had to prepare for that.
What did you do overall to make the film and its lingo look more authentic? Did you meet people/Nawabs from Lucknow?
Muzaffar Ali solved that problem for all of us. He cast a lot of people in the small roles from the ones who belonged to that milieu and culture; people who had seen contemporaries of Umrao or had sometime participated in the mujras. Some even remembered the kind of steps the dancer would take; the emoting the courtesan would do.
Amusingly enough, while we were picturising the mujras they would make little remarks to differentiate Umrao's steps from the other courtesans. These were people who knew what these women were like and were familiar with that milieu. Watching, interacting and observing them was a huge help.
Personally too, I had interacted with people from that region, read their poetry and hence knew the cultural ambience that existed at that time.
Were the sets created or was the film shot in old kothas?
We shot predominantly in Lucknow, and some parts in Malihabad and Faizabad. An overwhelming amount of work was done in Lucknow and its vicinity. Wherever Muzaffar found appropriate locations he would set it up there.
One such location was Jehangirabad Palace, now a sad parody of what was there that time. He set up a lot of scenes there, and redid the interiors himself. Then there were small havelis and palaces in Malihabad that he redecorated. The mujra picturisation was done in the baradari in Lucknow. A small portion of the kotha where Umrao lived was created in (Mumbai's) Mehboob Studios.
Tell us about the costumes.
Muzaffar and Subhasiniji (Ali, the costume designer) his then-wife prepared the costumes. Muzaffar had the benefit of being an artist himself, and had a tremendous sense of colour. The visual beauty of the film is thanks to Muzaffar's conceptualisation and what cameraman Pravin Bhatt could capture on his lens. It's a visual treat.
Please recount some memories during the shoot.
I knew Naseer from before. It was comfortable working with him, as he is a good friend and colleague I respect a lot.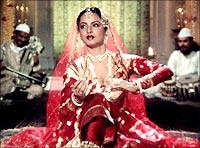 I had happy expectations of Rekha as far as histrionic ability was concerned, but we'd heard a lot of rumours about her 'being difficult to work with' and 'moody to interact with.' However, the experience of working with her was quite the opposite.
Despite adverse working conditions, severe winter, unmanageable crowd, and all kinds of problems, she maintained her cool. If there were 100 people watching the shoot, 99 were there to watch Rekha. She was exemplary in the manner in which she interacted with the entire unit.
What according to you are the main highlights of Muzaffar Ali's Umrao Jaan? Will the new Umrao Jaan take away from its charm?
Khayyam's music had made the film as memorable as it is today and will be for a long time to come. Whenever you think of Umrao Jaan, you will always remember the Umrao Jaan that Muzaffar Ali made. Probably the same may hold true of what Mr J P Dutta has made but it will not obligate anything from what was made earlier.
Sheriyaarsaab's lyrics, Rekhaji's portrayal of Umrao, her persona that ran through the character, and Muzaffar Ali's vision. These are the four factors that have made the film absolutely unforgettable.
How did Umrao Jaan affect your career then?
When you are part of a project that succeeds at the box office, you get spoken about. Hum to bas chalti gadi mein nazar aa rahe the. (We were just seen in a bus that happened to be running well)
Why don't we see you in any more films? Are you disillusioned with the industry?
I would love do more films if I get the kind of work I enjoy doing. I get offers that put me off the moment I read the script. To do films merely because one should be seen on screen does not appeal to me as an actor. You can never control the result of the film but you can control the process of the making, and that can be done only if you are interested and convinced in what is offered to you.
As of now I am reading scripts and unfortunately saying no to them. I am too dwarfed to do direction.
What do you think about Abhishek Bachchan playing the Nawab Sultan role?
I think it will not take much to better my work in Umrao Jaan as I am not happy with what I did. Abhishek is a competent actor, and I won't be surprised if he portrays the role much better than I did.