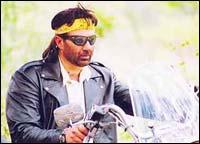 Rok Sako To Rok Lo, Faltu is on his way!
Production house Planman Life has started on its next venture, Faltu, even before its first Hindi film foray, Rok Sako To Rok Lo, hits movie theatres on December 10. Planman's first venture, the Bengali film Saanjhbatir Roopkathara, won critical acclaim.
Executive producer Shubhashekhar Bhattacharya talks Faltu with Patcy N and says they are already finalising actors for their third Hindi film, Tu. Excerpts:
On what Faltu is about
Some people are thrown out of erstwhile East Pakistan during Partition. They settle in a small, seven-family village called Rani. Faltu, an 18-year-old boy, is the darling of the village. But he realises he has no identity of his own.
The film is about Faltu's emotional turmoil and his search for identity. In the process, he rediscovers the other villagers. He even falls in love with a 16-year-old girl.
The story is adapted from well-known contemporary Bengali writer Syed Mustafa Siraj's novel Ranir Ghater Brittanto.
Faltu is one of those movies that completely shake you up. We hope it will go to international film festivals and even to the Oscars.
The Rok Sako lead pair, Yash Pandit and Manjari Phadnis, head the cast in Faltu. Tinnu Anand and Anjan Srivastava are the other central characters.
We are also finalising details with Shilpa Shetty and Irrfan Khan. They have heard the story, and have agreed to act in the film; they just have to sign on the dotted line.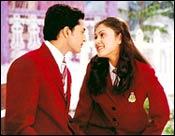 On the shooting schedule
The shooting has already started in October with a seven-day schedule in West Bengal, where the entire film will be shot.
A major part of the film will be shot in 30 days, starting February 15. Shooting should be over by March 25. We are looking for a summer release.
Anjan Das, who directed our first Bengali film, Saanjhbatir Roopkathara, will direct Faltu. He also directed Soha Ali Khan's debut Bengali film, Iti Srikanto.
Roopkathara was one of the seven movies selected from India to go for the Oscars in 2002. It won rave reviews in 12 international festivals.
Two months ago, we released the video of the film in India, and it is second on the Kolkata charts now.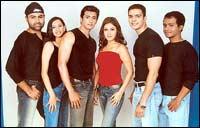 On Tu
It is a musical love story. It will have eight or nine songs. It will be as grand as Kabhi Khushi Kabhie Gham or Silsila. It is a story spanning three generations. There are five big Bollywood stars in the film, but we cannot divulge details now.
The script is complete. Rok Sako director Arindam Chaudhary will direct Tu.
Yash and Manjari will star in it as well.