'For me, success is saying 'no' when you want to say no.'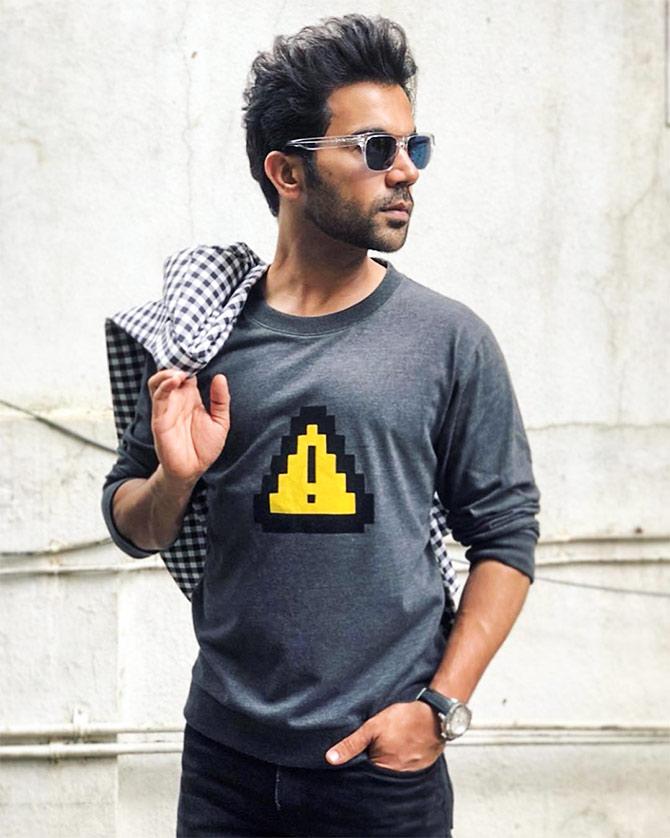 Usually, when an actor enters a room full of journalists, he will greet everyone with a 'Hi everyone!' or a 'How are you, guys?'
Not Rajkummar Rao.
He will shake hands and introduce himself to each journalist, individually.
This is not the first time Rajkummar has impressed Patcy N.
Patcy interviewed him before the release of Trapped. Since he was busy that day, they finally met during the film's special screening at 10:30 pm.
Even at that hour, he greeted everyone at the screening individually, and then stepped out to talk.
"I still feel like a kid," Rajkummar had told Rediff.com that evening.
There are no short cuts for Rajkummar.
He is a hardworking actor, and brings a simplicity to every role that he does.
In real life, he is humble and down-to-earth.
"I suck at networking," the actor, who will be seen in the horror film Stree next, confesses to Patcy.
You are introducing yourself to journalists like this is your first film. How do you feel now that people know you so well?
I am still doubtful. Ise pehle koi mujhe doosre naam se bulaye (Before anyone calls me by another name), I introduce myself.
I am happy that people recognise me now.
Earlier, they would say, 'This is the guy from Queen or Kai Po Che.'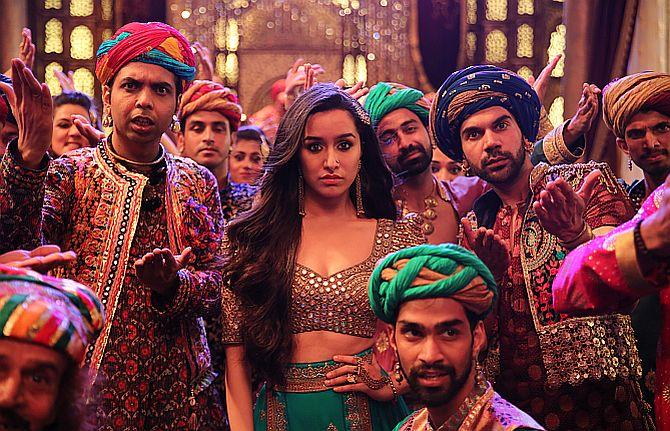 Stree releases on your birthday, August 31.
This film is my best birthday gift.
It was my childhood dream to become an actor in the Indian film industry and that dream is coming true.
Tell us about a memorable birthday.
While growing up, there were no birthday celebrations at home.
But I would be the only one for whom my mother always threw a party because I was always very excited about my birthday.
I have grown up now and don't feel anything special about my birthday.
The last couple of years, my loved ones and I have been going out for dinner.
While shooting Stree, were you scared of anything?
I am scared of bats.
The place where we were shooting in Bhopal -- near Chanderi fort -- is a popular haunted place.
I had to walk in a really long alley, which was full of bats.
The bats would fly the moment they would feel a movement or hear a noise.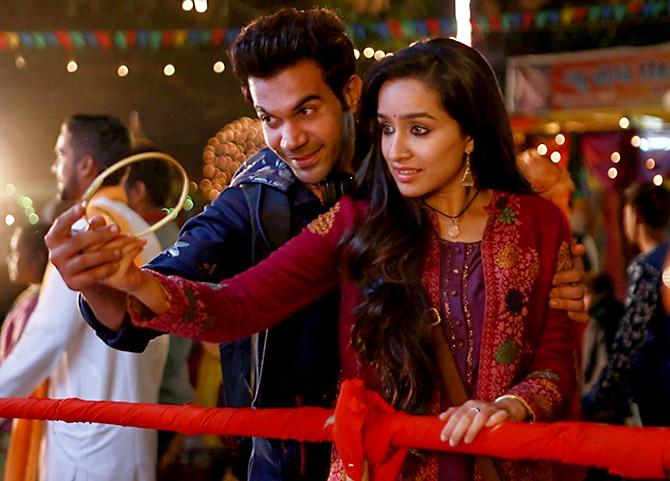 Has any paranormal activity happened to you?
While growing up, we would have horror night sessions.
Then, the whole night you would think that someone was standing at the door!
In Bhopal, we got a rules and regulations paper from the hotel. Even the locals told me strictly not to wear perfume.
Girls cannot keep their hair open.
Nobody could go out alone at night.
Once you are in such a place, you will automatically feel that eeriness, especially when you have to shoot at 2:30 am.
Actually, one of our light boys fell from 50 feet and he claims that someone pushed him.
Why is it that whenever people make horror movies, something strange happens on the sets?
Sometimes, they are stories.
But this one is true. I was there when it happened.
How was it working with Shraddha Kapoor?
Shraddha is a fun girl, very chilled out. She is very hard working and lovely to work with.
She has taken a very different route in Stree.
The kind of performance she has given -- be is her voice or her styling -- it is very different.
She's a daring actor.
You have worked with both the Khurrana brothers -- Ayushmann and Aparshakti. What are they like?
Both are amazing!
They have Punjabiyat in their blood.
Both of them love singing.
All of us had fun making this film.
Shooting for Stree was like a family holiday. We were playing cricket, kho kho, kabbadi... we would cook together.
How are you so down-to-earth despite all the fame?
I don't think I have done anything to really fly.
I am just an actor.
I love what I do.
Thanks to my upbringing, I don't feel any reason to brag.
I am just doing my job like you are doing yours.
You had a slow start. Has that also made you the man you are, and not let stardom go to the head?
Not really, it would have been the same.
I don't really try and be this way.
I just want to be myself.
I can't fake it.
Manoj Bajpayee recently said that his struggle has opened doors for actors like you and Vicky Kaushal. What do you think?
I love him.
He is being kind.
I know the kind of hardship and struggle that he has faced.
It's huge. I haven't really seen that kind of struggle.
When he meets me, he tells me, 'Achcha hai, beta, tum abhi aaye ho. Hamare zamane main aate na toh bahut papad belne padte (You have just come into the industry, in our time we had to do a lot of apple polishing).'
I totally understand that.
Times have changed.
Cinema is going through an amazing transition.
We are experimenting with our stories, writing real characters.
Actors like me are benefiting from that.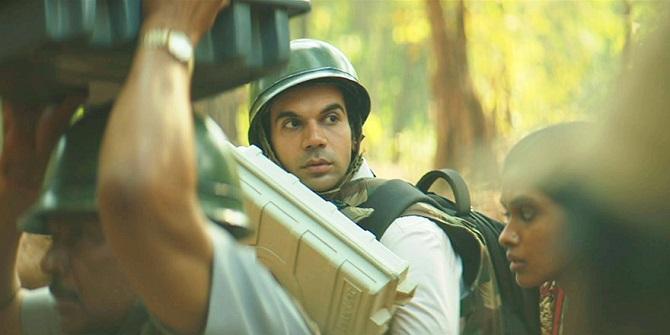 Do you think middle-path cinema is being made, rather than parallel or commercial cinema?
The lines of parallel cinema and commercial cinema have blurred.
For me, Newton is a commercial film.
It entertains you, and yet, tells you something important.
I chose the film thinking about the story, not about how many songs would be there.
Commercial cinema is mostly about songs. If you put five songs in a film, it will become commercial.
I do a film when I feel connected to the story and if I have something new to explore in it.
Today if Hansal (Mehta) sir makes a film with me and adds four or five songs in it, it will become a commercial film.
Being an outsider, do you feel you have to put in extra effort to enter the inner circle?
When I was looking for work, when I had nothing, people told me to go to parties and do some networking.
I said no, I would rather act.
That is something I could never do, and I still cannot.
I suck at networking.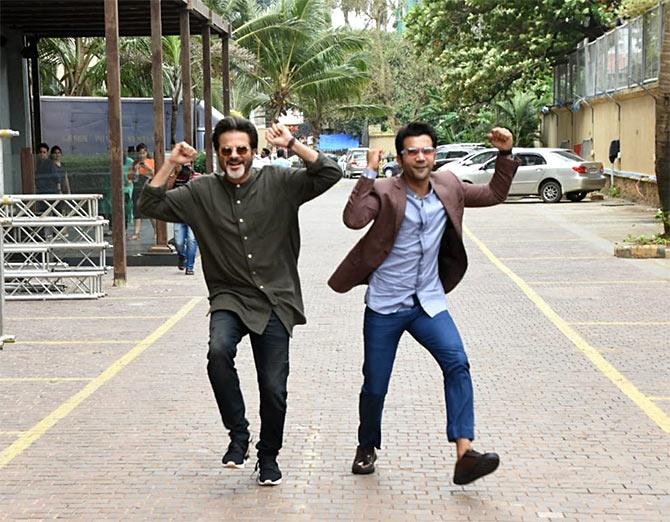 How was it working with Anil Kapoor on Fanney Khan?
It was jhakaas! (Laughs)
It was so much fun!
I got to learn so much; Anil Kapoor is a school in himself.
I saw his commitment towards his work, his discipline... he is so passionate about what he does. His energy is so infectious.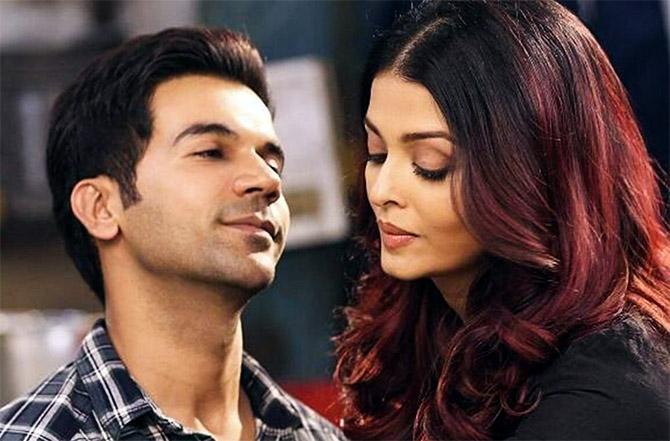 You said you were in awe of Aishwarya Rai. So when you worked on the film, was it distracting?
When I act, when I am in front of a camera, it is not difficult for me.
It's all about the character then.
You are working with Kangana Ranaut five years after Queen in Mental Hai Kya. How much has she changed?
When we did Queen, we didn't know each other well.
Now, we have met many times at different parties, so I know her pretty well.
We are friends.
Now, we are more comfortable (with each other). We understand each other well.
The passion for acting from her side is also the same.
She is still somebody who will deliver her best and do anything to make a scene work.
I will be working with her in Imli, but the shoot will start later this year.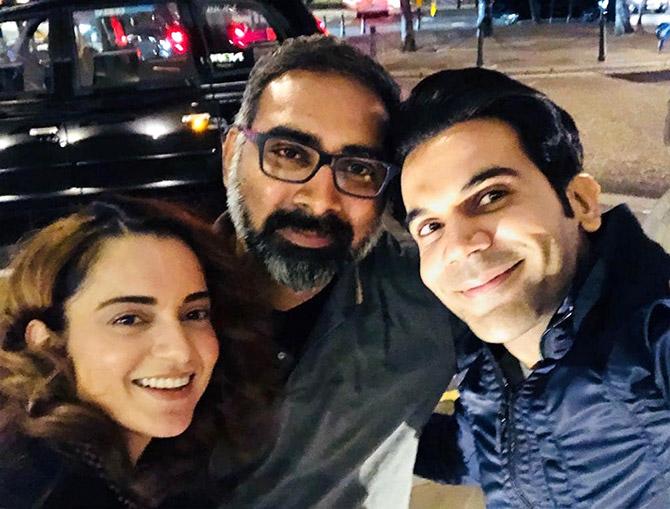 Have you ever thought about producing or directing?
I am not sure about direction, but I may think about producing some day.
I might tell stories that I want to tell.
Which film changed the game for you?
It wasn't one film, but a couple.
LSD, definitely, because it all started with that film.
Shahid gave me recognition; it got me a National Award.
After Bareilly Ki Barfi, people started noticing that I don't just do serious roles, that I can also do drama and probably make people laugh as well.
Personally, I am still the same.
I have better clothes now, but as an actor, as a person, I am still the same.
I probably look slightly better now. (Laughs.)
Which recent films have you watched?
We saw October in Bhopal.
I have watched Raazi, Padmaavat, Sanju...
Are Fridays difficult for you?
I get nervous. It's human.
What does success and failure mean to you?
For me, success is saying 'no' when you want to say no.
Failures are important because they teach you what success cannot.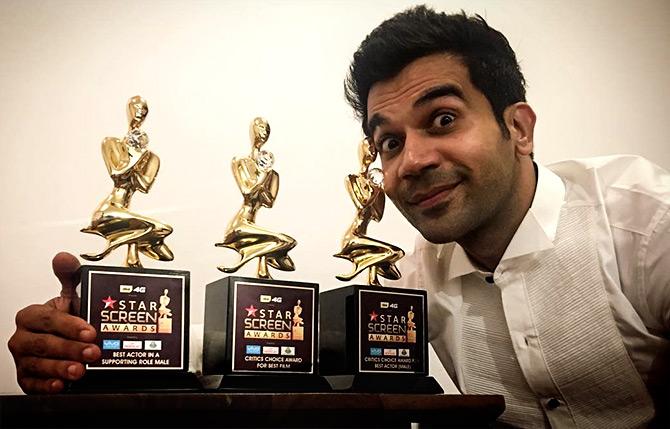 How important are awards to you?
They are important.
Someone is recognising my hard work. It feels good.
Last year, you had six releases. Are you trying to break that record this year?
No, not at all.
After Omerta and Fanney Khan, Stree is probably my last film this year.
Ek Ladki Ko Dekha Toh Aisa Laga and Mental Hai Kya will release next year. There will be three more movies, apart from that.
I am going to slow down now.