'It's very tough for someone, who doesn't have a filmi background, to get work in Bollywood. It's not a smooth ride unless you are really lucky. But I think one has to be prepared for that.'

'I must have given 30 auditions for films alone.'
Rajkummar Rao survived the struggle to give us some brilliant films.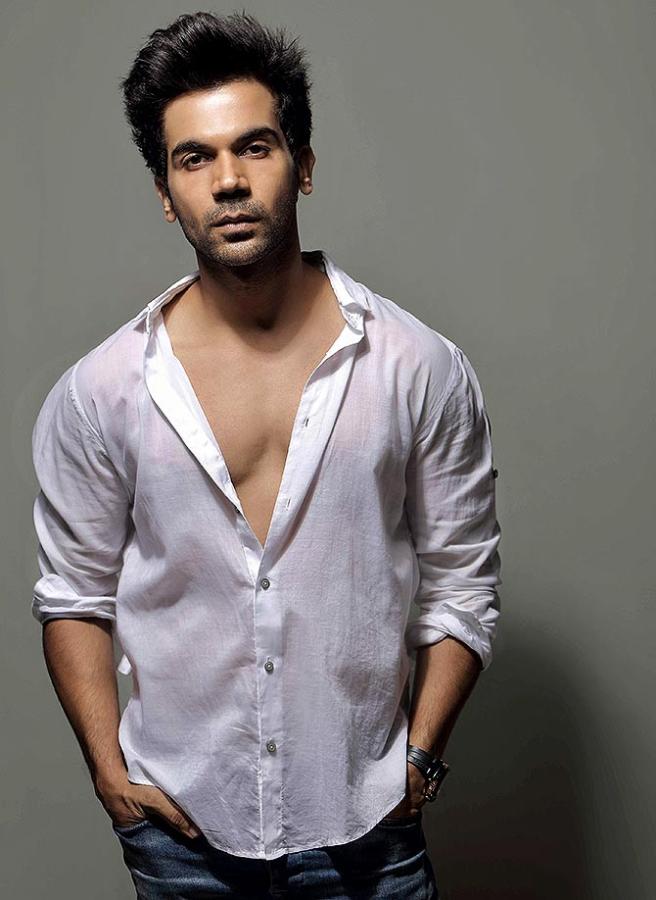 IMAGE: Rajkummar Rao
Rajkummar Rao's Trapped is bringing him some rave reviews, yet again.
It's one of his toughest films, as the actor -- being the stickler that he is -- went through great lengths to prepare for his character, who gets stuck in a high-rise building for 10 days without food, water or electricity.
Rajkummar talks to Patcy N/ Rediff.com about the film and his journey in Bollywood so far.
Why did you sign up for Trapped?
There were two reasons: the first was the chance to work with (director) Vikramaditya Motwane and secondly, the exciting story. Any actor would jump at the opportunity -- it's just about one guy and it's a survival drama -- no one really makes survival dramas in our country. I think this film is the first of its kind.
This movie was made last year. Why did it take so long to release it?
We finished last February. Since it's a tricky film, it needed a proper edit. After that, we took it to MAMI in October and the response was overwhelming, so we wanted to plan a proper release.
How was it working with Vikramaditya Motwane?
Vikram is very young; he's a friend but I have so much respect for him. I kept meeting him at different places and would tell him that I wanted to work with him. He was also interested in working with me.
One day, we were sitting in Lightbox (a preview theatre in Santa Cruz, where, ironically, this interview was held), when he told me about this idea he was thinking about. The moment I heard the story, I was thrilled.
He is a workaholic. The only thing he loves in his life is cinema, the only thing he talks about is his films. Not just direction, he knows editing and is brilliant at it. He's a brilliant sound designer too. His skills are amazing. I felt very safe working with him because I had seen Udaan, Lootera...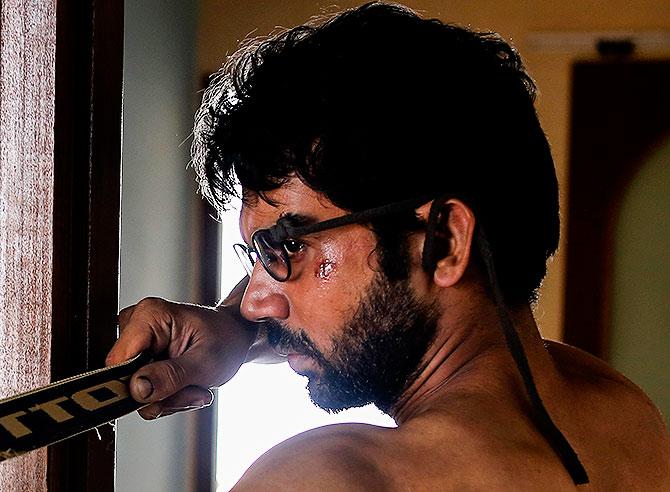 IMAGE: Rajkummar Rao in Trapped.
What preparation did you do for the film?
Apart from creating the character sketch, we thought we would be in the moment and not prepare too much. I don't know how my body would react if I don't eat for 10 days. In order to go through that experience, I almost did not eat or drink water for 15-20 days. I only had one carrot a day, a cup of black coffee and a few sips of water. I would have blackouts -- naturally, my body started reacting -- but trust me, I think that was the only way for me to achieve what I wanted to portray on screen.
There's a scene where my character -- who is a vegetarian like I am in real life -- had to eat meat because that is the only option he has. I thought it would be fantastic if I do that because I have not eaten non-veg before, so the emotions would be the same.
That is the only time I have eaten non-veg. I always tell myself that Shaurya (his character's name) has eaten the non-veg, not Rajkummar Rao.
Besides this, what is the toughest preparation you have done for a film?
I have done it for Hansal Mehta's Omerta but I don't want to talk about it now.
For Shahid and Citylights, I had to lose weight.
Which is the toughest film you have done?
Trapped and Omerta.
Have you ever been trapped or locked out as a child?
No. But I had a scary situation when I was eight. My sister (who was 11 then) and I were alone at home at night. Suddenly, we heard sounds and saw shadows in the house. We thought someone was there and we got very scared. We couldn't even cry because we thought somebody was going to come and kill us.
For the next two hours, we were very attentive of everything of what was happening -- until everyone returned at 11:30 pm.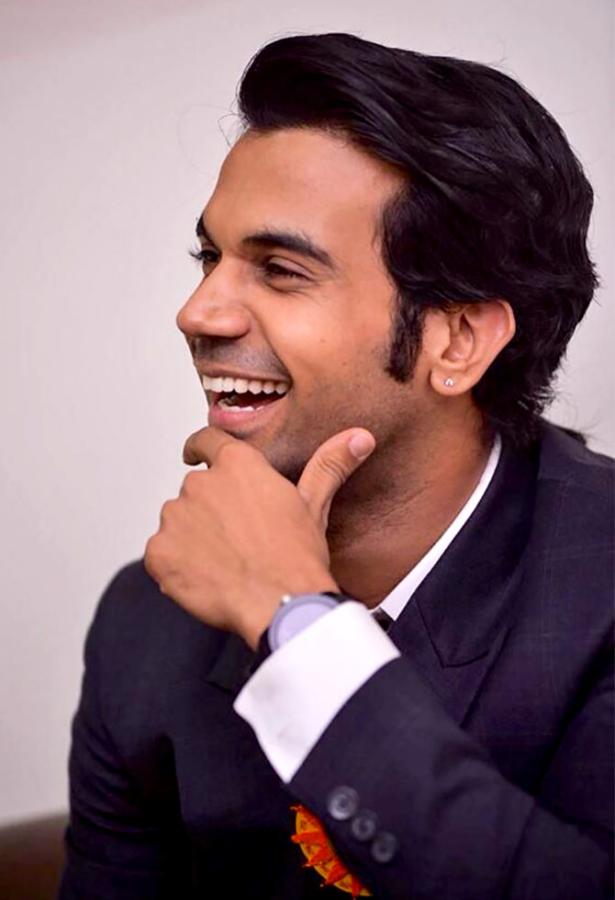 IMAGE: Rajkummar Rao. Photograph: Rajkummar Rao/Twitter
Tell us about yourself.
I am from Gurgoan and studied in Delhi. My father was in a government job; he has just retired. My mother has always been a housewife. My elder brother and sister are married and have kids. I come from a middle class family.
I grew up in a joint family with my tauji-taiji (father's elder brother and his wife) and chacha-chachi (father's younger brother and his wife) and a lot of cousins. All of us loved films, so every Saturday, we would get a VCR and watch two films at night. Slowly, I started falling in love with the filmi world.
When did you get interested in acting?
When I was in Class Four, I wanted to be an astronaut. I am still fascinated with the universe.
I decided I wanted to be an actor when I was in Class Eight.
It was a parallel universe for me -- I though people like Amitabh Bachchan and Shah Rukh Khan are not from this planet and I always thought I would go on that planet one day.
After my schooling, I started theatre. By the time I graduated, I was doing theatre 24x7. Luckily, the FTII (Film and Television Institute of India) acting course started.
My parents have supported me in everything.
How did you plan your next move after FTII?
I knew I had to come to Mumbai because the film industry is here, so after the course, I came here directly.
I rented a flat in Four Bungalows (in Andheri, a western suburb in Mumbai) with two of my friends and stayed there for a year. Then, I shifted to Yari Road (a locality where many film folk live).
I started looking for work, gave auditions.
I've heard you were rejected for ridiculous reasons.
Yes. Some would say I'm not tall enough, some would say I needed more muscle or that my eyebrows looked weird on screen or that I wasn't fair enough.
But I have no complaints; I was prepared for it. I knew it would be a part of my struggle for work.
What was that struggle like?
It lasted almost two years and was very difficult but my family supported me. They took care of everything, as Mumbai is a fairly expensive city.
The rent was Rs 18,000, split in three ways. I would get 10,000 to 12,000 from home every month, which I had to live on.
I would skip lunch sometimes and have a biscuit packet instead. It may sound like a struggle but one could actually manage easily in Rs 12,000 in 2008.
I got four ads in this time, and earned Rs 5,000 extra.
I wanted to do films, so I did not try television or even theatre in Mumbai.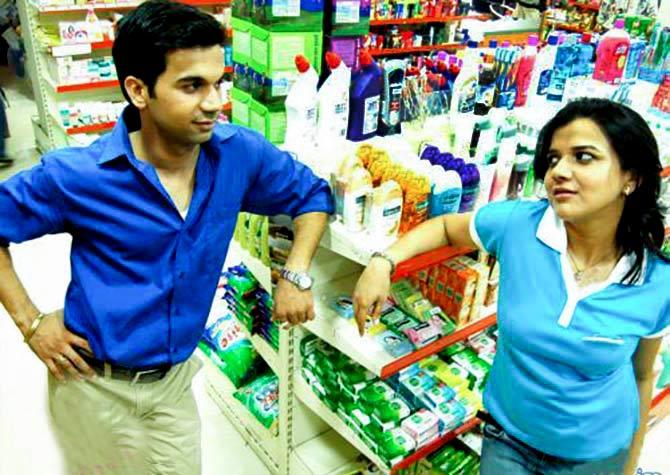 IMAGE: Rajkummar Rao and Neha Chauhan in Love, Sex And Dhoka.
How did you get your first film Love, Sex And Dhoka?

I was in Pune when I read in a newspaper that (director) Dibakar Banerjee was planning the first digital film of this country. He was planning to cast newcomers to make it look realistic.

I had seen his Khosla Ka Ghosla and Oye Lucky! Lucky Oye and am a fan of his work. So I met the casting director and would keep calling him until one day, he asked me to give an audition.

How difficult is it for someone, who does not have a filmi background to find work here?

Very tough! It's not a smooth ride unless you are really lucky. But I think one has to be prepared for that. You can't complain.

I must have given 30 auditions for films alone. I auditioned for ads too because that's the only thing an actor can do if he didn't get films.

So how did the audition for Love, Sex And Dhoka go?

After the first round, I got a call when I was back at home in Delhi. Casting director Atul Mongia told me that Dibakar liked my audition but I had to lose weight. I was eating a lot of biscuits, so it was all showing on my face.

He said he would call me for a re-test.

Ten minutes after that phone call, I wore my shoes and started running. Till date, I'm in love with running. I run every day.

I had a week before the next audition and managed to lose three kilos. I gave the test and it clicked.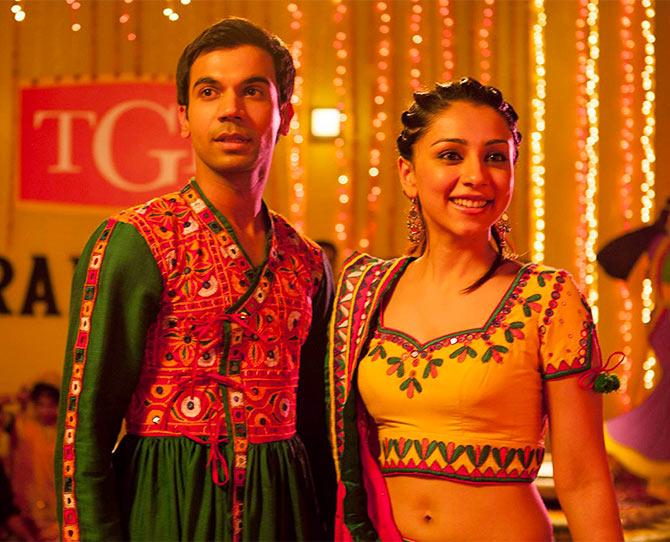 IMAGE: Rajkummar Rao and Amrita Puri in Kai Po Che
The turning point of your career was Kai Po Che.
Yes, but in a way, everything started with LSD.
Anurag (Kashyap) saw my work in LSD and liked it, so he called me for Gangs of Wasseypur. Then he and (casting director) Mukesh Chabbra mentioned my name to Hansal Mehta for Shahid.

Mukesh Chabbra was telling us how Hansal Mehta wanted a bigger star for Shahid but he insisted on taking you.

Yes, and I am grateful to both of them.

Then Mukesh called me for Kai Po Che. We share a great rapport. I knew him from my theatre days in Delhi.

Why didn't you contact him when you came here?

He wasn't into full-fledged casting then; he was assisting someone at that time.

Atul Mongia casted me for LSD.
Then Ekta (Kapoor) wanted me to do Ragini MMS because she had also produced LSD.
IMAGE: Rajkummar Rao as a terrorist in Omerta.
Now you seem to be a permanent actor in all Hansal Mehta movies.
I think sometimes you meet people and you just connect. I think our vibrations match. When we started making Shahid, we were probably on the same platform -- we knew that these are the kind of stories we would want to do.
That's probably why we share a great working and personal relationship.
Any film done by your contemporaries which you feel you should have been a part of?
Rockstar. I loved Ranbir Kapoor's character in it. I would like to do a role like that. Ranbir has done it fabulously and my respect for him has gone higher.
You were a big fan of Amitabh Bachchan and Shah Rukh Khan. What was your experience when you met them after coming to Mumbai?
I have met them a couple of times and they have been sweet and kind to me. In fact, I have spent a lot of time with them separately.
I worked with Aamir Khan in Talaash and am a huge fan of him too. I know him pretty well now. He is amazing, one of the most talented actors we have.
Meeting these actors was a surreal moment for me but they were so humble, real and grounded. They made me feel comfortable.
Who are your inspirations in Bollywood?
Aamir Khan, for his work and commitment to his work. I don't think anyone can do Dangal like he did.
Shah Rukh Khan, for his charisma.
Irrfan Khan, for his ease in his performances.
Manoj Bajpayee, for his talent.
Amitabh Bachchan, for still ruling the industry and working so hard.
When you go out in public, people of course recognise you. Has there been any embarrassing moments?
Not embarrassing, but once a person called me Varun (Dhawan) at the airport!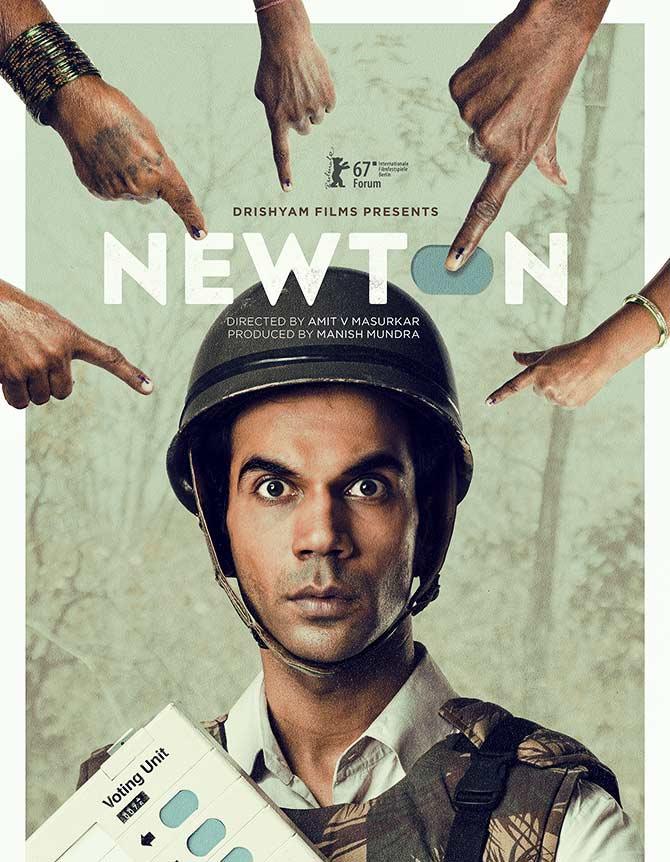 IMAGE: Rajkummar Rao on the poster of Newton
What are your forthcoming films?
This year I have four releases: Newton, Bareilly Ki Barfi, Behne Hogi Teri and Omerta.
Newton has been travelling to film festivals.
Newton is a black comedy.
Newton is the name of my character -- actually his name is Nutan Kumar but he is embarrassed of his name, so he calls himself Newton.
He is very idealistic and has been given the job to conduct fair elections in a dense forest of Chhattisgarh, where there are very few voters and nobody wants fair elections. The story happens over a day.
What is Bareilly Ki Barfi about?
It is a fun movie with a great script.
Ashwini Iyer Tiwari, who directed Nil Battey Sannata, has made it. It has three characters played by Ayushmann (Khurrana), Kriti (Sanon) and me. It is set in Bareilly, a small town near Lucknow. You will see the flavour of Uttar Pradesh.
What is 5 Weddings?
I am not sure when will 5 Weddings will release. I still have two days' work left in Los Angeles. The director Namrata Gujaral in an Indian but she has been living there for a while now.
It is about an Indo-American girl (played by Nargis Fakhri), who comes to India to cover five weddings. She's searching for someone too.
I play a cop with the Punjab police. I have been assigned this job to be with her because the police feel she has an ulterior motive.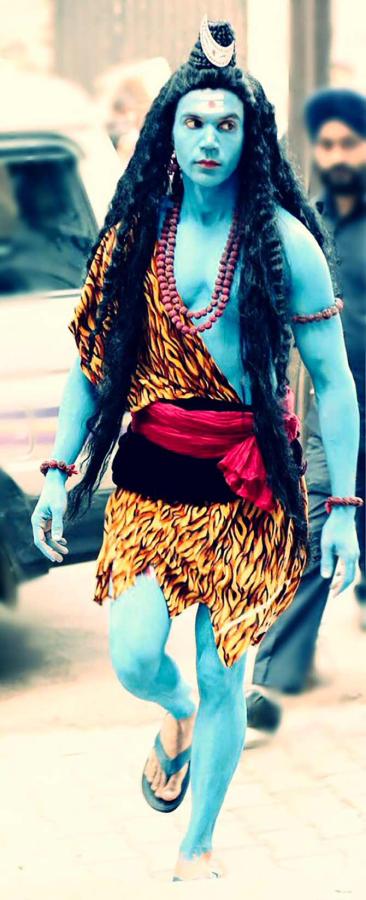 IMAGE: Rajkummar Rao in Behne Hogi Teri. Photograph: Rajkummar Rao/ Twitter

What about Behne Hogi Teri?
This is also based in Lucknow. It stars Shruti Haasan and me.
How do you unwind?
When I am not shooting, I make a quick plan and travel to some city in Europe.
New York is my favourite city. Then, there's Amsterdam and a very small town in Austria called Zell am See. I love the people and the infrastructure here.
Your name was Rajkumar Yadav. Why did you replace Yadav with Rao and change your name's spelling?
All my siblings have been using 'Rao' except me. That's the title given to all the Yadavs in Haryana. I never used my surname before. I wanted to add a surname so when I chose Rao.
In fact, my passport says Rajkumar (he immediately shows a copy of his passport on his phone) no last name.
I added 'm' for numerology purposes.
Did that help?
No. I am getting work because of my hard work.
Any marriage plans?
I'm not even thinking about that now -- maybe after eight-10 years.
I'm not mentally prepared to marry. I still feel like a kid.