'I would love to do an item number every day,' Action Jackson heroine Manasvi Mamgai tells Sonil Dedhia/ Rediff.com
Like many girls, Manasvi Mamgai also dreamed of becoming a successful model. Her dream was fulfilled in 2010 when she was crowned the Miss India.
The model-turned-actress now makes her movie debut in this week's release, Action Jacskon, which stars Ajay Devgn, Sonakshi Sinha and Yami Gautam. It has been directed by Prabhu Dheva.
In a conversation with Sonil Dedhia/ Rediff.com, Manasvi talks about her Bollywood debut, recalls her Miss India journey, and why she is comfortable doing bold roles.
Did you always want to be an actor?
As a child, I was into dancing and theatre. I am a trained dancer. I learnt belly dancing, Bharatnatyam and contemporary dance.
I was six when I saw Aishwarya Rai Bachchan being crowned Miss World (in 1994). Ever since, I wanted to be part of the competition.
My mother knew Rhea Pillai through Art of Living and she was the one who suggested I give modelling a shot.
She introduced me to a couple of people in Mumbai. I signed up with Elite (the modelling agency), after I finished my 12th grade exams.
I shifted from Chandigarh to Delhi and since then it has been an exciting journey.
Tell us something about yourself.
I was born in Delhi. We shifted to Chandigarh because my father, who is an engineer, was posted there.
I was 16 when I started earning by doing fashion shows. Around that time, my parents got separated.
In 2010, I was crowned Miss India.
Did you get acting offers before Action Jackson?
Yes, I had a few offers but they were very typical roles, either for the girl-next-door or for item numbers.
I wanted to do something substantial. People warned me to go for a solo debut but something told me that I should go with this film.
Action Jackson is a three-heroine film, but I am getting the right attention. It was strictly the role in the film that made me agree to be a part of it.
It's an action based film so I had to do action. At the same time, I had to be glamorous. I have given a powerful performance.
But a solo release would have got you noticed even more.
If I had got a solo role, I wouldn't have got a role as great as this.
Right now, you are only seeing the glamorous part. Once the dialogues are out, you'll realise my role is the film's base point.
My character drives the film. It is a powerful role.
Initially, they stopped to think if they should give a new girl such an important role.
All three of us have different tracks and no one is overshadowing anyone.
Image: Manasvi Mamgai in Action Jackson.
You weren't ready to be a part of an item number since you wanted to do a substantial role, but would you do it after the release of Action Jackson?
Yes. As I said, I wanted to do something substantial. What happens is that when you start your career with an item number, the industry tends to typecast you.
I love dancing and would love to do an item number every day. I would rather call it a dance than an item number.
I wouldn't mind running around trees with Shah Rukh Khan too (laughs).
My only condition is I would like to do different and versatile things.
Did you audition for this role?
Yes. The producers were looking for a new face when I met them. Later, I met Prabhu sir (the film's director Prabhu Dheva) who found me very thin (laughs).
But I still took a look test. I look completely different on screen and Prabhu sir realised I look good on screen.
Looking at the promos of Action Jackson, it seems you have a very bold role in the film.
Nowadays, boldness and exposing have become very challenging because actors are also doing it.
Every top actress has done it. I think people who shoot it need to be aesthetic and not make it look tacky.
I have done calendar shoots for Miss India so I don't find posing in a bikini an issue. I am very comfortable in one.
Tell us about your experience of working with Ajay Devgn and Prabhu Dheva.
I was very nervous about working with Ajay and Prabhu sir.
I have watched Ajay sir since childhood, right from Phool Aur Kaante. And Prabhu sir is like an icon, especially for people who dance.
He is a sweetheart. He gave me a lot of technical tips. My focus was on expressions. He taught me how to look at the camera and be aware of the angles.
Prabhu sir is very strict. When he comes out, everybody on the set is on their best behaviour.
Probably this is why he is the highest paid director. He is such a delight to work with. He moulds things according to the actor and that really helped.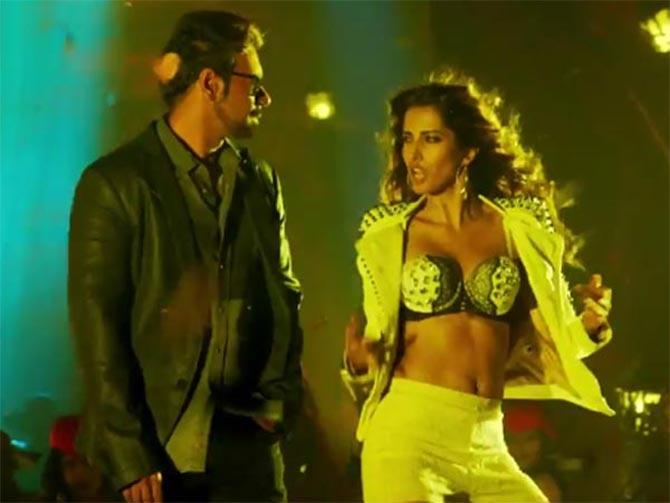 Image: Ajay Devgn and Manasvi Mamgai in Action Jackson.
Did you have a good time working with Sonakshi Sinha and Yami Gautam?
Sonakshi i is very bindass. She is a fun girl.
I studied with Yami in Chandigarh so we have known each other for some time.
Do girls take part in the Miss India pageant just to enter the film industry?
Yes, it is true that girls want to be part of Miss India just to get into the glamour industry.
But now there are so many reality shows and other things that you don't need a platform like Miss India to get into Bollywood. Talent is spotted even without that now.
At the same time, there is a notion that models cannot be good actors. Today, we have Anushka (Sharma) Deepika (Padukone) or even Katrina (Kaif), who were models before.
Any new directors you would like to work with?
I really like the newer directors like Homi Adajania (Finding Fanny), Vinil Matthew (Hasee Toh Phasee) and Raj and DK (Happy Ending).
I would like to do something edgy, fun and quirky.