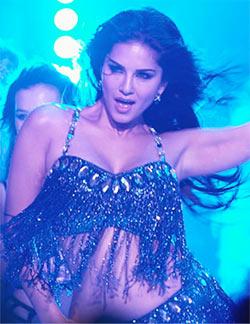 'Her greatest strength is not her acting or her dancing abilities, but that she has an incredible number of fans.'
Dilip Mehta -- director of the documentary Mostly Sunny Partly Cloudy on Sunny Leone, which opened at the Toronto International Film Festival -- spoke exclusively to Aseem Chhabra for Rediff.com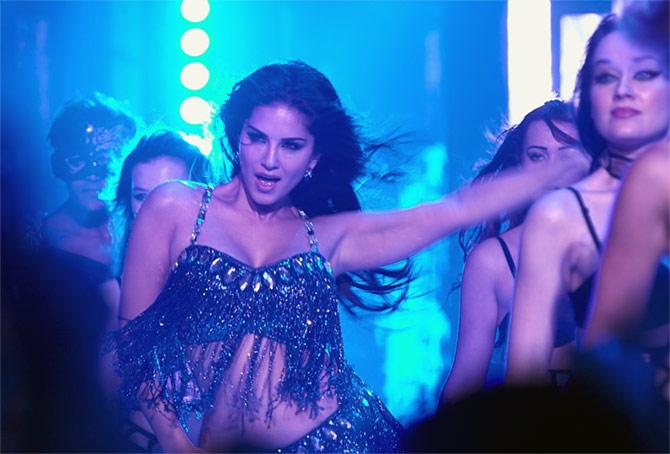 IMAGE: 'What floored and continues to floor me is her openness,' says Dilip Mehta. All photographs: Kind courtesy: Dilip Mehta.
She was born Karanjit Kaur Vohra to a Sikh family in Ontario, Canada. At the age of 13 her family moved to Michigan and then to California. In her late teens she assumed the screen name of Sunny Leone and became a successful actress in the porn film industry.
She was the Penthouse Pet of the Year in 2003 and in 2010 Maxim magazine named her one of the top 12 porn stars. But Sunny Leone had more ambitions and she finally moved to India to act in Bollywood films, starting with the 2012 Jism 2, directed by Pooja Bhatt and produced by her father Mahesh Bhatt.
Leone quit her adult entertainment work and is now entirely devoted to building her Bollywood acting career. Imdb.com lists 15 Bollywood films with Leone, including a few in which she has performed item numbers.
Leone is now the subject of a documentary Mostly Sunny Partly Cloudy, directed by the Indian-Canadian filmmaker, Dilip Mehta (Cooking With Stella and the documentary The Forgotten Women), who is also a well-known photojournalist.
His work has appeared in Time, National Geographic and Fortune. He has also worked on his sister Deepa Mehta's films, including doing the production design for the Oscar nominated Water.
Aseem Chhabra discussed the making of Mostly Sunny Partly Cloudy with Dilip Mehta via Skype, as the filmmaker was on vacation in New Delhi.
Dilip, what is the meaning of the title Mostly Sunny Partly Cloudy?
It alludes largely to Sunny's positive take on life and her 'in your face' and her 'leave me or love me' attitude and referring, by the same token, to her previous avatar as an adult entertainer.
Where are you with the film now?
We are pretty close to completing it. I go to Toronto and then we do the mix for color correction.
Are you planning to show it at Toronto International Film Festival or before that at Cannes?
Festivals are the last thing on my mind right now. When you start getting into the syndrome of working towards festivals then you really mess up and compromise the film. When the film is complete, we take it on from there.
You have said that you were approached to work on this project by the producer. Why do you think they came to you? Is it because you are Canadian and an Indian as well?
I don't know. Maybe they like what I do. Do you think it is possible? (laughs)
Of course, it is possible. But your Indian-Canadian roots would give you a greater understanding of the subject.
I am sure those sensibilities come into play. You get the natural empathy with the subject, but with enough distance to be objective.
One can fall in love with Sunny Leone and be enamored by the subject matter. But my past work in photojournalism helps me maintain that objectivity. People like me who cut teeth with Time magazine bring a rigorous self-discipline.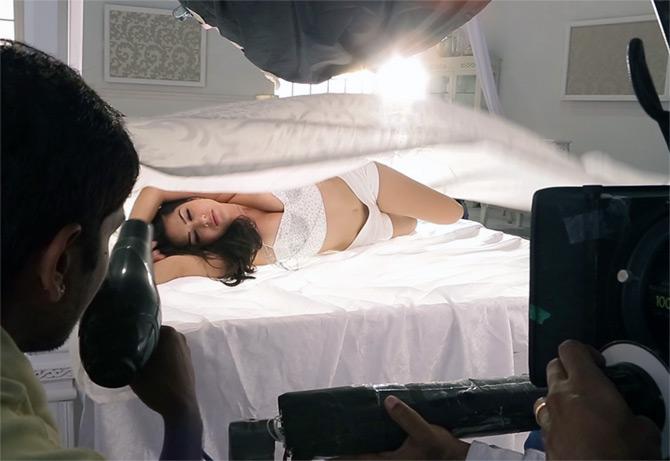 IMAGE: 'In the documentary she says, "India better get used to me. I am here to stay. They will be seeing me in a bikini and lingerie".'
How much did you know of her work? Had you seen any of her adult films or even her Bollywood films? I have only seen Jism 2.
I had read of her. Interestingly a couple of years ago Deepa, David (Hamilton -- Deepa Mehta's husband and producer) and I had spoken about Sunny as a subject in passing.
It was such a riveting subject matter. But we never pursued it. But I had not researched on her or seen any of her work.
To date I have not seen a complete adult film of her's.
Well, adult films can't really be seen complete. It becomes hard to see them.
Really, I trust you are speaking from experience.
I am talking purely from experience and on the record.
We did research for our documentary. But I have my own moral police to answer to -- my daughter and my son.
Haha, I can understand. But what did David, Deepa and you discuss?
Just in passing. Here is this Punjabi girl from Canada who at the age of 18 had cut her teeth in the adult entertainment industry. Then a few years ago David called me because the producer (Craig Thompson) was trying to reach me.
I was given carte blanche to what the approach to the documentary should be.
But after saying yes, I had my doubts about the project. This was coinciding with the Nirbhaya rape case. Looking from the outside, within, I didn't want to be part of that equation.
IMAGE: Sunny Leone on the ice. 'I think she is at the threshold of something really big,' says Dilip Mehta.
Why were you unsure about the making the film? Is it because an argument was being made about how women are represented in films leads to how some men treat women?
No, it was not about that or Sunny being an adult entertainer or women's rights. I wasn't thinking that sex workers or adult entertainers are non-liberated women.
I actually thought that Sunny was amazingly emancipated and a liberated woman who had charted her career and was a feminist in that sense.
What was causing my reticence was the Nirbhaya rape case. The entire ethos of the scenario had gotten me a bit disenchanted. Would I be pushing forth a concept that pornography was responsible for rape? I didn't want to be part of that dialogue. I don't subscribe to that.
Rape has been there for eons and the advent of many factors have brought it about. Pornography has nothing to do with it. But we are very quick to jump at conclusions.
When I met Sunny, just seeing her attitude, it was amazing to see what a positive woman she is. I could see that, despite her former career. But that is my judgment of her and it is erroneous because she never had a problem with it. We seem to have problems with it.
Over the couple of years that we have made the film she has educated me about it. I have been able to grapple with my myopic point of view. But otherwise we and our families are not myopic. We are well read, well traveled. But somehow some degrees of conservative aspects do slip in.
My wife and my kids, we all talk about it. My daughter is 20 and my son 24. And they aren't ashamed or turning crimson in the face. Both have seen the making of the documentary, plus I rely on their critique and their opinion.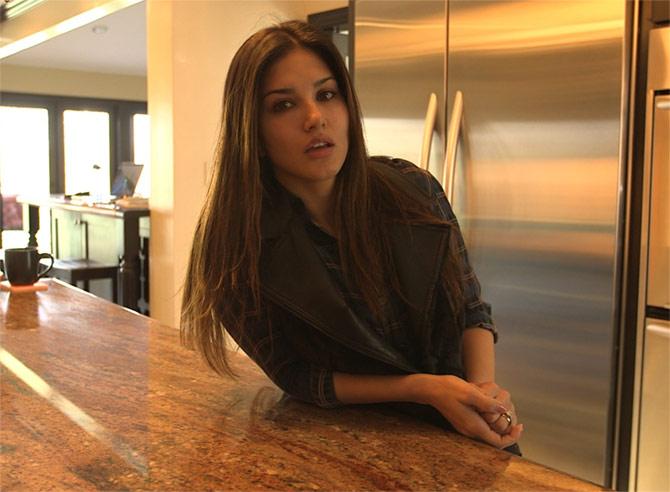 IMAGE: 'Each time she speaks about her family she breaks down. And she's not a good enough actor to be able to do that,' says Dilp Mehta.
When you met Sunny for the first time, what was the revelation? What did you learn about her?
Our first meeting was in Bombay at the suggestion of the producer. We met at the J W Marriott in Juhu (northwest Mumbai). We had scheduled a 45 minute meeting, but it lasted three-and-a-half hours.
I did have some sort of a preconception of what she should be and she wasn't that. For some reason, maybe because of my narrow mind perhaps, I somehow thought she would be somewhat sleazy, little tainted -- whatever all that means.
These are very graphic adjectives that come to my mind. I ask myself now, 'Was I really expecting that?' But it was lack of my knowledge that brought it about.
When I met her, she walked in with her husband Daniel (Weber). She walked through the length of the lobby and then you have to descend those horrendous double steps to the cafe.
And every head in that lobby was turning. They were not looking at Daniel or me and understandably so. By the time we sat down I could see what a regular person she is.
That is what has been the strength of the documentary. It's not the story about the girl next door. I don't even know what that is supposed to mean. It's a nice phraseology, but it is a highly deceptive phenomenon.
But she seemed appropriately intelligent. She was positive. She was not a put down artist. She was not putting me down and she certainly wasn't putting herself down. I wasn't sitting down trying to unveil her, because there was nothing to unveil. She would pre-empt everything that I thought I had to ask.
My bottom line was that the Nirbhaya tragedy had just happened. I didn't want to open a can of worms that was going to stop me from visiting India. I wanted to make a film that I could watch with my elderly mother and my kids. And she said something to the effect that so would she.
That was a fairly clever remark I thought to myself. What floored and continues to floor me is her openness. And that comes from seeing a plethora of situations in her life, plus having left her family and being excommunicated by her community in her Canadian hometown and by the Indian community at large in North America, especially the conservatives who will condemn everything they consider sacrilegious. That burnt her.
She said, 'Listen Dilip, I was 18 or 19 years old and I was very vulnerable. I made a choice, but who was I hurting? I did hurt my parents, but they came to terms with it. They made the choice -- would they lose their daughter or have a daughter in the adult industry who was not hurting herself or anyone else?'
I found her to be a remarkable person. And that's what we found out during the making of the film.
Is she still on good terms with her parents?
Her parents are both dead.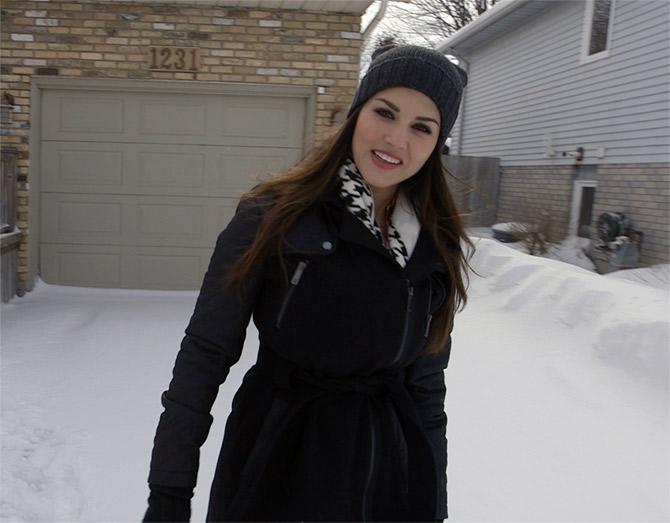 IMAGE: 'When you see me without my makeup and I am in my tracksuit, I am a dork.'
Oh, I am sorry about that. But before they passed away they were fine with her choice?
Well, one phrase that she says and it resonates in her life is how she considers herself a dork. She says, 'You know I am the dorky little kid. When you see me without my makeup and I am in my tracksuit, I am a dork. I was an adult entertainer, but I am also a tracksuit Californian girl.'
I have seen pictures of her, I have seen her interact with her brother. And she's right. She's very attractive, a former adult entertainer and a Bollywood celebrity, but yes she is perhaps a dork. But in the kindest way.
A regular person who has quite a uncanny past.
But there in lies her strength. She says, 'I am not asking you to like me or buy my DVDs or videos. That's your choice.'
But she also says that her greatest strength is not her acting or her dancing abilities, but that she has an incredible number of fans.
She is very charming by the way. I have only seen her in one film. But there is something very likeable about her and fresh about her face. How old is she?
I think she is 34.
She is about to release a major film Mastizaade. The trailer went bananas. And it already has had about 13 million hits.
So how many hours of footage do you have? How much time did you spend with her?
We shot over a period of two years. We began shooting the film in December 2013 in Chandigarh, where her father had come from. And within 20 minutes of the shoot when she was reminiscing about her father, I realised that he had died.
Each time she speaks about her family she breaks down. And she's not a good enough actor to be able to do that.
She really misses her parents. She is very earnest, down to earth, very matter of fact.
The thing is we are all intrigued by her because of her past, not her present. It's not that she's doing wonderful naach-gaana, etc.
Had she been a nurse or working in a laundromat, would you be calling me up or would we even talk about the film?
I concede that. Having said that, let's talk about her acting abilities? Do you think she is becoming a better actress?
I think she is going from strength to strength. The first area that I see a remarkable improvement is in her dancing. Because that is a composite of a large part of what qualifies as Bollywood cinema.
I know that Baby Doll is so hot.
Do you know how many hits it has gotten? The last time I checked it had nearly 72 million hits. It is enormous. But beyond that any music video is not just about Sunny. She has an ensemble of dancers, choreographers and more.
But don't forget, despite the fact that she is an Indian and a Sikhni she still cannot sit cross-legged or hold a glass, or pick her nose or teeth as an Indian born in India does. It becomes a part of your DNA. The way you break a chapatti and eat with your hand, a non-resident Indian, born elsewhere, cannot do it. That mannerism, she is slowly overcoming.
That becomes more evident when she is acting. A few years ago she was shooting in Rajasthan in a film called Ek Paheli Leela. She was supposed to be a village belle 300 years ago and she was gesticulating and getting angry with her love interest.
And her reactions were such that she could have been in the Bronx, except she was mouthing Hindi. The way her shoulders, hands, fingers and arms were moving, the lexicon of it was North American.
I just saw her in another trailer and it has changed. It's evolving. Let's not forget she does not come from a Kapoor or a Dutt family.
I understand all new actors struggle. If you look at Deepika Padukone five, six years ago and then today, there is a huge evolution. But what about Bollywood itself? She has been in Mahesh Bhatt kind of productions and they have been big hits.
You think she could become an A-list star? Is India ready where she could be the next Priyanka Chopra?
That's a good question. I don't know. As her friend I would hope that for her. But most of the success for the A-graders is a family-based equation.
I know what you are saying although Priyanka or a Shah Rukh started off on their own.
The way she could become an A-lister is if a Salman or a Hrithik or Akshay would open up and say, 'Hey we will do to you, what we did for a Katrina or a Sonakshi.'
What are her own ambitions?
I think she is at the threshold of something really big. I don't know what that is. She has a book deal with a major publishing house right now.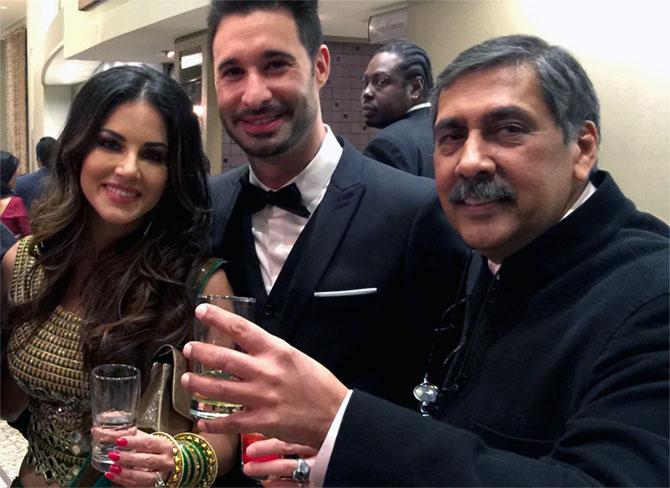 IMAGE: Sunny Leone, her husband Daniel Weber and Dilip Mehta. 'Neither he nor she asked me not to use something if it did not show her in good light,' says the director.
Did she interfere or get involved with the making of the film?
Not at all. At no point did she ask me remove something she had just said. Also she knows me better than that. She was calling me Sir and I was calling her Beta. It was a safe desi place to come from.
But then all Indian actors call their directors Sir. And she is about half my age, so I called her Beta.
I was not calling her Sunny for sure. I was calling her Karen, which is the Americanised version of Karanjit. Her husband Daniel calls her Karen.
But neither he nor she asked me not to use something if it did not show her in good light.
So what do you want people to know about her from your film?
For me, this is not just a Sunny Leone film. It is a film about the microcosm of India. It's not just a statement that here's a former adult actress who has made good and is being accepted by a large chunk of the Indian population.
That's a very short-term aspect of the 90-minute documentary. But the film is about what does India think of her, what do Indians abroad think of her? It's not that she's tainted, but rather how are we tainted? That is what I have tried to bring out in the film.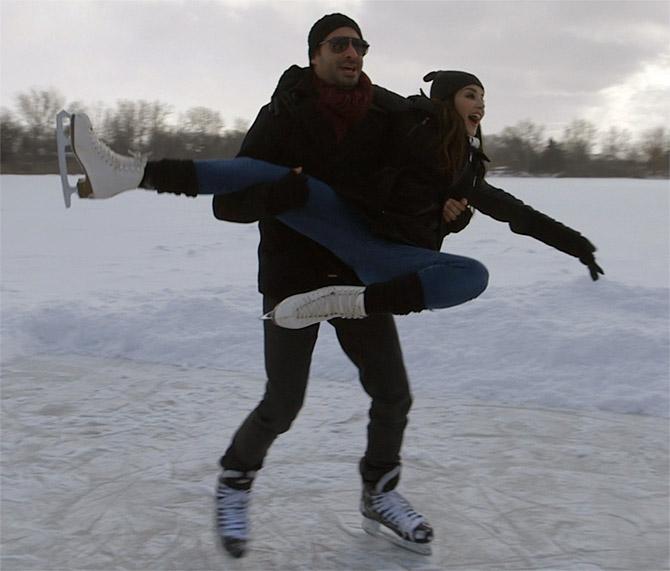 IMAGE: Sunny Leone and her husband Daniel Weber on the ice. 'this is not just a Sunny Leone film. It is a film about the microcosm of India,' says Dilip Mehta.
But has India changed its opinion about her?
Before I came here for New Year's I read in the paper about the beef ban and all the restrictions. And one would think 'Where is the tolerance of our nation?' We are purportedly a very tolerant people. And then I said yes we are, otherwise how come we have accepted Sunny Leone -- a former porn star.
So maybe we are very adult-like and very accommodating.
The fact that people are going to see her films is still associated with her once having been a porn star. She does play very hot roles. In the opening scene in Jism 2, she says, 'Mera naam Izna hai. Main ek porn star hoon.'
That scene of her sitting on the beach with her bareback is in my documentary. In the documentary she says, 'India better get used to me. I am here to stay. They will be seeing me in a bikini and lingerie.'
That's very gutsy. She is not doing it to be controversial. She is stating the fact and asking, 'What have I done wrong? I was an adult entertainer. But I am not an adult entertainer presently.'
Is your film mostly for the Indian market?
No, after we had shot a few reels, Mongrel Media picked up the Canadian distribution. Obviously the larger market will be where the larger fan following is.
But let's not forget she is American and she is Canadian. She is America's and Canada's biggest export to India!