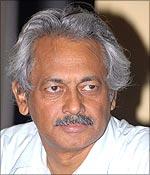 Critically acclaimed Kannada director Girish Kasaravalli who has won many national and international laurels has added one more feather to his cap. He has just received the South Asian Cinema Foundation's 'Excellence in Cinema' Crystal Globe Award 2009.
India's High Commissioner to the UK, Nalin Surie presented the award to Kasaravalli at the Nehru Centre on October 9. The Indian High Commissioner lauded Kasaravalli for his sensitive films which he said reflected the Indian ethos. He also added that the award is a well deserved recognition for the renowned director.
Only three Indian film directors have received this prestigious award so far. They are Malayalam film director Adoor Gopalakrishnan, Kannada and Hindi film director and leftist Ideologue M S Sathyu, and Saeed Akthar Mirza.
Kasaravalli who is now in New Delhi to collect the National Award for Gulabi Talkies (the film also won its lead actress Umashri the Best Actress Award) said that he had gone to United Kingdom for the first time to receive this award.
"It was certainly a great moment in my life as there was also a retrospective of five of my films for the first time in the U.K. The citation of the award said that my films right from Ghatashraddha to my recent film Gulabi Talkies mirrored the social conflicts in the six decades of Karnataka.
"I was happy with this citation because it had factually reflected my concepts for my films. I think my choice for this year's honour is even more relevant as the central theme of SACF's five-day events is literature and cinema. I have always made films based on literary works in Kannada. My cinema has always been an exploration of life in visuals," said Girish Kasaravalli.
The five films of Kasaravalli screened at the Watermans in West London were Gulabi Talkies (2008), Ghatashraddha (1977), Dweepa (2003), Nayi Neralu (2006) and Hasina (2005).