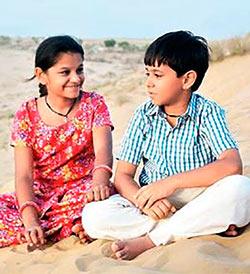 'The best thing after Dhanak released is that we are called Chotu and Pari in school, not by our real names.'
Dhanak child stars Hetal Gada and Krrish Chhabria look back at their beautiful film.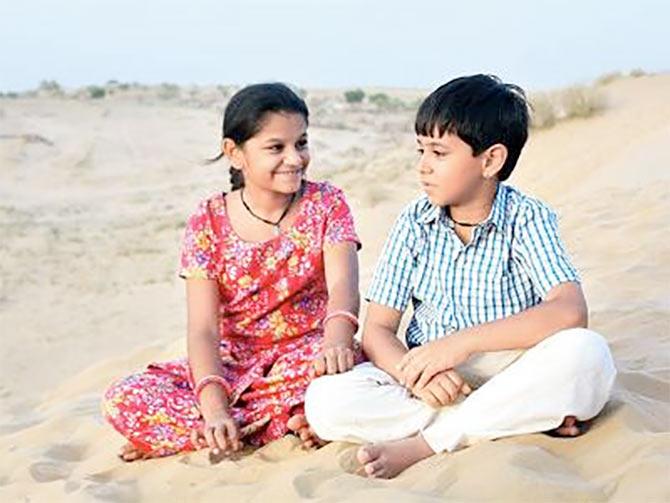 IMAGE: Hetal Gada and Krrish Chhabria in Dhanak
Nagesh Kukunoor's Dhanak tells a beautiful tale of two siblings: Pari (Hetal Gada), 10, and Chotu (Krrish Chhabria), eight.
They travel across Rajasthan just so that they can meet Shah Rukh Khan, so that Pari can fulfill her promise to her little blind brother, that he will be able to see before he turns nine.
Hetal Gada, 13, studies at St Xavier's School in Goregaon, a western suburb of Mumbai, and has been acting for the last eight years in television shows like Bandini, Crime Patrol and Savdhaan India.
"Acting is my passion but I want to finish my studies and then become an actress like Deepika Padukone and Kareena Kapoor," Hetal says.
She was shortlisted for the role after a number of auditions.
"I was selected out of 500 girls," Hetal says proudly. She met Krrish after the seventh round of auditions.
"Even I was selected out of 500 boys!" Krrish chimes in.
Krrish studies in Class five at Arya Vidya Mandir in Juhu, another western suburb of Mumbai. He has acted in 57 advertisements for Abbot, Airtel, ICICI Bank, and Kinder Joy.
To play the part of a blind boy, he visited a school for the blind with Hetal.
"I was scared seeing the blind children at the school and how difficult their life is. I cried while enacting the role too," he confesses.
Hetal chips in: "We spent a couple of hours in the school. Later, we had a two-month-long workshop before heading for the shoot in Rajasthan."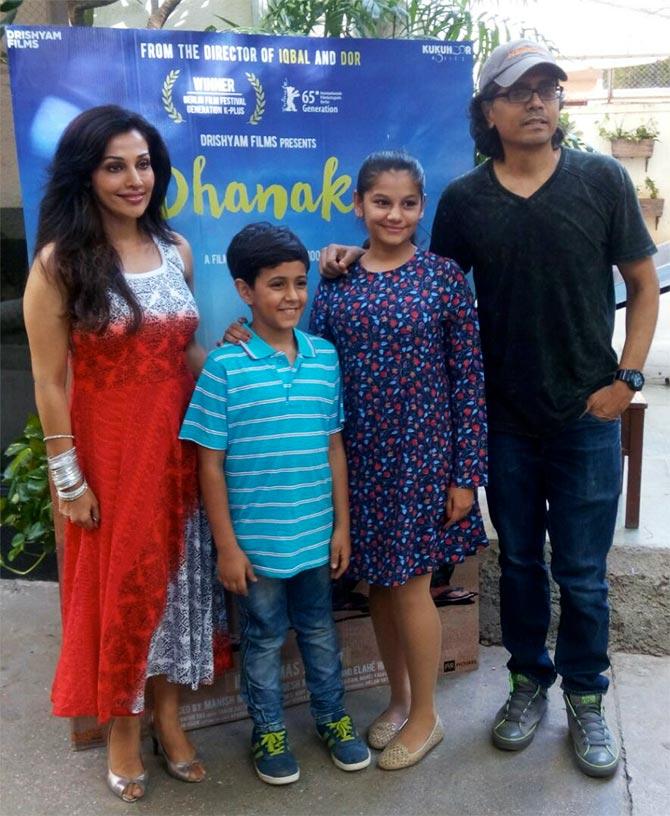 IMAGE: Asha Saini, Krrish Chhabria, Hetal Gada and Nagesh Kukunoor during Dhanak's special screening. Photograph: Pradeep Bandekar
Hetal recalls that the shooting for Dhanak took them to "42 villages in 117 days between Jaisalmer and Jodhpur". Krrish even remembers the names of some of the villages and reels them off.
The young actress had trouble with one particular scene.
"I have been working since I was four but I don't remember taking so many retakes for a scene. I had to say a few lines while walking on the road and then turn around and say something else in a given time, but I couldn't. I was not getting it right at all. I took 10 retakes or more. I become nervous and started crying.
"Every time the shot was not okayed, Sir (director Nagesh Kukunoor) would come up and explain it to me. He came so many times I felt bad... it was my most difficult scene to date.
"After the film released, I told Sir that the shot wasn't perfect, not like how he actually wanted it, though it looks fabulous on screen. He smiled and said it was perfect," Hetal says happily.
Hetal was touched by Kukunoor's concern during one of the scenes in the film.
"I had to faint on the sand dunes and throughout the day we had breaks and cuts but I couldn't move because that would disturb the positioning and impressions on the sand.
"Nagesh sir carefully walked on my foot print in the sand and came to me during the lunch break with a plate of dal khichdi and a banana. He fed me with his own hands! I couldn't believe that that the director of films like Iqbal and Dhor, which I have watched growing up, is feeding me! I got very emotional. That was the best moment of my life," she says happily.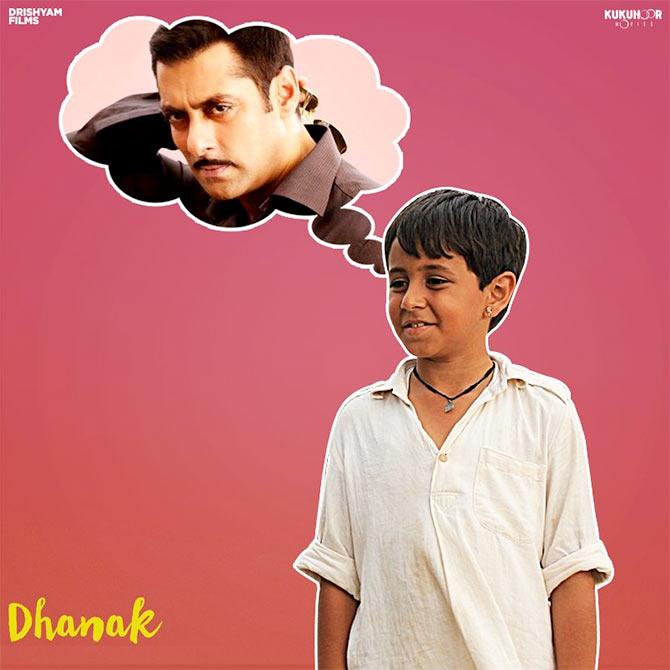 IMAGE: Krrish Chhabria. Photograph: Dhanak/Instagram
Krrish is restless and eager to share his own experiences. "We always raced on the dunes or played games on our cell phones. Sir was never strict with us," he recalls.
"We cried a lot on the last day on the sets, as we had had so much fun together. Nagesh Sir and Elahe Ma'am (Hiptoola, producer) made us feel so comfortable that we didn't miss our parents through the shoot," Krrish adds.
Hetal is nervous because her school teachers and principal are planning to watch the film soon.
"The best thing after the film released is that we are called Chotu and Pari in school, not by our real names," they beamed.
Most of the students in his school have watched the film, Krrish says, and adds impishly, "Girls tell me that they like me in a scene where I wear a chaddi. Everybody in class wants to sit next to me, especially the girls."
Hetal says one particular girl in her class is very excited to be sitting next to her. "She has requested me not to change my seat. I said okay provided she watches my film," Hetal laughs.
"Since we aren't allowed to carry mobile phones in school, most of them take autographs and some ask me to meet them at the gate to take a selfie before they get into the school bus," Hetal adds.
Krrish has his selfie moments too.
"Some of the boys carry mobiles in their pockets, which are mostly switched off during school hours. During breaks outside the restroom, they switch them on when I am walking past and call out my name. When I look at them, they quickly take a selfie and run away," he chuckles.
Hetal, who has no siblings, says she is often asked if she and Krrish are brother and sister in real life, so natural is their relationship on screen.
"We are talkative and helped each other during the workshop. He is impatient, naughty and can't sit in one place as you can see. But his naughtiness is cute, not irritating," she says indulgently.
While Krrish says, "She pulls my cheeks and I don't like it. On the set, everybody was fined Rs 2,000 for pulling my cheeks."
"But I never paid," Hetal laughs loudly teasing him.
Krrish has an older sister in real life but found it easy to get on with Hetal. "Both are different. My real sister fights with her hands and this one fights with words. She is a big complaint box," he says with a poker face.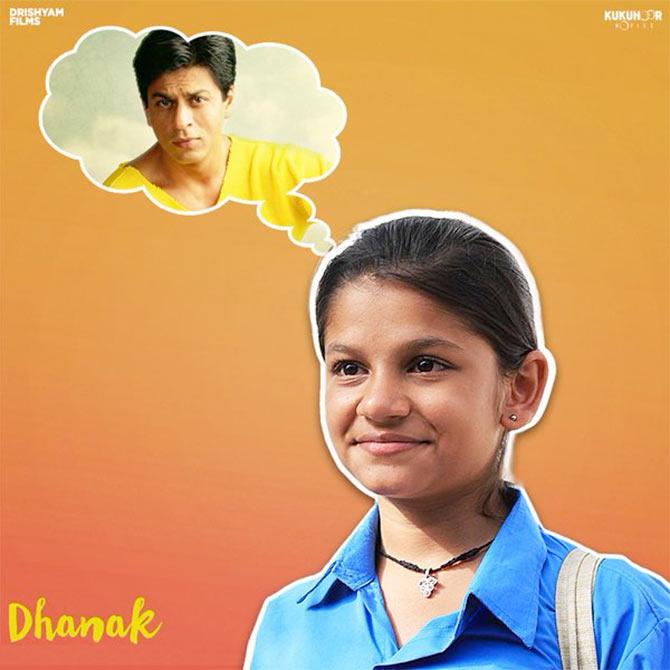 IMAGE: Hetal Gada. Photograph: Dhanak/Instagram
Hetal is a Shah Rukh Khan fan while Krrish prefers Salman Khan, and they ribbed each other about their favourites during the shoot. But not any more.
"Now we like both the Khans," they chorus. "SRK tweeted about the film before the release and Salman wished us good luck during the Gio MAMI film festival, when we requested him for a selfie. Now we think both are the best."
What next for the kids? Hetal says she has been selected for a couple of Yash Raj projects while Krrish has become busy giving auditions.