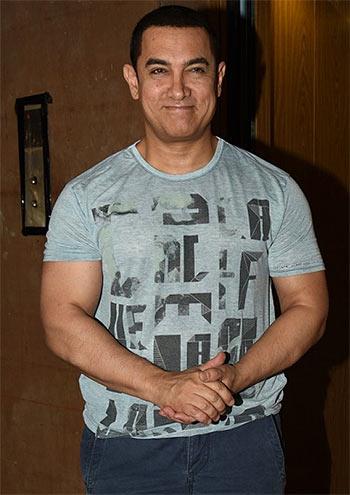 Here's how India's most successful film star goes about his work.

Aamir Khan's sixth-floor residence-cum-office on Carter Road in Mumbai has none of the trappings you would associate with the rich and famous.

But the view of the Arabian Sea through the large glass windows as the sun slowly sinks into the horizon is priceless -- the perfect place to vegetate and put on weight.

That's precisely what Aamir, 50, is doing for his next film, Dangal.
In it, he will play the role of Mahaveer Singh Phogat, the father of the celebrated Phogat sisters of wrestling.
The film will go into production sometime in September, six months from now, and will release only in December 2016, but Aamir has started his preparations.

"These days, I just eat and gain weight and learn how to speak Haryanvi for Dangal," says the cerebral actor, dressed in a casual T-Shirt, as he munches on snacks almost non-stop.

Aamir is an oddball of sorts in Bollywood; when his contemporaries are busy hanging on to their fading youth, through six and eight-pack abs, he is focused on looking paunchy and unhurried.

But then, he can afford to live by his own rules: the returns on his films are the stuff even the shrewdest businessman can only dream of. His last film, PK, which released in December, was made at a cost of Rs 70 crore and has already collected Rs 340 crore in India alone. Overseas collections will swell the kitty further.

And swell it substantially: Aamir has become Bollywood's most successful star in the overseas markets, in spite of the perception that Shah Rukh Khan is the favourite of the expats.

Three of his films -- PK, Dhoom 3 and 3 Idiots -- top the chart of the biggest overseas grossers, according to international tracking agency Rentrack.
PK has made $26.47 million till date, and is yet to be released in a whole host of countries.
The biggest Bollywood hit overseas has been Dhoom 3 which made $27.9 million, significantly more than SRK's My Name is Khan and Chennai Express, which grossed $22.5 million and $18.15 million, respectively.

So, like SRK, has Aamir too started making films for the overseas audience?

Is he like Ang Lee, who was unperturbed when his film, Crouching Tiger Hidden Dragon, flopped in China because he had made it for the Americans?
"My decision to do a movie," says Aamir, "is not driven by the need to expand the market. It is based on what excites me and that starts with a good script."

The reason why his films clicked abroad, Aamir adds, is that the storyline connected with the people, which made the language irrelevant.

"Just the same way Life Is Beautiful connected with me because I understood what people went through during the Holocaust."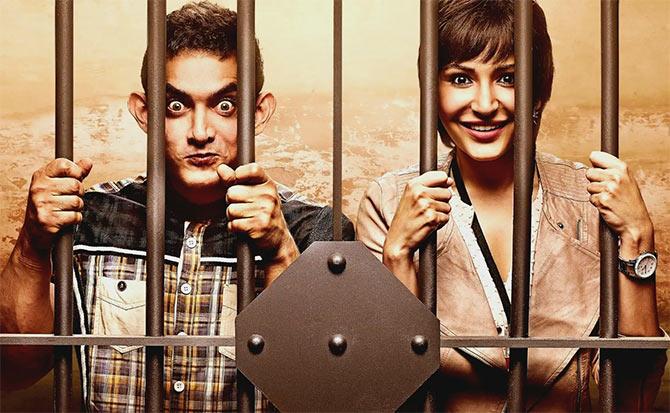 Image: Aamir Khan and Anushka Sharma in PK
What Aamir does keep in mind, even though he does not consider himself a businessman, is that no one loses money from his movies.

This is the lesson he learnt from his father, Tahir Hussain, who lost money in the films he produced, while the director and lead actors walked away with their full fees.

Aamir says he follows the street performers who take their hats around after their performance and audiences pay them only if they are happy.

Instead of loading the cost of the film with his fee, Aamir asks for a slice of the profit -- after all the costs have been met.
"My income is based on how you liked the film, so I'm responsible directly for the fee. If it does not defray the costs, I make nothing," he explains.

Of course, that has not happened yet. This is how the (expensive) lead actors and director become stakeholders in the film's success.

While calculating the returns on a film, Aamir looks only at box office collections and does not include satellite rights -- that's icing on the cake.

Those who had built satellite rights into their calculations have seen their projections go awry with the steep fall in satellite rights in recent months.
"I hear a lot of production houses will have to readjust their economics based on the realities," says Aamir.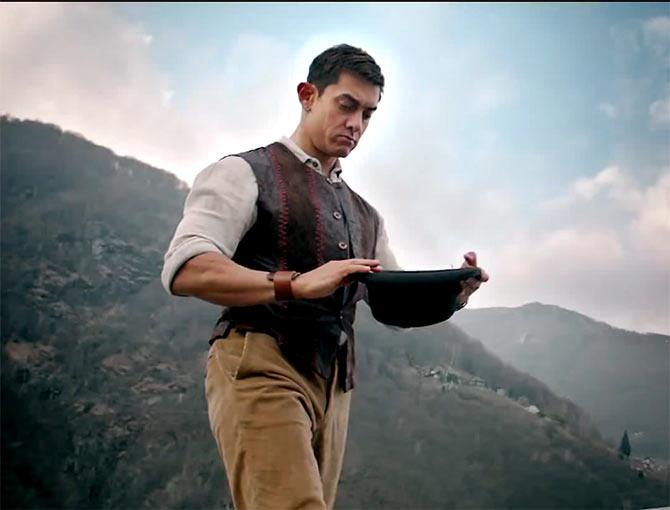 Image: Aamir Khan in Dhoom 3
Many in Bollywood wouldn't dare to follow this fee structure.
For an actor, the Aamir model is fraught with risks. That's why Aamir carefully chooses the right script.

Aamir may underplay it, but there is an unmistakable streak of confidence in him. According to Devang Sampat, business head (strategic initiatives), Cinepolis, a multiplex chain, he has created a new season for films.

"Traditionally, we saw summer and Diwali as the main seasons for Bollywood business. He has established December as another lucrative release time for big movies."
Amrita Pandey, vice-president and head of marketing and distribution (studios), Disney India, adds: "In Taare Zameen Par, as well as Jaane Tu... Ya Jaane Na, his conviction was unwavering. TZP had such a lasting emotional connect with the audience."

The confidence comes from his mass appeal. Ajay Bijli, the managing director of PVR, the country's largest multiplex chain, says: "He has an audience at every price point, whether it is the one who pays Rs 50 in a single-screen theatre or the one who shells out Rs 1,500 in Delhi or Mumbai.

"Salman Khan and SRK too have a similar appeal but Aamir has taken it to a new level."
Bijli insists that nobody knows better than Aamir what will resonate with the audience.


Image: Aamir Khan and Darsheel Safary in Taare Zameen Par
Aamir follows the same philosophy in his own production house, Aamir Khan Productions.

"My production house is really an extension of me. It is not a business outfit. We think in a creative way and then we try and work the business around it," says Aamir.
While other stars want at least one film to release in a year, he follows no rules. "We have completed 14 or 15 years and have released only six films." And now Aamir is working on his seventh film, Dangal.

He may want people to believe that he is first and foremost an actor, but Aamir is careful about where he puts his money.

So when his wife, Kiran Rao, directed the offbeat Dhobi Ghat, its budget was capped at just Rs 5 crore so that no one would lose any money.

Knowing that such a film would do well in only select cities, its release was restricted to a few screens and it wasn't hyped as an Aamir film.

Unlike others, Aamir has stayed focused on movies and hasn't expanded into other aspects of the business like digital content or music.
"Often," says Aamir, "I think I am a handloom worker. Once I put the thread on the loom, there is nothing else that I can do. Whatever is being made, until that piece is complete, nothing else can be loaded on the loom."
To his advisors and friends who goad him to expand his work and make more films, he says that "exponential growth is possible only in cancer, which leads to the death of the individual".
That ends all debate.
"I want to grow in a natural way, and sometimes that growth is internal," he remarks thoughtfully.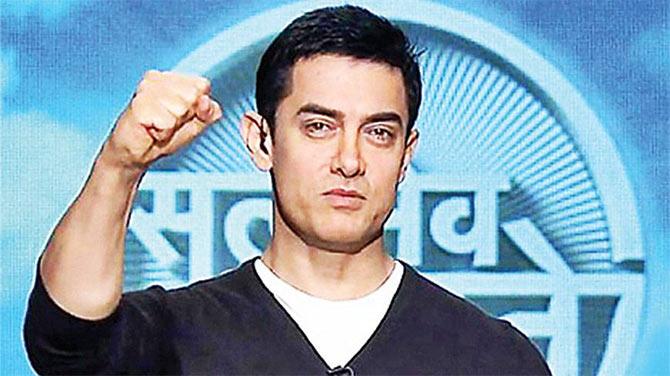 Image: Aamir Khan on Satyamev Jayate
Aamir loves sports, but says he will never buy a sports team, unlike others in filmdom, including SRK.
"If I take a sports team, then I have to give two to three months to it every year. I don't think I can do that. As it is, people complain I do only one film in two years. If I take a sports team, the wait will only get longer," he says.

But that does not mean that he is not open to new opportunities.

For instance, Aamir flirted with the digital media about seven years ago but was deterred by the low Internet penetration. "I had this idea to make short films, three- to five-minutes long. Instead of episodes, these are called mobisodes," he says.
Aamir is game for it now if the right content is available.

The only excursion Aamir has made outside films is television, which he did through Satyamev Jayate, a new experiment in infotainment.

He is open to more television in the future but is clear what he won't do an out-and-out masala programme like Bigg Boss, which his friend Salman anchors. What seems to attract him to the small screen is fiction.
"I have seen shows like House of Cards, which has great content and entertainment. Within that content is woven moral conflict," Aamir says. "Have you seen Newsroom? It's very entertaining."

Many have found faults with what Aamir does.

Through Satyamev Jayate, he may have raked up social issues, but hasn't spoken out about the inequality in Bollywood where top actresses get a pittance compared to their male colleagues, especially the Khan triumvirate, as highlighted by Deepika Padukone in various forums.

"The payment structure," Aamir says gravely, "is strictly based on the number of seats you can fill. Producers are not bothered about whether you are male or female. You may be an animal. If you are filling seats, you will get money. Your sex, religion, caste are not important."
Thinking aloud he says the reason for this perhaps is that India is still a patriarchal society where audiences attach importance to male actors.

Aamir recalls there was a time when Salim Khan and Javed Akhtar, Bollywood's most successful team of writers, used to fill the seats with their plots and, therefore, got paid more than the stars.
Decades ago, Mehmood, the comedian, would draw the audiences and hence get more than the hero.
"I can't tell my audience 'This is my son, so please watch his film'," he says. "The process is very democratic. Tomorrow if I don't fill the seats, I will be dropped like a hot brick."

Detractors also say that Aamir scratches the surface of social issues and makes money out of it, but never takes them to their logical conclusion. He also doesn't engage in social service like Salman does through his Being Human Foundation.
Aamir has his explanation ready: "I am not meant to see it through. I have not made the promise to do that. My strength is communication." According to him, he is not an activist and so cannot do what they are supposed to do.

Aamir is also guarded about his political views, whether on Narendra Modi or the Aam Aadmi Party, though he is eager for feedback on their performance. Aamir insists he is a novice in politics.

"In my group of friends, I am usually the last to predict any political change that may take place."
Or maybe his idea of correctness makes him mask his political views.

Then the guard drops a little.
Aamir says he likes to be politically engaged and that can be done without entering politics.

"So when I need to speak about something, I speak about it. My attempt through Satyamev Jayate, for example, is to engage politically by empowering people not just with information but by affecting the politics at the ground level."

And then it drops a little further. Aamir picks up Sanjaya Baru's The Reluctant Prime Minister as he prepares to leave for a dubbing session at a studio. "Have you read this book? It seems interesting," he says with childlike enthusiasm.