Emraan Hashmi is set to play former Indian cricket captain Mohammed Azharuddin in a biopic titled Azhar.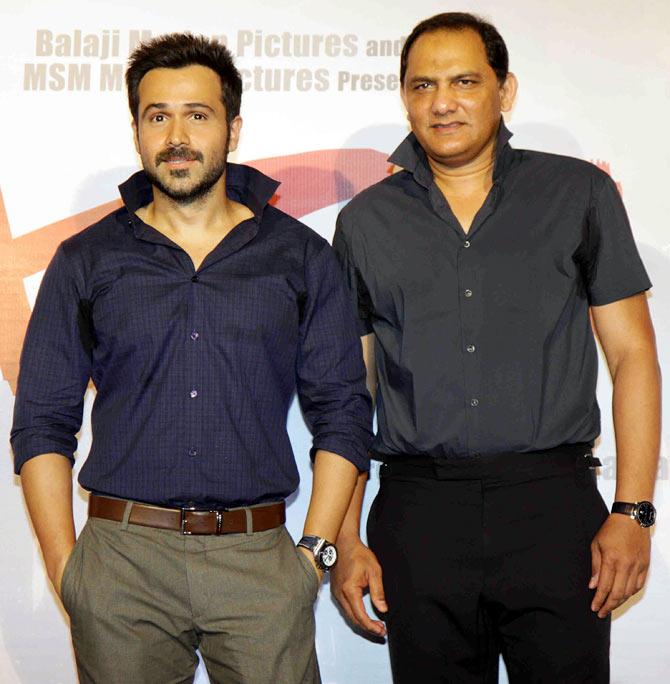 Image: Emraan Hashmi and Mohammed Azharuddin
The first look of Emraan Hashmi's next, a biopic on former captain of Indian cricket team Mohammed Azharuddin, was launched on Thursday evening.

Directed by Tony D'Souza and produced by Balaji Motion Pictures, the script of the biopic has been written by Rajat Aroraa and is slated to release in May 2016.

Speaking about playing the legendary cricketer, Emraan said, "There are many challenges like cricketing style, which is very unconventional. I am an average gully cricketer. But when Azharbhai came and taught me, I realised I had lot to learn in cricket. Hopefully, I have got it better over the last three months."
He added, "In school, we were passionate about cricket. Everyone had started putting their collars up due to some reasons and there is only one man to be blamed for it, Azharbhai. And 20 years later, I get a call from Ekta Kapoor saying they are planning a movie on the life and times of Mohammad Azharuddin. For many, he was a hero and for some, a villain. He has been worshipped, judged and criticised for 30 years."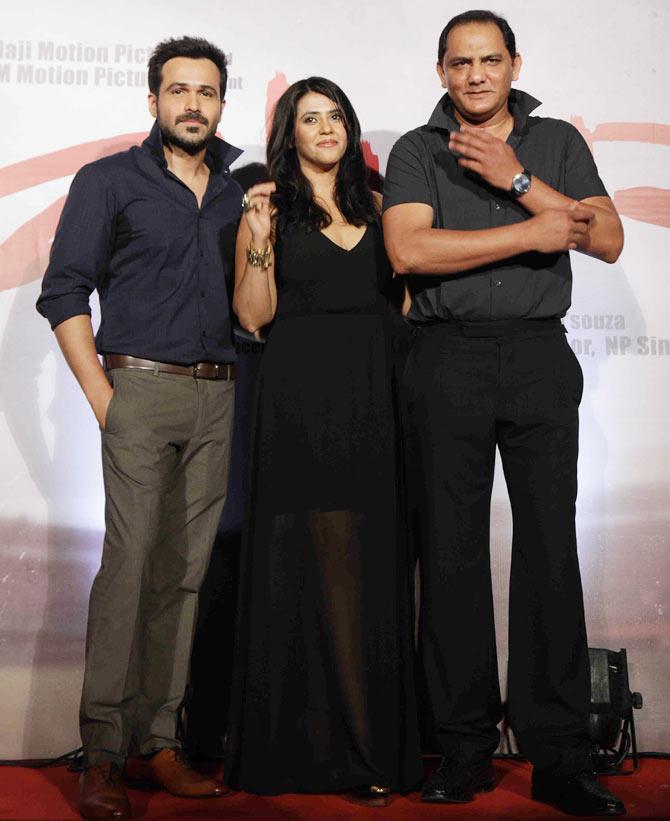 Image: Emraan Hashmi, Ekta Kapoor and Mohammed Azharuddin
The film's producer Ekta Kapoor said will show three key aspect's of the cricketer's life: "In a biopic, the personal life is as important as the professional. We will have three aspects of his life -- khuda (God), shaadi (marriage) and the match-fixing case."
Azharuddin, who was present at the event, said he has no objection over the two important phases of his life: the match fixing episode and his marriage.
"The three important phases of my life will be seen in the film. They will be showing all the phases correctly. If I had an objection, I wouldn't have said yes. I have read the script and they have taken my inputs as well, so I don't have any objection," he said.
Image: Emraan Hashmi, Mohammed Azharuddin and Tony D'Souza
Azharuddin, who was one of India's most successful captains, kicked up a major controversy after his name cropped up in a high-profile match-fixing case. The ICC and BCCI banned Azharuddin for life, following a CBI inquiry into the case.
On the match-fixing episode, Azharuddin said, "It is very hard for me to say about it right now. Once you see the film, you will get the right perspective."

He revealed Hashmi has been his favourite actor and said the actor will be known as Azhar only once the film is out. "He is apt for the role. Many people asked me why Emraan Hashmi for this role. He has been my favourite actor and I have watched all his films. I am sure he is going to work hard for it. After this movie, he will be called Azhar," he said.
Photographs: Pradeep Bandekar