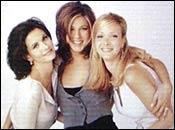 The 56th annual Emmy nominations are out.
And guess who got a cold snub? Popular TV sitcom, Friends. The 10 year-old show, which ended its run in May, bagged only seven nominations, excluding the prized 'Best Comedy series'.

Slide Show: Bye Bye Friends
The ones that made it are Everybody Loves Raymond, Sex and the City, Will & Grace, Curb Your Enthusiasm and Arrested Development.
The Sopranos, The West Wing, CSI, Joan of Arcadia and 24 qualified for the best drama series category.
HBO leads the pack with 124 nominations, while NBC sits pretty at 65.
Here is a list of the featured nominations under the various categories:
Best Drama Series
CSI: Crime Scene Investigation
Joan of Arcadia
The Sopranos
24
The West Wing
Best Comedy Series
Curb Your Enthusiasm
Everybody Loves Raymond
Arrested Development
Sex and the City
Will & Grace
Best Miniseries
Angels in America
American Family - Journey of Dreams
Horatio Hornblower
Prime Suspect 6: The Last Witness
Traffic: The Miniseries
Best actor in a leading role, Drama
James Spader, The Practice
James Gandolfini, The Sopranos
Kiefer Sutherland, 24
Martin Sheen, The West Wing
Anthony LaPaglia, Without a Trace
Best actress in a leading role, Drama
Jennifer Garner, Alias
Amber Tamblyn, Joan of Arcadia
Mariska Hargitay, Law & Order: Special Victims Unit
Edie Falco, The Sopranos
Allison Janney, The West Wing

Best actor in a leading role, Comedy
Larry David, Curb Your Enthusiasm
John Ritter, 8 Simple Rules
Kelsey Grammer, Frasier
Matt LeBlanc, Friends
Tony Shalhoub, Monk
Best actress in a leading role, Comedy
Jennifer Aniston, Friends
Patricia Heaton, Everybody Loves Raymond
Bonnie Hunt, Life with Bonnie
Jane Kaczmarek, Malcolm in the Middle
Sarah Jessica Parker, Sex and the City