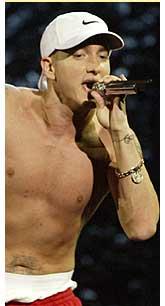 Rapper Eminem is displeased. Very displeased.
The 31-year-old has filed a suit against Apple Computer, MTV (along with its corporate parent Viacom), and the advertising agency TBWA/Chiat/Day. The reason: he claims they have used his song wrongfully for an iTunes commercial, reports People magazine.
The television commercial shows a young fan singing to the words of Eminem's hit song Lose yourself while listening to an iPod. It was for Apple Computer's pay-per-download music software, iTunes.
MTV aired the commercial in July 2003. It ran for about three months and also appeared on Apple's web site.
The suit also says, "Eminem has never nationally endorsed any commercial products." If he did decide to endorse a particular product, it would require "a significant amount of money, possibly in excess of $10 million."
Apparently, an ad executive sent an email to Eight Mile Style, Eminem's recording company, saying, 'So to confirm, you guys are a definite 'no' for the campaign as it is.' This was following discussions with Eminem's representatives to use the song.
Photo: Getty Images