Munnabhai is back with his 'Gandhigiri' but this time he is in a fresh avatar of 'Sattarbhai' for the upcoming film EMI.
Sattarbhai, played by Sanjay Dutt in the film, is a loan recovery agent who works for various banks and other multinationals.
"Munnabhai and Sattarbhai are the same from their hearts. Even their characters could be similar, only the get-up is different. I do 'Gandhigiri' in this film also. I keep helping all the characters in the film," says actor Sanjay Dutt.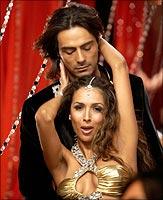 Saurabh Kabra, the director of the film also agrees, "Both Munnabhai and Sattarbhai have common traits. They have a similar nature. You will fall in love with the character".
But Suniel Shetty, who is the producer of the film, says he cannot compare Munnabhai with Sattarbhai. "Munnabhai is a legendary film and as a producer I cannot compare Sattarbhai and Munnabhai. It's not fair. But after seeing the film if people compare Sattarbhai with Munnabhai, it will be an honour for the producer, the director and all of us," he says.
Elaborating on his role, Dutt says Sattarbhai's job is to wisely advise borrowers. The story is about how he eventually helps out all the characters in the film to repay their debts.
"Everybody feels that EMI will be an out and out comedy. But Sattarbhai is the most emotional character in the film. All his actions are filled with emotions," he adds.