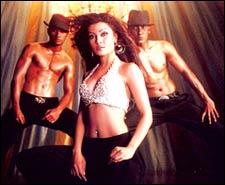 Guys, are you ready? Juniors, please keep dancing. The ones at the bar, please take a sip once in a while. Bartenders, please keep moving."
Another voice joins in: "Silence on the sets. Action! Sound!" "Rolling."
We are on the sets of Pritish Nandy Communications' new production, Ek Khiladi Ek Haseena, starring Fardeen Khan and Koena Mitra. The film is directed by debutant Suparn Verma, the former rediff.com staffer.
"Looking for me?" Fardeen asks through a haze of smoke. The number of cigarettes lit up to provide smoke is scary!
"I came here for my patient," replies Koena.
"Cut!"

Fardeen is dressed in black while Koena wears jeans, a white sequined top and a cream jacket. The location for the day is Mikanos, a former pub in Mumbai.
Producer Rongita Nandy is also present on the sets and keeps a keen eye on her cast. If even a strand of hair is out of place, she asks for a reshot.
"At Pritish Nandy Communications, we always complete a film in 40 days," says the 25 year old, whose father Pritish Nandy is the company's chairman. PNC has produced films like Jhankaar Beats, Hazaaron Khwaishen Aisi and Shabd.
Director Suparn Verma has nine scripts to his credit including Chhal, Qayamat, Jaanasheen and Zameen. When he approached the producers with a script that he wanted to direct, they agreed because "he was going to do it with a lot of enthusiasm," says Rongita Nandy.
The director's enthusiasm -- familiar to rediff staffers -- is evident as he darts from place to place on the sets. After a word with the cameraman, he moves on to the junior artistes and finally, his lead pair.
Suparn explains that Ek Khiladi Ek Haseena is a movie about a con man and a con woman. He says it is the first Hindi film in its genre. "There have been movies on cheating but never an out and out con movie," he says.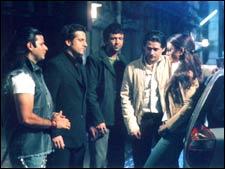 Fardeen, Suparn says, fits the part because he wanted a CAT with style for the role. Koena plays a psychiatrist. Suparn cast her after watching her in Musafir. Says he, "I chose her as she does not carry any baggage and is very hard working."
Bipasha Basu was the first choice for the role, but she did not have dates to allot for the film.
Meanwhile, Koena consults Fardeen on how to deliver a particular dialogue. After the scene, Fardeen tries to steal a nap on a sofa but not for long, as the director calls out to him.
The scene is set in a pub so smoke is essential for the shot. Dance music rolls out of the speakers and couples dancing on the floor wear tight fitting clothes in black and red.
The song -- an item number -- is to feature not one or two, but three sexy women -- Raakhi Sawant, and sisters Mumait (remember Seekh Le from Munnabhai MBBS) and Zubein Khan.
The second shot of the day requires actor Kay Kay, but he is absent. Not that Suparn is perturbed. He simply put on a wig, a black T-shirt, leather jacket and doubles up as Kay Kay's substitute. But not before he asks people whether he looks like the actor from behind.
Ek Khiladi Ek Haseena is slated for a July release.