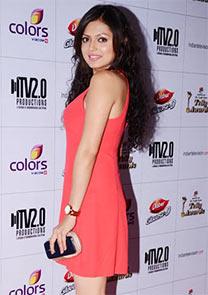 Popular television actress Drashti Dhami, who was the winner of Jhalak Dikhhla Jaa 6, is returning for the show's new season as a host.
She enjoyed being a contestant so much that she wanted to get back on the show in some capacity, she says.

"But hosting is a tough job and I haven't done it before," the actress added.
"You have to be impromptu, have a sense of humour, and cover the goof-ups by adding your own stuff.
"I don't know anybody on the show besides Karan Tacker. I think once I start meeting everyone and hanging out with them, I will get the hang of it."
Manish Paul, her predecessor, has set the benchmark really high.

Does that put any pressure on her?

"I just want to request all to not have any expectations. I will try and do something different. He is a pro at it. I can't replicate what he did but I will do my best," she replies.
Ranvir Shorey is co-hosting the show with Drashti.

"We have met only four or five times. He helps me out whenever I go wrong. I am a very sarcastic person. My jokes are sarcastic and people don't understand them most of the time," she says.
"I would like to have someone more experienced than me so that he can cover up if I mess up," she added.
Drashti's piece of advice to the contestants: "When you are really tired and think that you are going to die, just put in another 10 per cent of hard work and you will win it."
Meanwhile, Drashti hasn't taken kindly to reports that suggest that she is dating Balika Vadhu actor Siddharth Shukla, who was also a contestant in the last season of Jhalak.
"Whoever has written that should be castrated," she said fiercely.
Apparently, she recently met Siddharth after a long time at an awards function and they sat together, which is what fuelled the rumour.
"It's quite offending. I meet somebody after a year and they say we are dating. Do you think I have so much time? I am very busy with my life and I am very happy being single. Right now, I don't think I need anybody new in my life. I swear by God whoever has written that news will burn in hell."
There's the old saying no smoke without fire, but Drashti has an answer for that one too: "Some media people make the smoke and make the fire to get their TRPs high," she fumes.
Madhubala, the serial which shot Drashti to fame has been running for two years now.

There are reports of the show being pulled off the air because of falling ratings.

Denying any such reports, Drashti clarifies, "Every show goes through ups and downs. We are working hard to keep the audience hooked onto the show. These are just rumours. The show is not going off the air anytime soon."