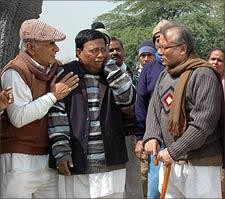 Office Office is still remembered for its satirical take on the common man's problems and his fight against the system.

Now, director Rajiv Mehra takes Mussaddilal to the big screen.

Come August 5 and one of TV's endearing characters from Office Office will make its debut on the big screen.

Titled Chala Mussaddi -- Office Office, it stars the familiar cast of Pankaj Kapur, Manoj Pahwa, Sanjay Mishra, Asawari Joshi, Deven Bhojani and Hemant Pandey.

Kshama Rao spoke to Mehra on his decision to take the story to another level among other things.

What prompted you to make Office Office into a film?

We always knew we wanted to take the story forward, we knew the script was strong enough to be made into a film. The content we had was worth taking it to the big screen. The show first made an appearance on TV in 2000 and ran till 2005 on SAB TV. It was brought back in 2007 on Star One where it ran for a year.

The characters were always the inspiration, the common man versus the system story can never fail to connect. We worked on a screenplay and decided to take a new fresh story, show Mussaddilal's journey from start to finish.

The story, we hear, is based on a real life incident.

Yes, it had happened somewhere in Bihar or Uttar Pradesh. It's about a man who was 'dead' in the government records and had to prove he was alive to claim his pension.
The film has Mussaddi going with his son to Hardwar for the last rites of his wife. In his absence, the pensioners come home asking for him and due to some misunderstanding, presume he is dead. Mussaddi returns to find out he is no longer alive in the records and then goes from pillar to post to prove otherwise.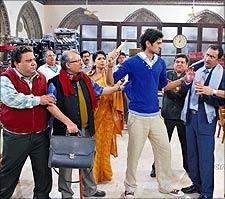 What's going to be new for those unfamiliar with the show?

Well, we are aware Office Office was not seen by the entire world. The only thing is to ensure the audience walks into the theatres, once they come in, I am sure the story is strong enough to relate with. He will come out happy after watching it, one can identify with Mussaddi's plight.
I am not selling big dreams with Shah Rukh or Salman Khan as my lead stars, I am selling a good story which is what a good film should be at the end of the day.

Earlier, Khichdi, a popular sitcom was made into a film which didn't do very well. Are you wary of TV shows being made into films?

I won't go into why something worked or didn't. As it is, Khichdi was slapstick while Office Office is a satire on the system. I strongly believe a good subject can come from anywhere, from a novel, from a one line in the newspaper, mythology or even a comic book. I have no worries if it will work or not, I worry only about people coming into the theatre in the first place.

Apparently, Pankaj Kapur has not made himself available for the promotions as he is busy with his directorial venture, Mausam. Don't you think promotions will be affected, considering he is the film's protagonist?

I know Pankaj well and he is someone who gets completely consumed by anything he puts his heart into.
Right now, he's into the post production of his film and I understand that. Besides, I have my other actors. Gulzarsaab, who's done the lyrics, and Sajid-Wajid, who have done the music, are doing their bit to promote the film. I'm sure as we get closer to the release, Pankaj will join us too.

Finally, do you feel we need to have many more Mussaddilals in our country to take on the system?

Well, every common man is a Mussaddilal. Sometimes he triumphs, sometimes he doesn't. The challenge is to keep the fight against the system alive.
And why do we always blame the system? Don't we all encourage corruption and isn't getting into under the table dealings become second nature to us? We need to take the rap too, we need to stem the rot somewhere.